It's been way too long since we've been to Italy so we were delighted to receive this post from Cher Hale of The Iceberg Project, which describes some amazing adventures she had while exploring Italy.
Experiencing touristy Rome at 2 AM
While Rome is wonderful to experience during the day, the crowds of people that mill around you can become overwhelming within three minutes.
So when two of my Italian friends from Rome offered to taxi my friends and me around at night, we hurriedly agreed.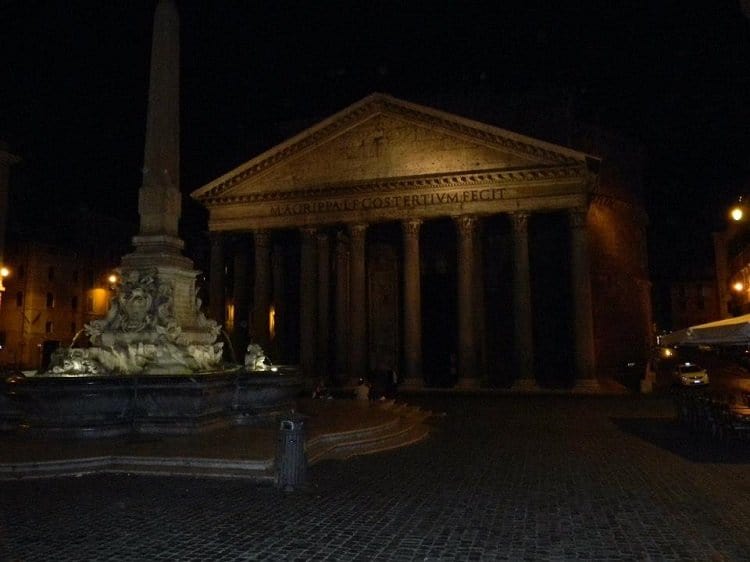 At 1 AM, we were doing ballet spins in the Pantheon. A half-hour later, we were looking down on the Spanish Steps.  At 2 AM, we were sitting in front of the Trevi fountain next to a handful of lovers. And at 230 am, we ended on a hill that overlooked the entire city, snuggled in our scarfs and big, puffy jackets in the middle of October, while my Italian friend whispered in my ear, "Isn't it beautiful? Welcome to Rome."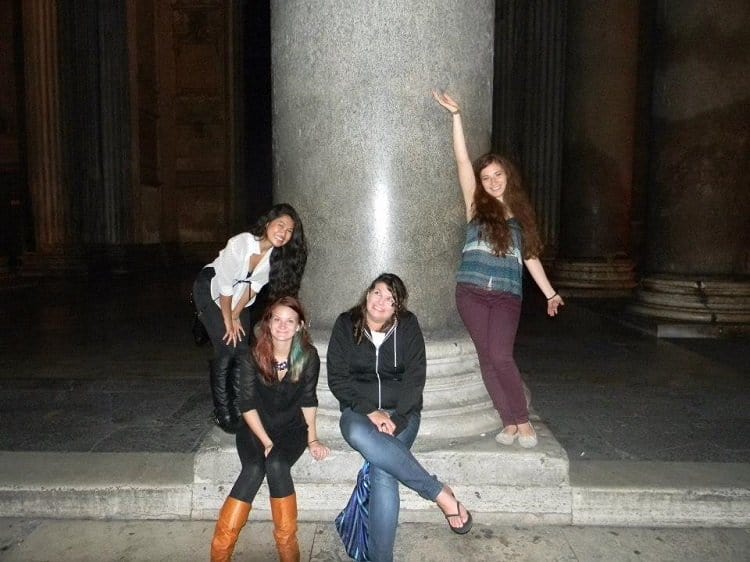 Eating homemade cannoli in Calabria
Out of the long list of things I am grateful for from my trip to Italy, gaining a friend that operated on the same wavelength as I did is firmly at the top.
After spilling stories, receiving advice on silly Italian men and enjoying countless plates of pasta together, one of my dearest Italian friends invited me to his family's house in Calabria, a region in the south of Italy, right at the tip.
For those who aren't familiar with the south, the most important thing to know right now is that they are famous for their cannoli. Specifically, Sicily is, which is right next to Calabria, but it was my good fortune to be in a home with a Sicilian mother and a Calabrian father, one of whom used to own a bakery.
Whenever we would eat a meal during the four days that I was there, a cannolo would materialize soon after.
Shell available and cream already made.
It was a cannolo on demand. Fast food dining at its finest.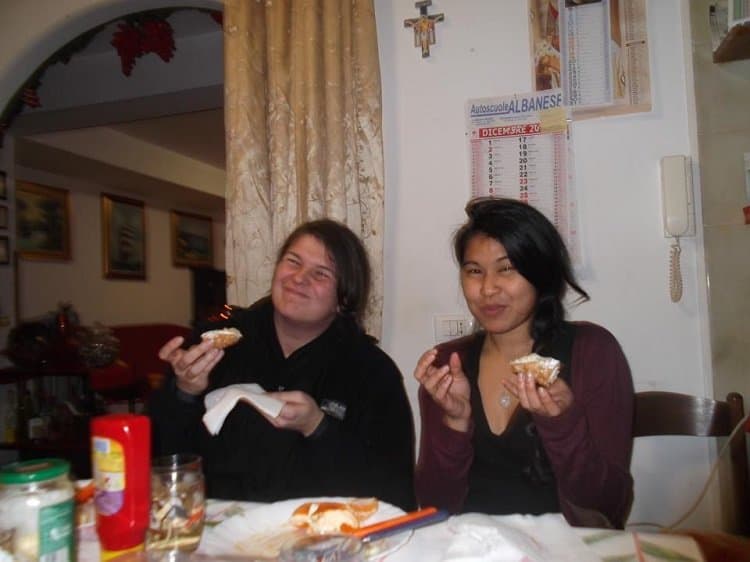 Being surprised by the Duomo in Florence
Can you think of a moment when you saw a piece of art and your jaw was left wide open?
I was deep in conversation with a friend about gelato when we turned the corner at end of the street and the most beautiful piece of architecture came into view.
The Cattedrale Santa Maria Del Fiore soothed me into submission.
Everything about it awed me.
The marble, the intricate carvings, the sheer size of the building.
Leave it to the Italians to create such a dramatic scene.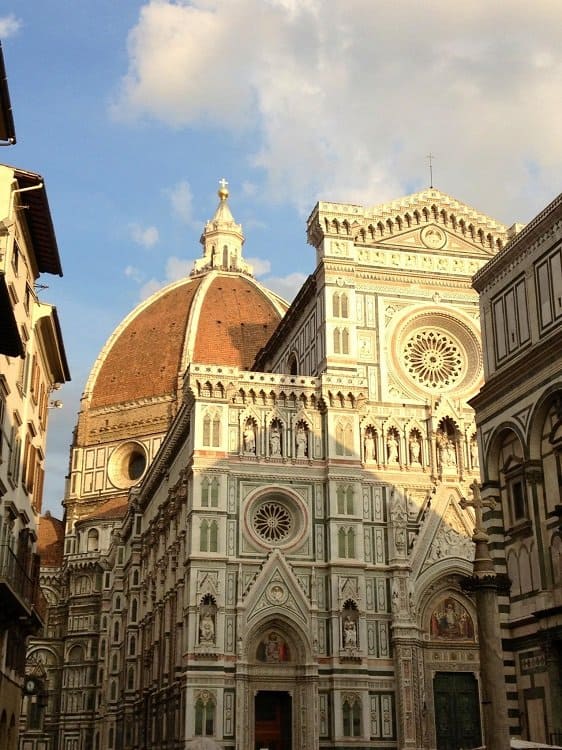 Eating enormous supplì in Verona
Supplì is a magical food that consists of a deep-fried ball of risotto in marinara sauce with a chunk of mozzarella cheese in the middle.
They're usually the size of a mozzarella stick but wider in diameter.
So when we saw a pizza shop in Verona with supplì the size of my entire hand, I felt like history had been made.
Walking in Pope's Palace
In the town where I lived, everything I needed was in walking distance, which secured walking as necessary and ritualistic.
An evening passeggiata, a short walk to socialize with friends, before dinner was a ritual that I came to admire and deeply miss. (Anyone for helping me create a movement for the passeggiata in the States?)
After the bars at night, we would sometimes walk over to a place that Viterbo was famous for called Pope's Palace, or Palazzo dei Papi.
As soon as you crossed the bridge and was standing in the piazza surrounded by the church building, the palace, and the illuminated clock tower, every sense that you had became alert.
It was easy to absorb the beauty and difficult to leave it behind.
First Dates at Fontana Grande
In my time in the beautiful town of Viterbo, I must admit that I dated one or two Italian guys (because how could I go back to America without an uber-romantic story to tell?).
On one of my first dates, the guy suggested that we meet at a fountain near the center of the city called Fontana Grande.
That night, we would just sit there and talk.
Other nights, we would grab a bottle of cheap wine and drink on the steps of a church.
It doesn't get much classier than that.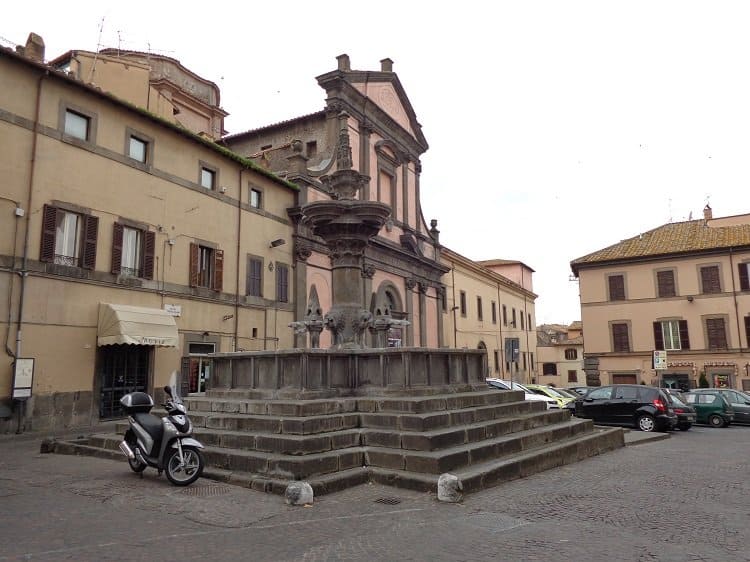 Going to a secret bakery in Firenze and eating delicious melt-in-your-mouth croissants
The friend of a friend of a friend had told my friend that there was a secret bakery in Florence that we had to experience.
So at 3 AM, we set off on the streets of Firenze to find this secret bakery.
They told us that once we got close enough, we could find it by the smell, and they were right.
Here's the ritual. You go in the middle of the night. You knock on the door twice, and then you wait in total silence.
If you're too loud, they won't sell to you, leaving you in torturous rapture for dessert.
They'll open the door whenever they well please, so be prepared to wait.
But also be prepared to spend one euro on the best Italian croissant you'll ever eat in your life.
Singing along to Blink 182 and Green Day at Karaoke
Karaoke in Italy mystifies me.
For some reason, when you bring together a group of young Italians to sing songs, they invariably choose music that was popular ten years ago in America and know all of the words.
So before the winter of Italy set in, we would sit outside at this bar and sing along to songs from Blink 182 and Green Day, thoroughly enjoying the nostalgia of our preteen years.
Tripping near cliffs on a hike from Vernazza to Monterosso
Cinque Terre, the stretch of five small towns with colored buildings in the region of Liguria, is known for its beauty near the sea and its incredible hiking.
Even after passing by a sign that warned us that our route would take us five hours longer than we thought, my friends and I couldn't resist taking a hike.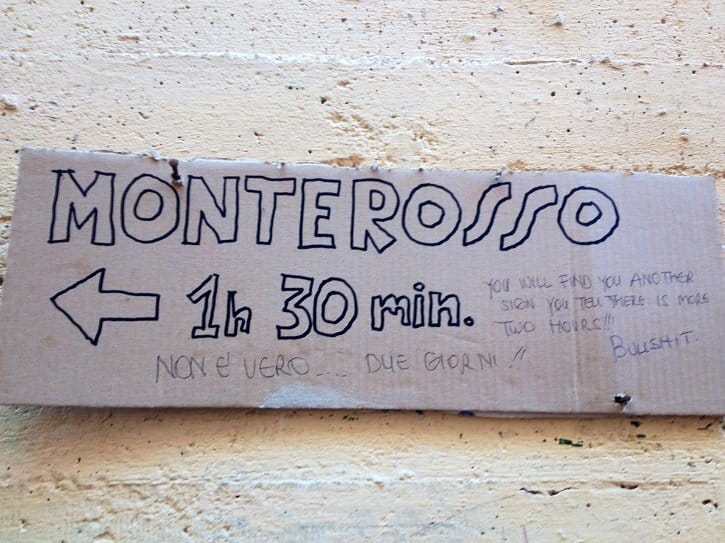 After walking for four hours on questionable trails and getting directions (and a language lesson) from a French couple, we found ourselves on a steep cliff side still far away from our destination of Monterosso, the last town of the five.
It was hot. I was tired. And my jeans and Converse shoes weren't the ideal candidates for a hiking trip.
In a span of three seconds, my left foot slipped from the side of the trail and my entire left leg plunged off the edge.
If it weren't for my friend Heather grabbing my arm just in time, gravity would have taken over.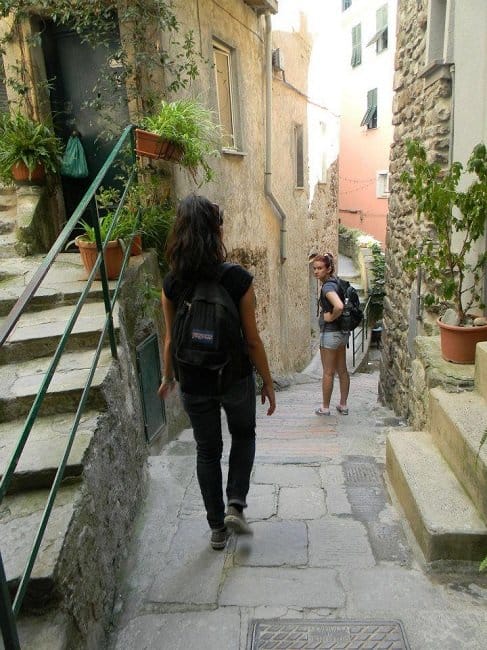 Battling traffic in Naples
Stepping outside of the train station in Naples is enough to be unforgettable.
Combine that with the traffic, the women with ultra-sparkly shirts and the complete disdain for rules, and you have a formula for a trip you will never forget.
I also got to eat at the famous pizzeria Da Michele that was featured in Liz Gilbert's book Eat, Pray, Love.
Talk about romance with a pizza margherita.
Uber-romantic story mission accomplished.
Exploring the ruins of Herculaneum
Before going to Italy, I was never a huge history buff, so when I went to Herculaneum, the intact ruins after the explosion of Vesuvius, I wasn't prepared to be impressed.
But when I walked through the houses with the frescoes still visible on the walls, I was giddy.
History never felt so tangible, so eerie, and so riveting.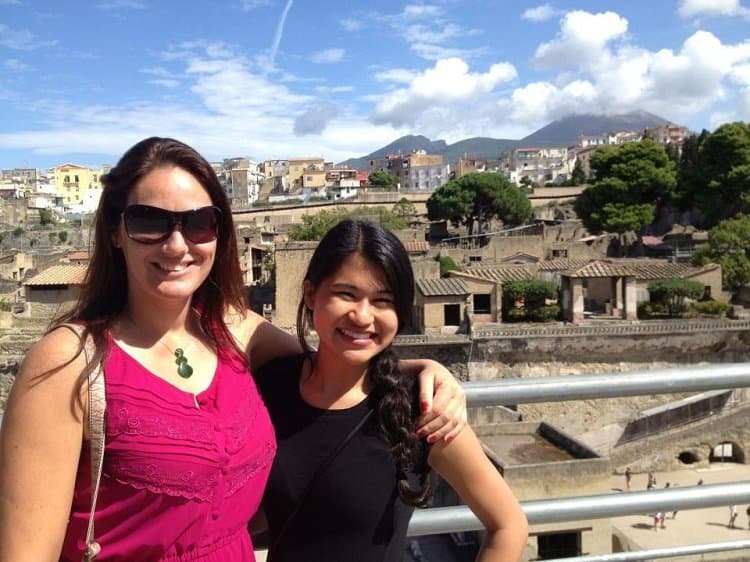 Being taught how to eat bread in Perugia
Perugia is the central city in the region of Umbria, right next to Tuscany.
After booking into our adorable farm hostel, my friend Heather and I set off to find some food.
We walked into the first place we saw because we were starving, which was this tiny place called a tavola calda, which just means that the food is quick and cheap.
When we sat down, it was evident that everyone in there knew each other.
So being the foreigners we were, we sat quietly, ate our food and eavesdropped.
Our nosiness was interrupted by an elderly Italian man who had been watching me dip my bread into olive oil.
He looked at me with a smile on his face and gently said aspetta, wait. He then proceeded to call the waitress over for hot bread, a garlic clove and some salt.
When he had all of his materials gathered, he demonstrated how to properly eat the bread.
Step 1. Unsheathe a garlic clove and rub it over the bread.
Step 2. Pour some olive oil on top.
Step 3. Sprinkle salt over the surface.
Step 4. Mangia, eat.
Do I even have to say that it was delicious?
Bio: Cher Hale is incredibly passionate about languages and travel. After travelling the world and living in Italy, she developed a process for learning languages that makes it easy to become a polyglot. Her brainchild is The Iceberg Project, where she's eagerly teaching people how to speak Italian fluently. You can find her on Facebook and Twitter too!
You may also enjoy these similar posts: