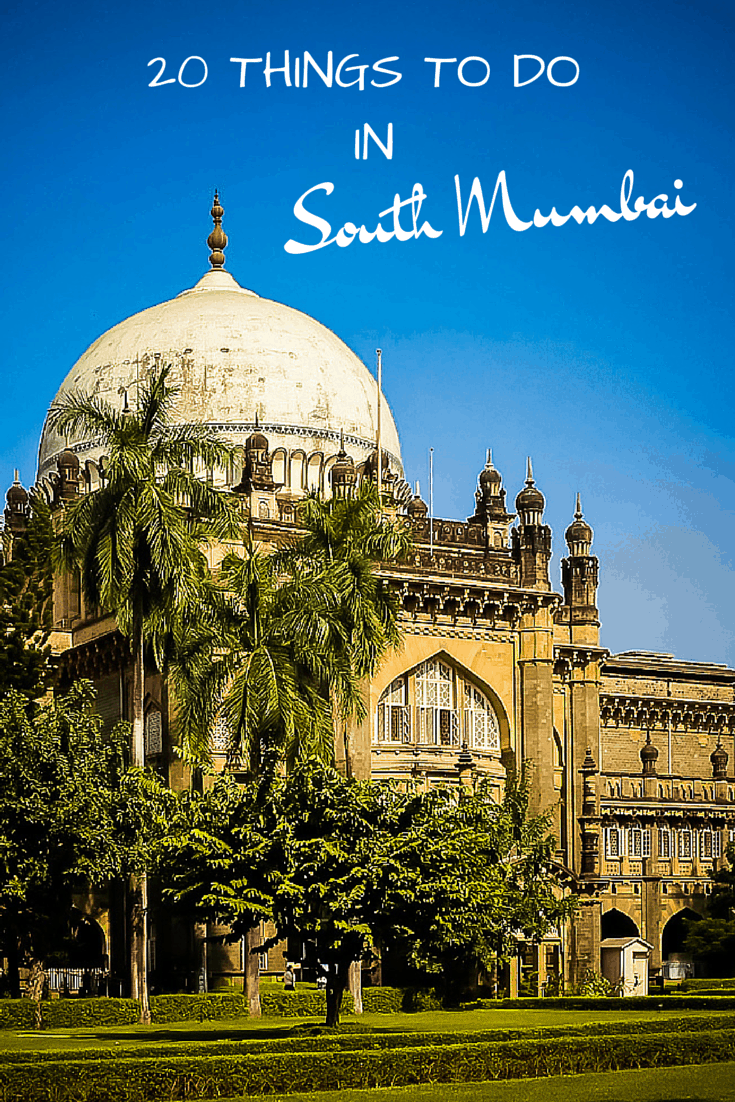 I've never travelled to India but I imagine it to be a complete shock to the senses - in a delightful way. Today Bhavani Ramesh from Merry To Go Round... brings us a list of so many wonderful things to do and see just in South Mumbai alone. Be sure to bookmark her list if you're planning a visit to this vibrant city.
Start off by watching the fishermen and fisherwomen at Sassoon dock – makes for interesting photographs. It is a noisy and smelly affair!
Then walk down towards the Afghan Church through the Colaba Causeway all the time thinking about how you are walking on reclaimed land and at one point this was all the sea and the Afghan Church was on an island called Old Woman's Island!
Tired and weary from the walk, haggle with the roadside vendors all along Colaba Causeway to buy jewelry, clocks, clothes, footwear as you walk back.
Take a pit stop at Leopold's or Café Mondegar to replenish your body! Or grab a gooey-chocolatey brownie at Theobroma!
Make your way to the Gateway of India – stop and pause before the huge structure and take in the view of the Taj Mahal Hotel behind you (maybe you can step in there for a coffee later on!).
Catch a ferry and make your way to Elephanta Caves to see the statues, if you are lucky you could be in town for the annual Elephanta music festival that takes place in March. Buy tickets in advance and enjoy the late night ferry back to the mainland.
Walk to Woodside Inn and enquire about their cycle tours in Mumbai, book yourself on one and peddle across South Mumbai to drink in the sites, sounds and stories.
Walk to Victoria Terminal / C.S.T and drink in the Indo-Saracenic architecture that was a blend of all forms in India and Gothic architecture.
Go to Crawford market, once the only place to get exotic and imported ingredients. Drink in the gothic architecture and the stained glass windows.
Go to Café Paradise, a heritage Iranian joint at Fort for lunch. With limited support from the current generation, this is a place that might shut shop soon. Fingers crossed! Look out for pieces of the ceiling falling into your plate, but make space in your stomach for some mouth-watering dhansak (specialty lentil preparation) with brown rice and other Parsi delicacies!
Walk along Marine Drive and drink in the sea, then sit on the ledge with feet dangling and watch the sun set over the Arabian Sea with the entire drive lined with Art Deco buildings that rival Miami!
Watch a play or show at the National Centre of Performing Arts (NCPA) and definitely catch a glass of their famous cold coffee during the break. If you are in the city during the annual Literature Festival at the NCPA then get your passes and spend 5 seemingly short days in the august company of authors, critics and literature enthusiasts, running from lectures, discussions, book launches, autographs and concerts!
Walk across during low tide to Haji Ali at Worli, stand at the place that used to be the point for the boats to leave the Haj Pilgrimage. But get back onto land before the tide rises and covers the road to the shrine.
During Ramzan gorge on kebabs at Mohammad Ali street in the evenings! Not for the faint-hearted and definitely not for vegetarians like me!
Sit on the steps of Asiatic Library and watch the world go by. Maybe you can catch a show / play at the Horniman Circle (yes, the name is very funny, but it's named after the famous Editor of an English newspaper that supported the independence movement, during the British Raj). If the Kalaghoda Arts and Craft Festival is on then this entire area with be buzzing with concerts, movie screenings, plays, stalls and workshops. Definitely visit the stalls and get some handicrafts from all over India and Mumbai.
Buy some second-hand books from the famous pavement bookshops near Flora Fountain...
Get a portrait from a student outside Jehangir Art Gallery, and then step into Café Samovar for some quick snack and of course the exhibitions. You can also visit the nearby NCGMA and Prince of Wale Museum for some lovely collections and exhibitions.
For the cricket fans, catch a cricket match at the Wankhede Stadium or Brabourne Stadium! Buy tickets in advance. Or to just catch a friendly match, or watch multiple matches on simultaneously go to the Oval Maidan. Stand in the middle of the pedestrian crossing at the Oval Maidan and look at the buildings that surround you. They cover an entire series of architectural styles – peep into the board at the entrance to get the name and construction date of each building you see!
Travel in a local train at 5.30 am when it's empty and peaceful. Watch the sun rise and slowly colour the city.
Have a coffee at the Taj Mahal Palace Hotel. The first hotel of the Tata group, said to have been started when JRD TATA was refused entry into the 'Whites Only' Hotel Watson in British India! If you visited the Elephanta Caves and are dying for a quick loo break just step in here. They don't stop anyone and it's free!
Walk from Colaba to Churchgate and stare at the Gothic inspired buildings.
Go for a concert at the art deco theatre Liberty Cinema that is now buzzing with cultural activities!
Have some pizza at Pizza by the Bay, ensure you get a seat that is by the window and facing the sea. Finish off with a hand-made ice-cream at Rustom's, this is a quaint ice-cream shop that you can easily miss owned and run by a Parsi family.
For the M. K. Gandhi fans, visit Mani Bhavan. It was his house when he Mumbai and is now converted into a museum.
After a late night party head to Bachelor's at Girgaum Chowpatty for a midnight snack and some chilli ice-cream if your palate can take it!
Shop a bit at Tapu ki Dukaan and Bombay Stores for quirky and Indian items!
And in the end, head back to Mondy's (as locals call Cafe Mondegar), get that corner table, out up your feet, choose your favourite song on the jukebox.... Welcome to Mumbai! 
Bio: Bhavani Ramesh is a market researcher by elimination, traveler by choice, photographer by interest and a writer by desire. She lives and works in Mumbai, in the midst of the craziness that defines India. She's always itching to stand and stare. You can read more from her on her blog and connect with her on Twitter.