Guest Post by Claire Martin.
When I made the decision to take an extended trip to a secluded city in the middle of the Guatemalan highlands, which none of my friends or family had ever heard of, everybody thought I had lost the plot.
Quetzaltenango is nestled in a valley surrounded by volcanoes, elevated 2330 metres above sea level, and located 200 kilometres from Guatemala's capital. It is three chicken bus rides away from either Antigua or Panajachel, and don't even think about getting public buses from Flores or Lanquin. Its name is equally as complicated – so much so that even the locals call the city 'Xela', its indigenous name. Xela is completely isolated from the rest of the country and Central America's tourist trail. Which is exactly why it fascinated me so much.I stayed for four weeks in
I stayed for four weeks in Xela, and regretted not having the chance to stay longer. This is what I loved about the place, and why you should add Guatemala's second largest city to your Central American itinerary:
1. The city is bright, fun and loud…
which is just how I expected Guatemala to be!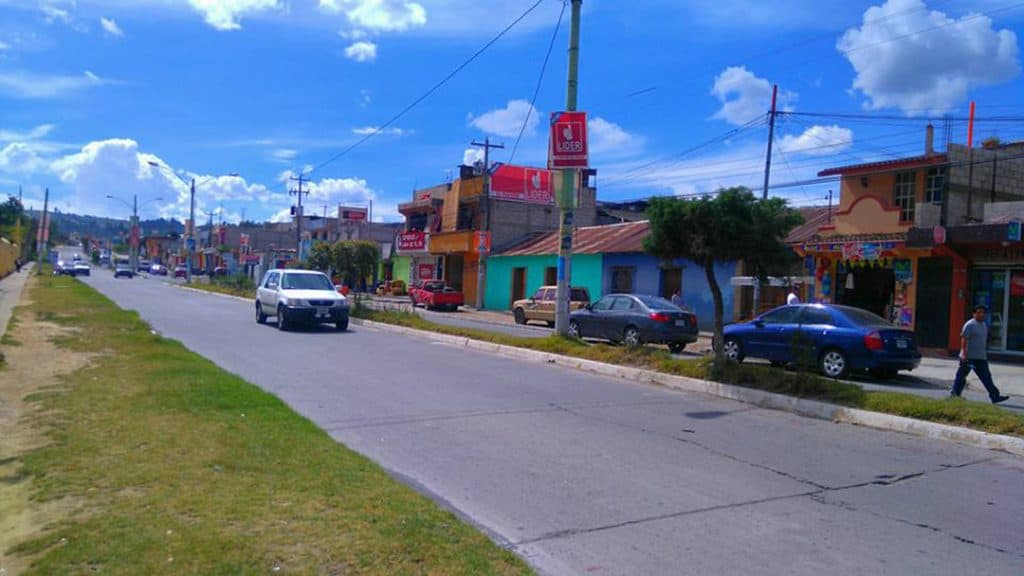 The isolation of Xela means that Western influence has not yet infiltrated into the city. Xela may lack Antigua's colonial beauty, but it retains a unique Guatemalan charm; which is exactly what I had came to the country for. Xela boasts music blaring from shops and cars, garish signs with peeling-off paint, pavements filled with fruit vendors… these all existed in Antigua, but were somewhat polished. While Antigua felt like a made up version of Guatemala, not quite like the one I had been hoping to encounter, my experience in Xela met my expectations of the country exactly.
2. Xela is safe!
Although I maintain that the entire country of Guatemala is safe, Xela is a great base for those concerned about the security of the country. The locals are so friendly that I always felt as if I had people willing to rush to my aid if needed (I love to tell the story which happened twice during my stay, when a man ran up an entire street to give me some cash I had dropped. I need to keep a better hold of my money but it shows how great Xela locals are!), and its isolation as a highland city means that it is far away from any of the gang or drug trafficking issues that the country has.
3. The people in Xela are some of the kindest and happiest I have ever met
Despite being Guatemala's second largest city, Xela lacks the hustle and bustle of a busy urban area. Instead, it contains cheerful streets where it is the norm to greet everybody who walks past and often engage in conversation. People are genuinely interested in your life, travels and journey and love to learn about your country's culture. Extra points if you can converse with them in Spanish!
4. Xela boasts countless amazing markets
A fruit and vegetable market seems to pop up on every street corner in Xela. From papayas to lychees, the most delicious fruit is sold here at bargain prices. Make sure you pick up one of the huge avocados that Guatemala is famous for here as well, and in the vicinity there should be a vendor with mouth-watering street food. Whether you're after tortillas or maiz loco (literally meaning 'crazy corn', this is corn on the cob smothered with mayonnaise and spices and it's absolutely delicious!), you'll undoubtedly find something delightful to tantalize your taste buds here.
5. Spanish learning opportunities are ample
English is now widely spoken in the more touristy areas of the country but due to Xela's lack of foreigners, most people here speak only Spanish. It is the place to go if you are looking to attend Spanish school. There are dozens in the city, all with fantastic Spanish immersion courses and links to local families who are willing to take in homestays. I found that a mix of five hours' Spanish lessons a day and living with a Guatemalan family was was the ideal way to engage in the country's culture and learn lots of the local language.
6.The city has a thriving yet tight-knit expat community
Although there are few tourists in Xela, some travellers have loved the city so much that they have decided to call it home for months or even years. After a couple of weeks in the city, you will start to run into these expats and be welcomed into their circle. As there are fewer foreigners than other destinations, it is easy to meet and mix with the people who have made a more permanent home there. Try yoga classes at Casa de Yoga for a great way to meet other expats!
7. It is a fantastic base for the region's activities
Central America's highest peak, Tajumulco, is an hour's drive away and tours leave from the city most days. The Fuentes Georginas are lush volcanic hot springs and can be reached by bus, and if you are into multi-day trekking, Quetzaltrekkers organise a three-day hike from the city to Lake Atitlan, which passes through some of the most picturesque spots in Guatemala. More locally, there are some fantastic walking routes from the city. A favourite of mine took us on an uphill track to the famous Mirador, past corn fields and eucalyptus trees, through settlements with excited children rushing to meet us, and led up to Los Vahos; naturally heated saunas which are used by locals and travellers alike.
8. There is a strong sense of national pride in Xela
Throughout my travels in Guatemala, I met amazing and inspirational locals who loved their country. I found that out of the touristy regions, this honour is even more noticeable. Despite the still-evident scars that the country has from its civil war, Guatemalans love their country and are proud of the way it has recovered from the war, and a couple of large earthquakes, in such a short space of time. After some time in Xela, I found that I adopted this ever-optimistic attitude, and it's one of the reasons that I fell so hard for Guatemala.
Quetzaltenango is often overshadowed by Antigua, which is renowned for its colonial architecture and jaw-dropping volcanic backdrops. Antigua is stunning, there's no denying it, and it is easy to see why it is such a popular city on the Central America tourist trail.
However, if you crave meeting amazing people, hearing authentic Guatemalan music on every street corner, visiting local museums which showcase the astounding history of this intriguing nation, strolling through fascinating markets and absorbing unspoiled Guatemalan culture, Quetzaltenango might be just the Guatemalan city for you.
Bio: Travel writer and storyteller, Claire Martin has spent much of the last few years exploring Central America and Europe; but now she is the other side of the world, first exploring China and then heading to Australia! Read all about what she's been up to on www.clairesfootsteps.com , or connect with her on Instagram and Facebook.
You may also enjoy these similar posts: