There's more to life than buying packaged meats in grocery stores. That should be a new proverb that we all live by. I understand that it's sometimes necessary to walk the shopping aisles, but finding your local butcher is one of the interesting things about moving to a new town.
There are two main butchers close to the centre of Stavanger and A.Idsøe happens to be a short walk from my office. You cannot miss the big writing on the shop front and the long counter holding every and any type of meat (and cheese) you can think of. Don't forget to take a number from the ticket machine because it's a busy establishment.
The first few times I went there, I would ask "Kan du snakke Engelsk?" and of course their reply would be in English. The staff are friendly, so now I just launch into English and find out what cut of steak is the tastiest for the week. The marbled rib eye is absolutely fanatstic! Pork chops, lamb shanks and chicken also feature heavily in the shop. The lean mince is used to make a delicious bolognese sauce that Andrea, in my opinion, is famous for.
It's true that sausages and bacon make the world go 'round. In bacon, here you have the choice of pre-packaged or 'free range.' It's the same bacon just that the loose strips are exposed to the air and hence make for a crispier fry; we always go for these.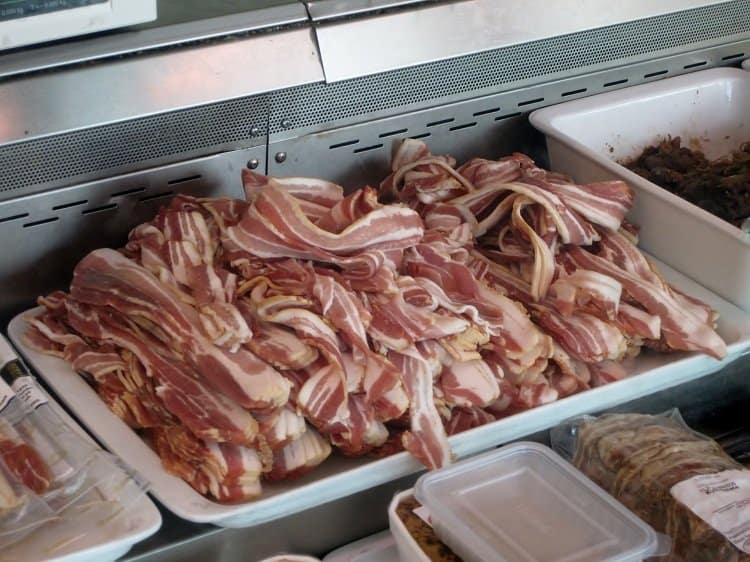 And then there are the sausages: the local ones curled in a circle, bratwurst, chorizo (yum!), lamb, ham and rosemary and of course hot ones. The local variety are often referred to as 'Gladmat' because they've become famous in the region and are always showcased in the annual Gladmat Festival. They do not disappoint – the only choice you have to make is what size circle to purchase!
The butcher also doubles as a delicatessen with many cold cuts and cheeses to choose from. I always look forward to each visit because even though I usually know what to get, I never tire of the visual meat overload on display.
A.Idsøe was established in 1828 and is located on Verksgaten 3-5 in downtown Stavanger.
You may also enjoy these similar posts: