Walking past this famous address took me back in time. Ignoring the line outside the museum, I thought about how many people might have walked past its unassuming facade, never knowing that eight people were hiding in tiny rooms behind a false bookcase for over two years.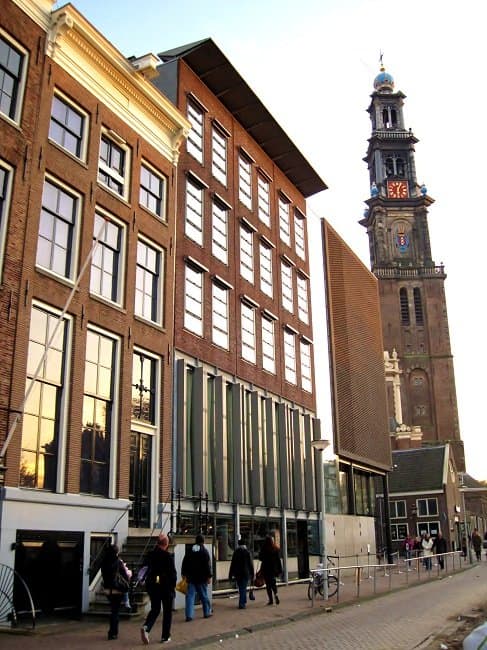 Their efforts were mostly in vain. The small group was betrayed, deported and sent to Auschwitz. The identity of the person who gave away their secret hiding place remains a mystery. If not for young Anne, sharing a small room with a strange man during her adolescent years, hopefully pasting postcards and magazine photos on her wall to cheer the place up and all the while keeping a diary, we may not even know her story.
Her father, Otto Frank, was the only survivor among the group and later published Anne's diary. When I was her age I found an old paperback copy on my parents' bookshelf and read it from cover to cover. Seeing the hiding place so many years later was especially moving. I highly recommend a visit to the Anne Frank House on a visit to Amsterdam. Most of the guidebooks suggest arriving at 5 pm. to avoid waiting in line, but it seems everyone takes this advice and I waited 30 minutes. It's worth the wait, however, and at only €8.50 admission (no large bags allowed inside), is not to be missed.
Our next stop is Berlin, where we'll be learning about and sharing more important historic sites from the 20th century.
Have you read The Diary of Anne Frank?

You may also enjoy these similar posts: