Argentine beef has a reputation for being some of the best in the world so we were very excited to eat so much of it while touring the country. To be fair, we also had delicious meat in Uruguay and Chile (our best meal in the latter was at La Marca in Puerto Varas), but we heard less hype about those countries before arriving in South America. So we thought we'd conduct a little experiment in visiting the country's top rated steakhouses and see which one we liked the most.
So that we're comparing the steaks fairly, we ordered the Bife de Lomo or Lomo Medallion (a cut equivalent to a filet mignon) cooked to the same temperature in each restaurant. Argentines really only know three temperatures for meat: well-cooked, 'al punto' (medium) and 'jugoso' (juicy, or rare). We prefer the latter, though getting it proved difficult.
El Boliche de Alberto: Villegas 347, Bariloche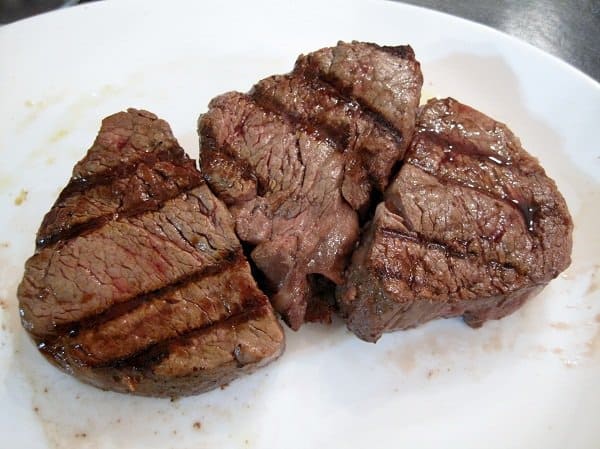 The most famous parrilla in this zippy resort town
didn't wow us at all
. John's 400 gram steak came in three medallion-size portions while Andrea's 200 gram came in two. John's first smaller piece was overcooked, but seeing Andrea cutting her first perfect bigger one, he thought this was a minor anomaly. But alas, all remaining parts were not even close to medium rare, being medium well at best. We were shocked and outraged, especially looking around to other tables and seeing perfect rare steaks. Andrea returned her second bit, but by the time it was replaced, John had begrudgingly finished his. They weren't even that tender and juicy and the enormous side of fries was an obvious attempt to paper over the huge cracks in this terrible restaurant experience.
Grill Q: Chile 1124 (inside the Park Hyatt), Mendoza

We ended up here on a Saturday night after finding our first choice parrilla, La Barra, closed. We really wanted to give this place the giant thumbs up because the service was so friendly and attentive and some of the food we ordered was outstanding, namely John's food. His meat empanada was the best we've had and his pork dish equally outstanding. But this is a comparison of Argentinean steaks and that's where Grill Q failed us. Andrea's steak was overcooked and over-seasoned, the first bite tasting incredibly salty. The lighting at our table was poor and it was difficult to see this until it was too late - once she got through half of it she realized how overdone it was. We'll never understand why restaurants over-cook meat. It's easy to throw an undercooked steak back on the grill for a few minutes but once it's overdone the piece is wasted.
El Mirasol: Posadas 1032 (plus two other locations), Buenos Aires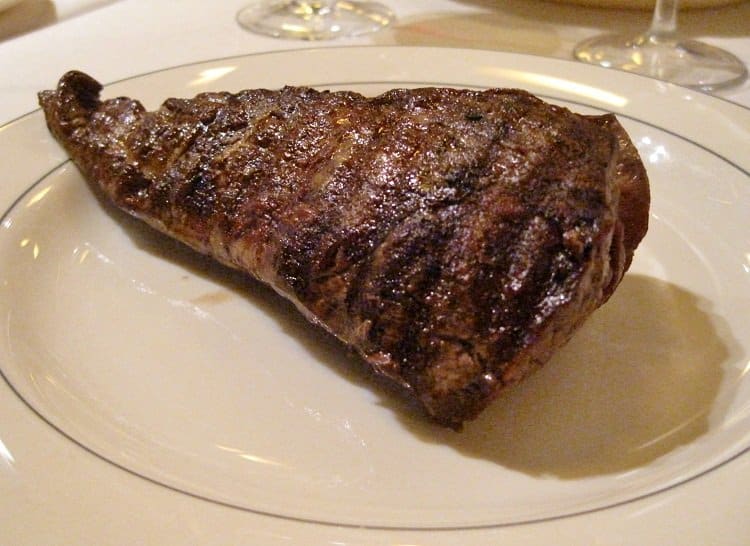 Often at the top of people's 'best steak in Buenos Aires' lists, we had high expectations for the self-proclaimed parrilla of the Argentines. And we were not disappointed. As we waited for our food we reminisced about our experience together at Peter Luger in New York City, a discussion inspired by the efficient older gentleman waiters. Service was polite and helpful as they took us through the three different sizes of Bife de Lomo. We each ordered the tenderloin tip, which is 350 grams and shaped like a filet mignon with a tail, and requested 'jugoso' emphatically (we mentioned that sometimes other restaurants have overcooked them). After a complimentary starter of fried spinach balls and two yummy empanadas that we ordered, our steaks arrived. In a word: perfecto! The meat melted in our mouths , the seasoning was perfect and they were both cooked corrrectly. Along with a delicious caesar salad and a yummy chocolate mousse for dessert, this was a perfect meal.
La Cabaña: Alicia Moreau de Justo 320, Buenos Aires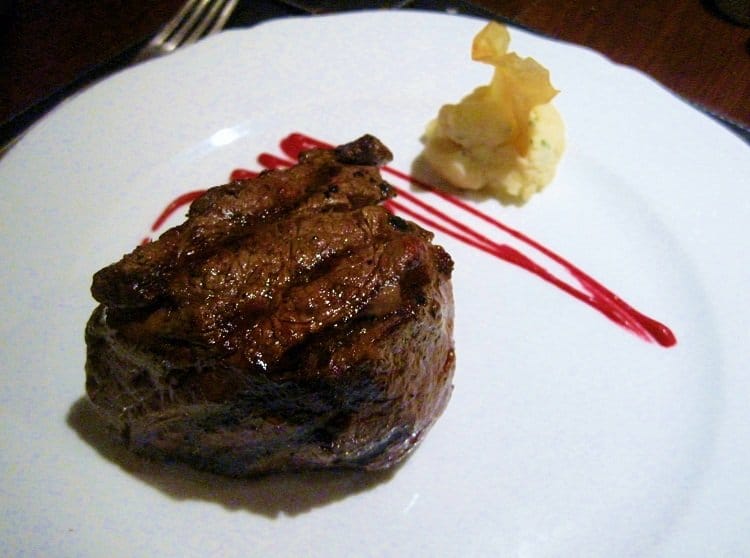 El Mirasol was a tough act to follow, but we unintentionally saved the best for last. Set on the water just before the bridges leading to Puerto Madero, La Cabaña could not be mistaken for anything other than a steakhouse. A cow greets diners at the entrance and windows allow for a peek into the kitchen where the meat awaits preparation. Inside the seating is plush and we walked past a wall of celebrity photographs to our table. We paired our steaks with a delicious Mendoza Malbec and were overjoyed with the meat placed before us. The Medallion de Lomo looked fatter than its 300 grams and melted in Andrea's mouth. The marbling closed the deal. We had asked very specifically for the meat to be cooked 'muy jugoso,' and despite the server's raised eyebrows and repeating 'rare' to be sure, it came out perfect. The restaurant scores extra points for ambience and warmth inside. The house appetizer was a trio of fish, onion soup and a chicken empanada (all delicious) and our potato side dishes were also very good. While we can also recommend El Mirasol for an excellent steak experience, we would choose to return to La Cabaña above all the others.
If you're looking for some additional steak options in Buenos Aires that we didn't get around to checking out, have a look at Ayngelina's recent post on San Telmo steakhouses.
Where in the world have you had your best steak ever? What made it so good?