As you can probably guess, we're travelling with about one tenth of our wardrobes. While not the textbook definition of a minimalist in regular life, Andrea should win some kind of award for the tiny pack she's travelling around with all year. John has a little more in his arsenal to choose from, but we think it's safe to say that nothing in our on-the-road collections is worthy of a formal event.
When we heard that our friend and fellow blogger, Andi Perullo's wedding was happening around the time we'd planned to be in Buenos Aires, we couldn't pass up the chance to be there. But this was to be a lavish, formal affair at one of the most prestigious hotels in Argentina's capital city, which can only mean one thing: black tie. Having planned our own wedding for September of last year, we know how important it is for guests to look the part. And who are we kidding? It's great fun getting dressed up and having such a fun, exciting event to go to when you're travelling. We rarely know anyone in the places we visit, much less get invited to fabulous, oh-so-special parties like a friend's wedding.
So how does one doff their vagabond attire and scrub up for such a function?
Step One: Get Haircuts
John tends to let his hair and beard grow when he's on the road. So he started off with a trip to a men's salon in Montevideo a few days before we set foot in Buenos Aires. For about US$17 he got his usual buzz cut (number two) and coffees for himself and Andrea while she waited. The delicious chocolate-covered dulce de leche biscuits served with them were a bonus.
Andrea started off with a smart cut before we left in December, has been trimming her own fringe (bangs) for the past five months and felt like it was time to see a stylist as well. After consulting with Andi's fantastic wedding planner, Julie Watson for some recommendations, she made an appointment at Volver Peluqueros in Palermo for a cut and style. If you're travelling to Buenos Aires and need help with anything related to your trip, I can highly recommend Julie. She was so helpful to us during our time here.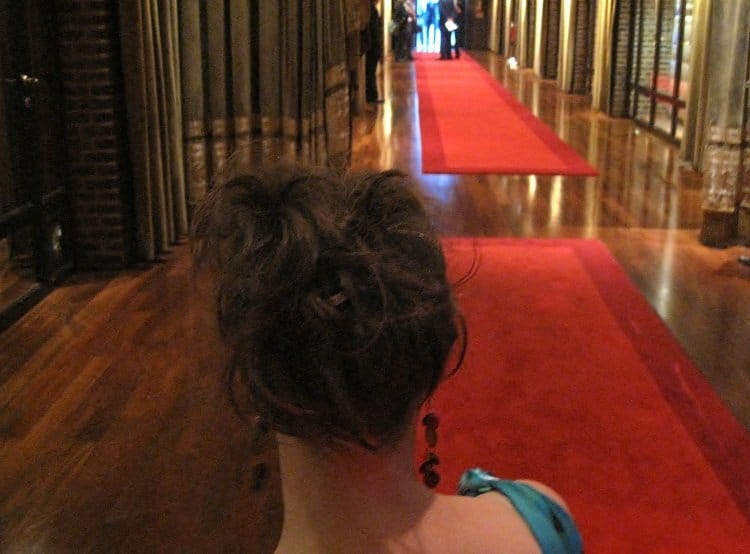 Step Two: Find Appropriate Attire
We headed to the Etiquet suit shop on Las Heras to get John fitted for a tuxedo. After explaining to Raul that we were going to a very formal evening wedding, he asked us to look at the suits on display in the window and tell him what we were after. Our animated discussion to each other in English went on for awhile before Raul gestured to us to follow him. He was a professional so why not just leave it to him? Within half an hour he measured John, suited him up and sent us on our way with instructions to return on Friday to pick up the ensemble.
The next day Andrea headed off shopping for shoes and a dress. Buenos Aires is huge, with many different shopping districts. Since we were staying in Palermo SoHo, which is full of trendy boutiques, it made sense to start looking there. The first stop was the Alto Palermo Shopping Centre, a large indoor mall between the barrios Palermo and Recoleta. It's autumn here in Argentina, but the weather has been beautiful and on this particular day it was 23°C. Despite the fact that there was no need for heating in the shops, it felt like summer inside and Andrea could only take one sweat-inducing trip to the fitting room before she fled the mall. After wandering the streets for hours she finally found the perfect dress at Veronica Far (and returned to the mall in the evening for some shoes to match).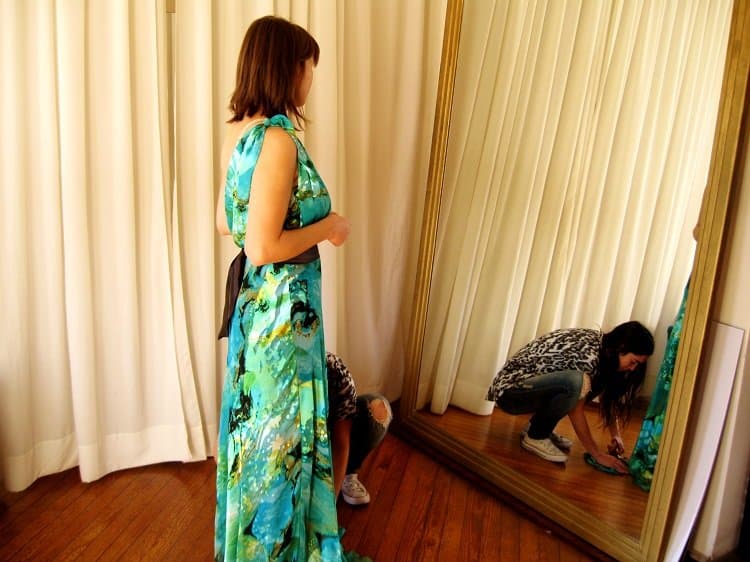 We were surprised to find that shopping in Buenos Aires is not cheap. Yes, one can find many outlet stores and good bargains in boutique shops dedicated to up and coming designers (such as those found in Palermo SoHo), but in general clothing wasn't much less expensive than what we would find in Australia.
Step Three: Enjoy the Party
We wouldn't dare spoil the wedding coverage that is sure to appear on Andi's blog, but we can reveal that it was truly a beautiful evening. You could feel the love and excitement in the room and everyone ate wonderful food and danced all night. We also enjoyed meeting so many online friends in person this week. It does take a bit of extra effort to prepare for a formal event while travelling but it was definitely worth it.

Congratulations to Andi and Lucas Ledesma! We felt so honoured to be there to celebrate their special day.
You may also enjoy these similar posts: