The Sagrada Familia, Parc Güell, Las Ramblas… these and so many more sights are timeless classics in Barcelona, and of course, are well worth the visit. But what visitors to the Catalan capital often miss is the real essence of the city, its true personality and flair. But just by heading slightly off the tourist trail we can discover a world apart, a completely different Barcelona. So forget Gaudí and the Nou Camp and check out some of these alternative spots to visit.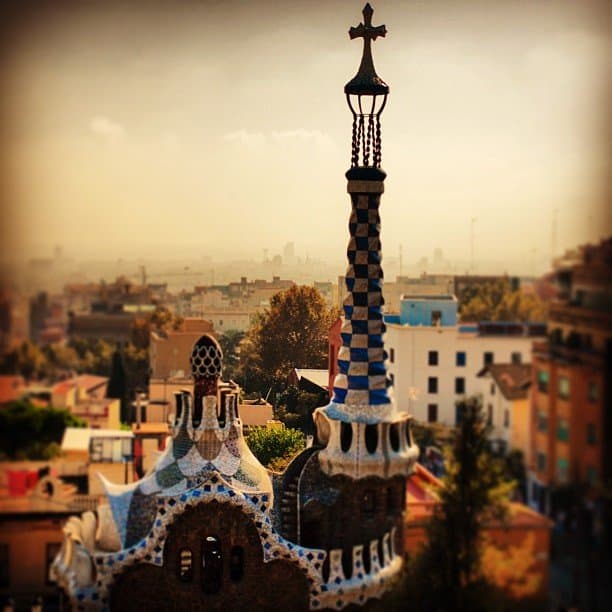 Las Ramblas…no! Rambla Catalunya... sí!
Most visitors upon arrival to the city head straight for Las Ramblas, with all of its hustle, bustle and frenzied tourism. But there is another Rambla with a very distinct atmosphere. Heading across Plaça Catalunya in the opposite direction to Las Ramblas you'll arrive at another street, this time, Rambla de Catalunya.
This street has an altogether different feel to it and the further up the avenue you go into the Eixample district the more chic the ambience becomes. The architecture here is wonderful, with beautiful facades embellished with colourful designs and adorned with traditional balconies and bay windows. There are some very smart shops, cafés and restaurants on this street and it's a great place to stroll amongst the locals.
Hang out in the hippest neighborhood
Gràcia is perhaps Barcelona's most bohemian area with an endless supply of vintage and curiosity shops, quirky yet cute cafés and cool eateries. Think hipster, think Gràcia. Full of young people, there is a real lively atmosphere here with a truly arty, cosmopolitan, local vibe. Strangely however, the neighborhood is rather undiscovered by tourists and has a village-like feel despite its location close to the city centre.
On top of the world
Tibidabo Mountain and Montjuïc hill are favourites among visitors to the Catalan capital for the impressive views they offer of the city. Few tourists are aware of the existence El Carmel bunker however. This little known remnant of the Spanish Civil War sits on top of one of the highest hills of the city and offers arguably the best (and calmest) views of Barcelona. Forget the camera-laden crowds fighting for the best photo op, and think locals with cheese, bread and plastic cups of red wine, watching the sun go down over their home town.
Grab yourself a bargain
Barcelona is well known for its amazing shopping options. From the snazzy Passeig de Gràcia to the enchanting mayhem of the Boqueria Market, visitors to the city are rarely disappointed, finding just about everything they could wish for in the city centre.
Those searching for something a little different however, may wish to try Encants Market. This is the largest and oldest flea market in Barcelona and is a real jungle of bric-a-brac, tat, and vintage gems. Rummage through the stalls, and you're sure to find yourself a real treasure! Held Mondays, Wednesdays, Fridays and more popularly on Saturdays, things tend to wrap up by around 3pm, so get there early if you want to bag yourself a bargain or two.
Ride in style
The Barcelona hop-on-hop-off Bus Turístic is a firm favourite with first-timers in the city. But what about really letting go? What about seriously discovering the ins and outs of the city and feeling the wind rush by as you do it? Hiring a scooter and taking off around the city is one of the coolest ways to visit Barcelona, allowing you the freedom to go where you want, when you want. Via Vespa, conveniently located in the city centre, offer reasonable prices and a variety of options allowing you to really see the city in style!
Promenading with flair
Don't just sit on the beach in Barcelona with a sandy towel, sandy book and sandy sandwich. Hit the promenades as many locals do, taking in the sea breeze and basking in the sun on skates. Rollerblading along the seafront walkways is a favourite past time of city folk and a great way to enjoy beach-city life. To rent skates head to Inercia store and visit their website for information on some great roller activities that you can get involved with around the city.
For your evening tipple
Tempted by a jug of sangria on Las Ramblas? Don't do it. Nothing could be less Barcelonan. What you need is something authentic, places with a personality, places that will give you a story to tell. Head to El Xampanyet in El Born and cram yourself in amongst locals and visitors alike in this famous Barcelona institution.
Specializing in Cava and rustic tapas this is the place to be for a true taste of the city! Later on, if you're in the mood for something a bit swanky, be sure to head over to Dry Martini in the chic Eixample area. One of the most renowned cocktail bars in Barcelona, this place has a real touch of the James Bond about it and is a truly special way to finish off a day in the city.
So forget tourist traps and the overdone Barcelona bucket list and discover for yourself an edgier, more authentic and more adventurous side to the Catalan Capital!
Bio: Laura Jenkins is a British expat who is now loving life in Barcelona. She currently writes for www.apartmentbarcelona.com, an apartment rental agency based in the Catalan capital which offers accommodation for both short and long-term stays. For more advice and information on what to do in Barcelona, check out their blog.
You may also enjoy these similar posts: