Barcelona is an ideal travel location for lovers of many things, including food, architecture, a finely-made drink and especially art. Art is everywhere in Barcelona. However, what many don't know is that perhaps the mecca of art in Spain lies not in Barcelona, but a few hours up the coast in the small towns of Figueres and Cadaques.
From Barcelona, there are day trips available for a live-changing excursion for any lover of surrealistic art – to visit the home and museum of Salvador Dali. Given our love of art, and especially Tracy's background as an art student and admirer of Dali, this was simply a trip we had to take. You and a group of perhaps 12 or 14 will roll through the beautifully cascading hills, climbing higher into the countryside while witnessing beautiful countryside villages. The drive alone is worth the price of admission, but what awaits you is far greater.
Figueres, Salvador Dali Theater-Museum
First, you will arrive at the Salvador Dali Theater-Museum in Figueres, about two-and-a-half hours away from Barcelona, and very near the French border. This small town is adorned with small coffee shops and restaurants, all quaint and beautiful in a town squarely formed around what was Dali's hometown.
As you approach the museum, you'll be met with dark pink walls covered with one of Dali's favorite subjects: loaves of bread! Look upward and view another theme with which he was always enamored, large eggs, which lining the top of the structures' walls.
The entrance is simply stunning and screams at you the whimsy of Dali's personality. We were immediately greeted with one of the most unique Cadillacs in existence – one that rains from the inside! This central piece was the Cadillac that Gala, Dali's wife of nearly fifty years, used to drive as well as the same car that the couple drove across the country during their stay in the United States. The rest of the theater's walls set the mood for the piece, quaintly lined with ivy and statues set within the brick window frames.
Once passing the entry that houses the Cadillac, you come into a vast lobby stretches nearly three stories high, complete with numerous works that were hand-picked by Dali during the museum's construction. One of the most famous is "Gala Contemplating the Mediterranean Sea". This painting is not just an ode to his wife and muse, Gala, but an optical illusion as well. Take a look; do you see her… or Abraham Lincoln?
The museum is packed full of masterpieces. One of the world-famous installations located here is the Mae West Room, which combines myriad multi-media pieces which, when viewed from the elevated platform at the rear, transform a couch (made of his vision of her lips), a nose-shaped double fireplace, and picture frames into her face. Visitors step upon a platform to the viewing piece to witness the full grandeur of the construction, further a testament to Dali's creative genius!
Room after room, one priceless work after the next greets you and presents the question of how any one person could be so consistently stunning in his brilliance. One of Dali's most impressive works is found on the ceiling of a large banquet hall within the museum: The Central Panel of the Wind Palace. Dali's panoramic, visually striking take on the passages of life. Featured in the center of the piece again is Gala, whose likeness you'll see in a vast many of his most intricate works.
Once you've filled your senses with the wonders of the museum, you will be whisked next door to the jewelry exhibit, where Dali's works are reimagined as beautiful, intricate pieces made with gold and precious gems. This smaller exhibit makes use of its windowless space, and as you wind through the pieces are illuminated individually to fully display their brilliance amidst a backdrop of pure black.
Cadaques, Salvador Dali's Portlligat Home
While time could be spent for days studying the mastery of Dali's work, another treasure awaits in Cadaques – Salvador Dali's Portlligat home.
Winding quickly around sharp turns, you come into a small fishing village bejeweled with small homes, hotels, restaurants, and cafes – many of which bearing names which beckon to their former resident. In the center of the town is a large statue capturing Dali's brilliance, standing guard against the inlet.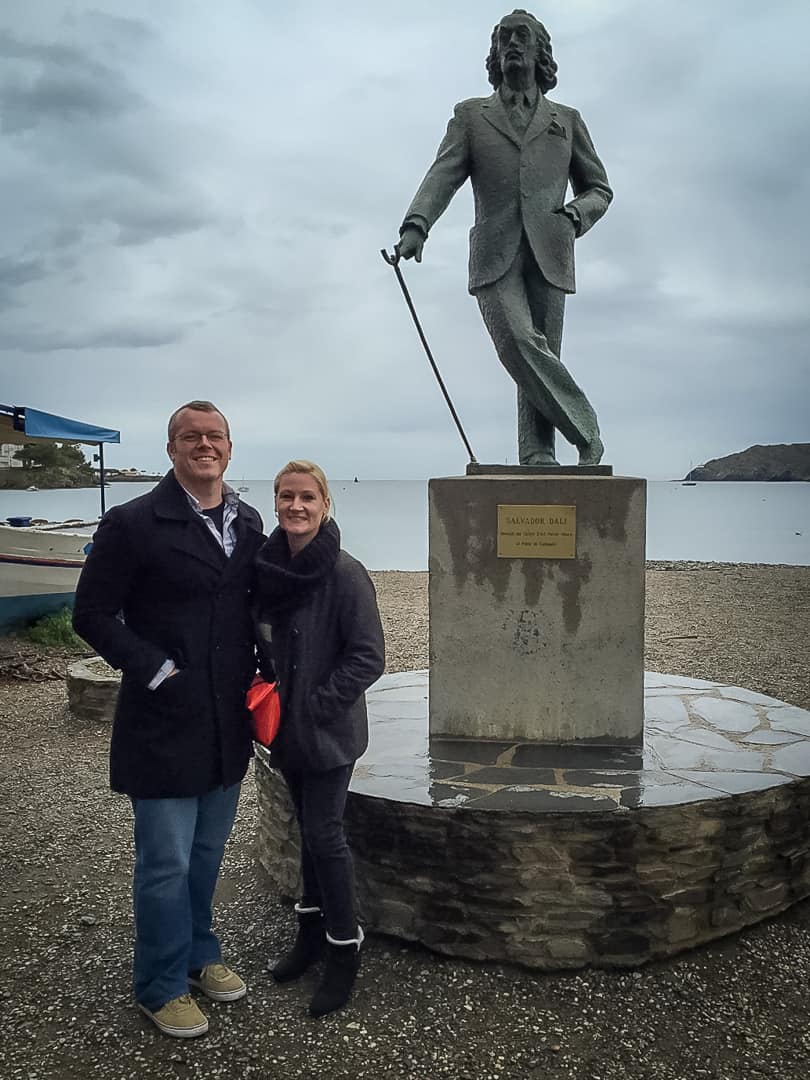 Where the theater-museum drops off, Portlligat continues with an increase concentration of Dali's wild creativity upon entry. You'll be immediately greeted with a large stuffed bear, holding a lamp to illuminate the initial living area, where you'll also find taxidermied swans, an homage to their lives as Dali's personal pets. Though many areas are roped off to the public, the house is intimate and each room relatively small and easy to view. Despite the tight, winding halls and minimal size of the rooms themselves, there is no shortage of excitement, color, and imagination in every corner!
One of our favorite areas of the home is a small room that would be easy to miss without the aid of a tour guide. This egg-shaped sitting area is uniquely designed so that the acoustics center upon one spot in the center. Standing there and speaking, you'll be able to have the feeling of being in a vocal booth, with your own voice flush against your ears!
The most moving area of the house is Dali's actual art studio, where you can view his last unfinished work, a large piece on a track built into the wall that was designed to lift and fall into the floor as he painted different sections of the canvas.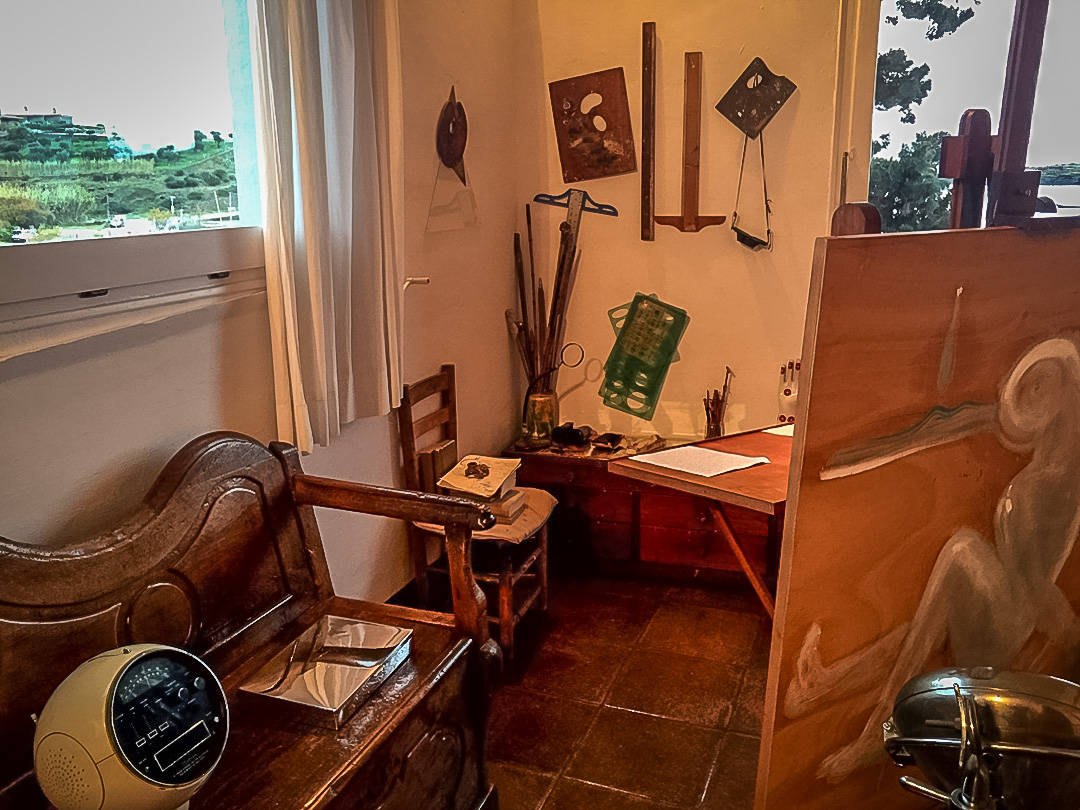 Directly behind the studio is a near-surreal vision - Dali's art supply chamber. Here, you can see the actual tools used by the master himself to create pieces that have become legendary.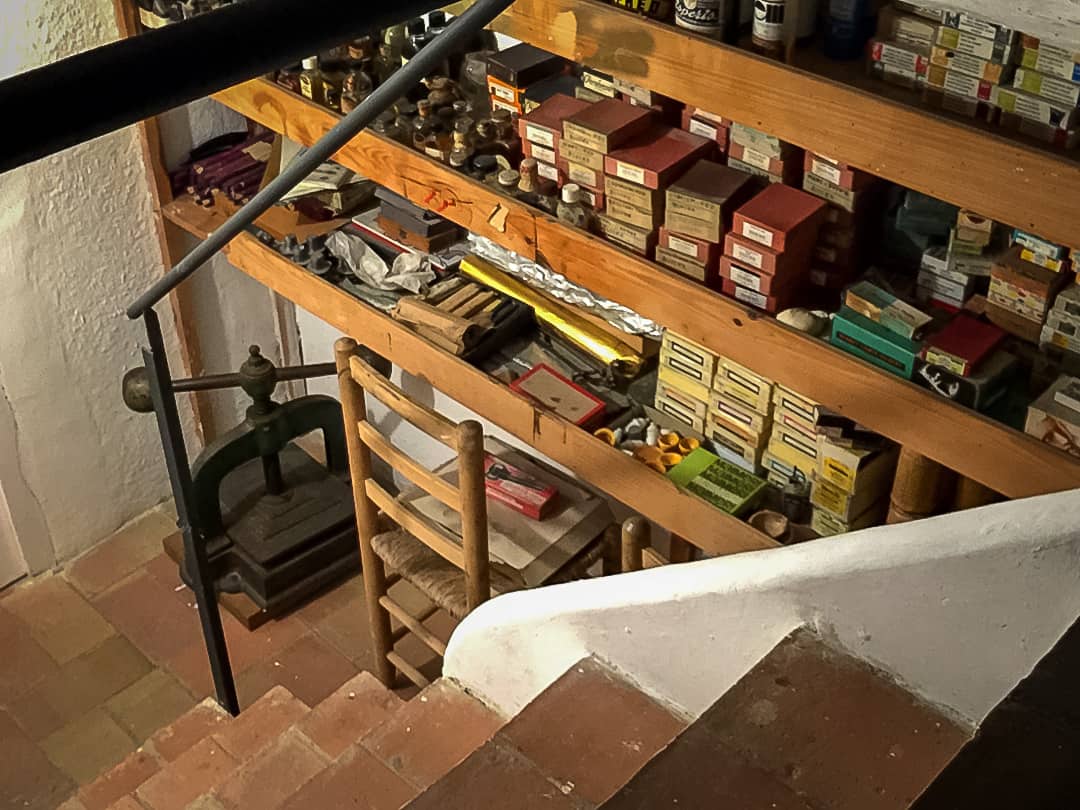 Exiting the home, the famous pool area is another beautiful and whimsical area. Dali's interest in Mae West remains, with a couch designed like Mae West's lips and a back-sitting area full of large, colorful cushions prevalent along the back wall. The area presents a different side to Dali, where he enjoyed contemplation and relaxation with friends, who he and Gala often entertained.
After the house tour, take a few minutes to walk around the lakeshore and experience the view as Dali saw it so many years ago. He was known to paint outside in this area, inspired by the light and the passing ships.
There may be no more unique and fascinating artist than Salvador Dali, and once you experience his genius up close, you'll see why! Take the small day-trip from Barcelona and find out why Dali's works, and personality, are ever-enduring.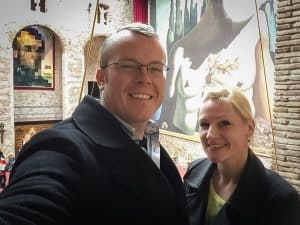 Bio: Justin and Tracy Uselton are the writers of A Couple for the Road, a couples travel blog that focuses on food, drink and culture written from a personal and artistic perspective for the avid traveler. Find them on Facebook and Instagram.