Going away down south is the tried and tested holiday spot for Perth dwellers. After the Macedonian madness throughout January, Andrea and I thought it was time once again to make the three hour drive and chill the fuck out.
The Margaret River wine region in well known, but Bungas (whose beer gut has been in immaculate form for well over 13 months now) insisted that rather than hit the wineries, we'd visit the microbreweries for a taste. Here they are in chronological order:
1.  Colonial Brewing Company, Margaret River
The first type we tried was the Kölsch. Kölsch beer in WA? En serio? That's right. It had a fuller taste than its origins in Cologne, but that refreshing clean flavour was evident and totally hit the spot on a warm summer's day. I also had the limited edition "Mumme" beer, which reminded me of a bock, but much more subtle. Among others, they also brew an India Pale Ale and Porter that I couldn't indulge in due to their high alcohol content and the fact that I was designated driver. Colonial (as well as most breweries down there) have a two litre bottle called a "growler" that you can fill up with a beer of your choice to take home, however, we resisted the urge to stock up.
2.  Cowaramup Brewing Company, Cowaramup
A beautiful setting with an outdoor verandah, beer garden and pond full of tasty looking geese, we also enjoyed a delectable pizza here. They have an award-winning Pilsener that we missed, but unfortunately you have to pick and choose your beers because you can't have them all! Tasting paddles are also available with six 100 mL glasses of each type, but I didn't delve into this glorious pasttime until later breweries. Andrea had the Special Pale Ale and I tried the Porter, which is fast becoming my favourite style of beer. Hefeweizen also features here, which shows the German influence in producing wonderful beers.
3.  Bootleg Brewery, Wilyabrup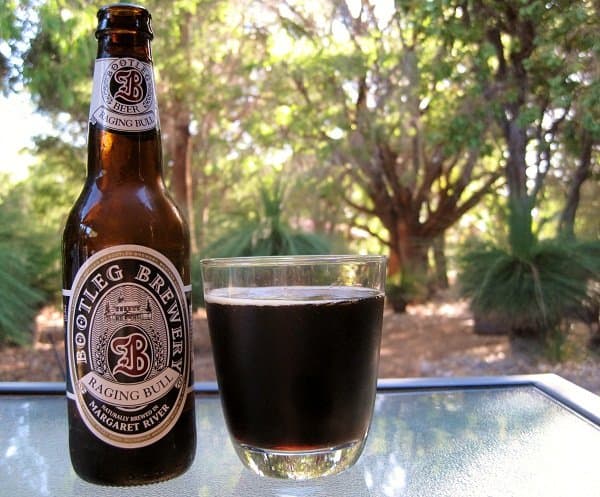 Bootleg has been around since 1994, with its massive beer garden and surrounds providing an awesome spot for a good old-fashioned Sunday session. We stopped by quickly to pick up a delicious six pack for drinking at the hotel. While I'm not against the growler as mentioned above, the chance to taste different types is much more appealing to me. Their Raging Bull is outstanding and at 7.1%, is full of taste and malty goodness. The other winners for me were the Hefe and the Sou' West Wheat beers, with the former steeped in banana flavour and the latter full of delicious "chunky bits" that I love so much.
4.  Eagle Bay Brewing Company, Dunsborough
A short drive from Dunsborough town, this picturesque location has a great view of Cape Naturaliste and the ocean. We both had the Vienna to begin with, which is an extremely drinkable Bavarian style lager. We then tried the Pale Ale and Extra Special Bitter (ESB). The Pale Ale was American style and truly full of hops to keep you occupied for hours. The ESB was English style with bitterness and maltiness combining for a great experience.
5.  BushShack Brewery, Yallingup
This non-descript brewery has homemade written all over it. The bar felt like your local corner pub and the backyard a tranquil beer garden where you can put your feet up. But that's where the comparison ends, because this place brews some weird and wonderful beers. I went with the tasting paddle, which included the very interesting Strawberry Blonde (6.7%) and Chocolate Beer. But my favourites were the malty Yallingup Old and the smokey stout, Dirty Dan's Dark Delight (7.9%). BushShack is the only other brewery that has their beer available in bottles. They also do alcoholic soda and fruit drinks that I dared not try, at least not this time.
6.  Duckstein Brewery, Wilyabrup
Duckstein also has a winery attached and a very nice front garden on arrival. Inside, please turn left for the brewery and proceed to the outdoor verandah overlooking a dam. There's also a pleasant beer garden with plenty of space. I opted for the tasting paddle again, trying their four regular beers and the seasonal special, Fest Bier. This was my favourite, malty and refreshing at the same time and I went back for another pint. Their Hefeweiss, Dunkel and Altbier show that this brewery is serious about producing all that is German. We also ate lunch here and the menu is full of German specialties, with Andrea's wiener schnitzel beating my trio of sausages.
Have you visited these breweries before? What's your favourite?
You may also enjoy these similar posts: