This is our first stop on the trip and while I'm happy to finally visit New Zealand, I can't say that I've been impressed with the beer in Auckland. A couple of visits to the bottle shop have not amounted to much in tasty beer. I knew of Steinlager from my previous travels in London; it's served at the infamous "Walkabout" pub chains that cater to mainly Aussie and Kiwi drinkers. It's a pretty tasty beer, but I thought it was primarily an exported product.
Looking through the fridge shelves I discovered a number of other local Auckland beers and they all had one thing in common: 4.0% Alc./Vol. 4.0%?? Are you kidding me? This is supposed to be full strength beer! I couldn't believe my eyes, but alas it was so. On closer inspection of the bottle, I saw something in small print inside a word bubble: www.drinkresponsibly.co.nz. So then I understood: New Zealanders care about how beer can make you behave and hence the low alcohol content. If we had such messages in Australia, it would probably read something like "Never fear, drink more beer."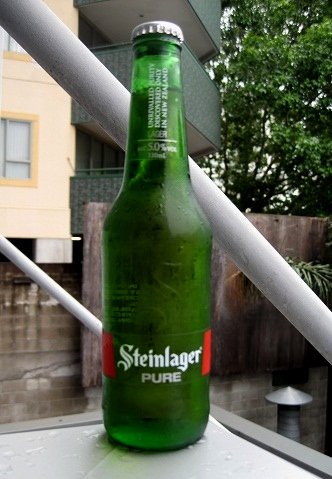 I was able to try the new
Steinlager Pure
and it is as crisp as it is refreshing. And it goes down very nicely indeed. It reminds me of Tasmania's James Boag's Premium, but with an added fruitiness, almost like a bit of Cascade (also from Tasmania) was added with Boag's. Splendid and infinitely better than any other Auckland beer I tried.
After wandering through the city and up the many hilly streets, we happened upon a place called Brew on Quay with a very impressive beer list. The bartender was unbelievably friendly and gave us a tutorial on the good beer of New Zealand. Apparently, Auckland isn't favourable for brewing and hence most of the other beers I sampled were from other parts. Green hops are a feature and I do love a hoppy beer! So while I was left somewhat disillusioned with my first Kiwi drinking experience, I can only look forward to what the future brings in boutique beers of differing strengths. 4.0% indeed!!
Name: Steinlager Pure
Brewery: New Zealand Breweries Ltd.
Location: Auckland, New Zealand
Alcohol: 5.0%