Bungas is back for a review of the beers of Colombia. Thank you to the three fans who made this post possible - you know who you are. Our time in
South America
is coming to a sad end, but the beers have certainly kept us going; providing the fuel to endure the hot, the cold and everything in between.
Colombia has been a special country for us. Entering this continent for the first time, it was not on our original agenda. We are not alone in this when travelling to South America; Colombia's past sometimes makes it invisible to the common person. We only had to hear one or two stories about its fabulousness until we uttered "Sold!" and made our plans to come here.
Beer. Sweet, sweet beer. It started with the Bogota Beer Company (or BBC as they call themselves). Yes they are a chain, but yes they have good beer. The Candelaria Clasica (rubia - blonde), Monserrate Roja (red), Chapinero Porter (negra - black) and Cajica Miel (honey) were the tap varieties. But the seasonal one I tried was the best - the Septimazo India Pale Ale! Weighing in at a hefty 6%, it's served in a tulip-shaped glass. And it hit the proverbial spot, particularly on a warm summer's day.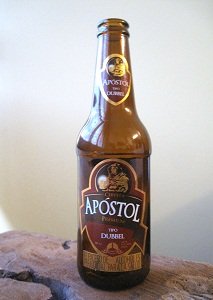 Next it was time for Beer Station. Similar varieties were on offer again, this time the roja being my favourite. Truth be told, I didn't try the negra. This was purely because I usually delve into dark beers a few drinks into a session or mid-evening after an early dinner. So because of the hot, humid and cloudy conditions, we mostly drank in the afternoon. An outstanding burger was also consumed along with the beer.
Medellin brought a new city and perhaps the finest beer Colombia has to offer: 3 Cordilleras. We tried four types: Blanca, Mulata, Mestiza and 6.47% Especial (which was strangely only 6.41%…those crazy Colombians!) Needless to say the latter was strong and tasty, but the Mestiza was an American Pale Ale that enveloped the senses. This time, the best chicken wings on the planet were the perfect accompaniment. Apostol is another craft beer with different European styles. I had the Belgian-influenced Dubbel which was potent and delicious.
Colombian beer is wicked, however, all national beer in South America was pleasantly good. Here are honourable mentions from each country we visited, in chronological order: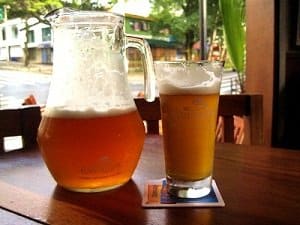 Escudo (Chile)
Quilmes Bock (Argentina)
Pilsen (Uruguay)
Huari (Bolivia)
Cusquena Malta (Peru) So good!
Club Colombia (Colombia)
It should be noted that craft beer was particularly great in Patagonia (Chile and Argentina.) Bungas may return for parts of Europe, because we all know beer there can knock your socks off. For now, hasta luego and buen viaje!