I'm really reaching into the archives for this post. The pictures aren't the best quality (pretty sure most of them were taken with a disposable camera) and I don't have much in the way of travel tips for the Greek islands. But the story is one that, for the purposes of this blog, must be told.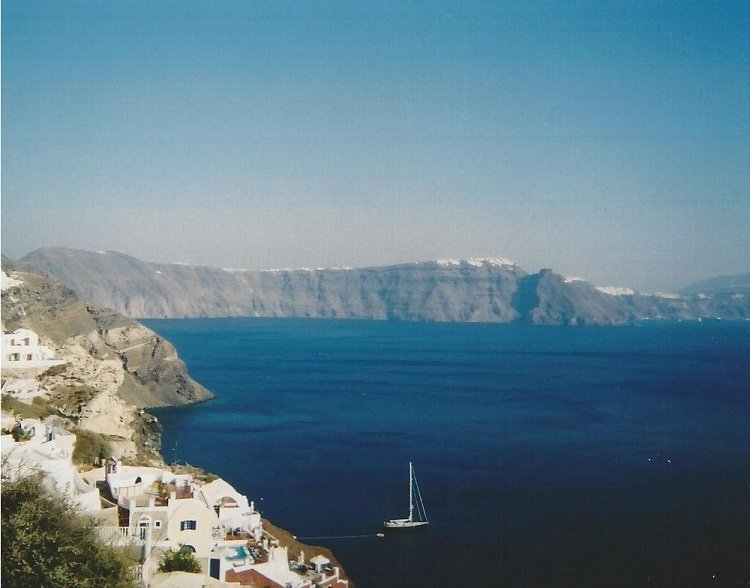 I grew up in the southeastern United States and John grew up in the southwest of Australia. It's pretty crazy to us that
we met about halfway in between the places of our births
. The Greek islands had always been a dream destination for me. I have no idea why, but when friends began planning a trip to Crete in the autumn of 2004 I jumped at the chance to join them. John, on the other hand, was finishing up two and a half years of work and travel in Europe, with the tiny town of Plakias being his final destination before visiting relatives and then heading back home to Australia.
I've mentioned this story before when I posted about our destination wedding a couple of years ago, but the place that brought us all there is a really awesome hostel that both John and one of my friends had visited before. I had no idea what to expect and was pretty much just along for the journey and promise of sunshine and beaches - definitely not in the mindset that I would meet the person who would later become my husband. The morning of our arrival, all of John's dorm roommates had departed and he was told by the owner that he would get a surprise that afternoon.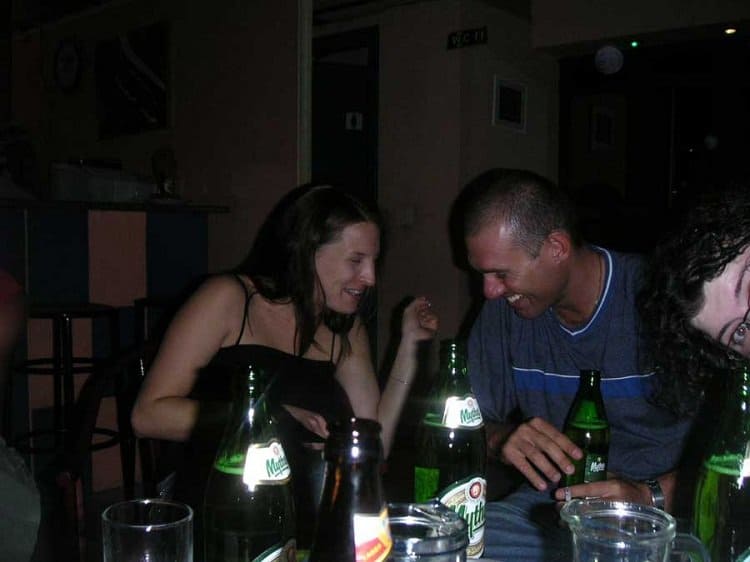 It's not often that a couple is lucky enough to have had someone snap a photo of them in the midst of one of their first conversations. We still don't remember what we talked about this night but it must have been good.
The surprise being our little group, fresh from a couple of flights from New York. I remember immediately thinking that John had nice eyes on meeting him but we didn't speak much because we were whisked away to the little welcoming ceremony where everyone gets a shot of the local spirit, Raki, which is anise-flavoured and very potent. We also learned a bit more about the hostel and how many repeat visitors it receives - not surprising considering the beautiful surrounds.
That night everyone who was staying there went to dinner together. I was one of the last people to arrive at the table and none of my friends had saved me a seat so I headed to some open chairs and ended up sitting right across from my attractive roommate. This was our first opportunity to talk but I called it a night early that evening because of jetlag.
The next morning I clumsily stubbed my toe in the communal bathrooms and ended up bleeding with my foot in the sink to rinse the cut. Who happened to come in at that time but John, who was insistent to have a look at the wound. It was quite deep so I was reluctant but he was quick to assure me that he "liked gross things." He went off to find a bandage and returned with some liquid plaster and a shot of Raki from Chris, the owner.
"You're supposed to drink one and use the other on your foot, I'm not sure which," he said. I think that was the first time he made me laugh.
This post will become much too long if I get into all of the conversations and details of the time we spent together after that. Plakias is an easy place to be. You have copious amounts of Raki and cheap (but very tasty!) Mythos beer, delicious local food, several beaches and friendly people to keep you busy doing not too much. We did the "river walk" with friends, which I highly recommend for anyone visiting. It's an easy hike where you wade through rivers and under waterfalls, ending up high on a hill at a restaurant that serves the best Moussaka I've ever had in my life (if you choose, I believe there can be several ends to the trail). Such an easy place to fall in love!
Since most of the photos here are from Santorini, you might be wondering how that magical place fits in. Crete was meant to be just one part of my European holiday. My friends and I were due to meet more friends in Munich for Oktoberfest. We had accommodation booked and tickets to see Slayer as well. And after that a few of us were headed to Cinque Terre in Italy before flying home. Luckily I got another crack at both Oktoberfest and Slayer (even meeting the lead singer!) last year because I was a terrible friend and ditched the rest of the trip to stay in Crete with John. We made plans to head to Santorini for a few days before we had to part ways.
What a gorgeous place! We relaxed for the next few days there, enjoying the beaches, delicious wine and food and the wonderful ambience of the island. I don't often say that I would like to return to a place but I sincerely hope we get a chance to go back to Santorini one day. I'm seeing a lot of posts going around at the moment about Greece and why people should travel there despite the current European crisis. If you have any plans to visit and are worried, please don't cancel them. I haven't seen any other parts of Greece but Crete and the rest of the islands are spectacular.
As for the rest of the story, you may already know it. At least the important parts. What started as a travel romance eventually led to marriage. We're going on eight years together so who says travelling relationships have to just be flings? When I think about just how many things had to happen to put us together in that same dorm room way down there at the very bottom of Europe - just consider the odds for a moment - I am reminded of what John calls the "happy randomness of travel." This particular journey certainly changed my life.
Do you have a travel love story?