Now that the train line from Perth has been completed, peaceful Mandurah is as popular a day-trip destination as ever. Located just 72 km south, Western Australia's second-largest city is bordered by the Indian Ocean, Peel-Harvey Estuary and the Serpentine River, making it a naturally nautical place. What started as a modest fishing village has turned into a thriving tourist destination, with international visitors who flock to its beaches and protected waterways for fishing and boating.
We headed down to Mandurah with John's parents by train on a weekday afternoon in January, a journey that takes only about an hour. Our first stop was for lunch at the Red Manna restaurant (Upstairs 5/9 Mandurah Tce, ph. 08 9581 1248) on the foreshore where we enjoyed a delicious lunch of fresh regional specialties and a great view of Mandjar bay. Afterwards we took a walk to the dock in front of the Mandurah Performing Arts Centre to catch one of the ferry cruises and tour the waterways.
Dolphins live in the waterways but we didn't spot any, so we focussed our attention on the boat harbour and multi-million dollar homes along the canals. Everyone has a boat and I can imagine hopping into one to go out to dinner instead of a car. Everything in Mandurah seems suited to the water.
Check out some of the flashy houses we saw on our cruise: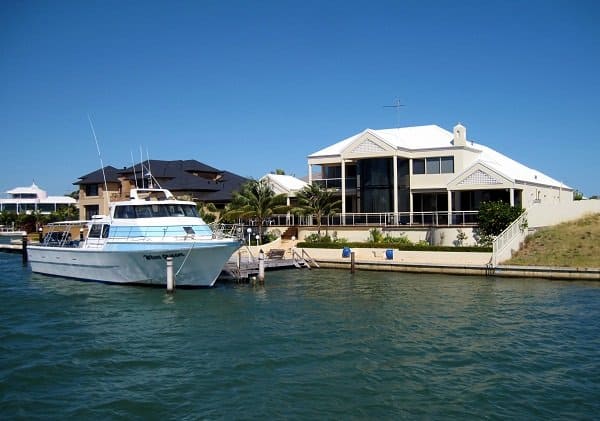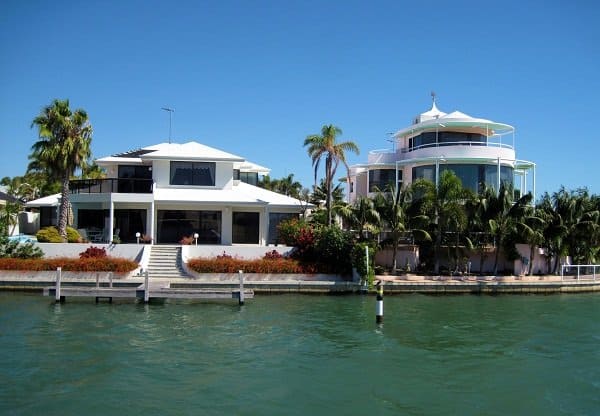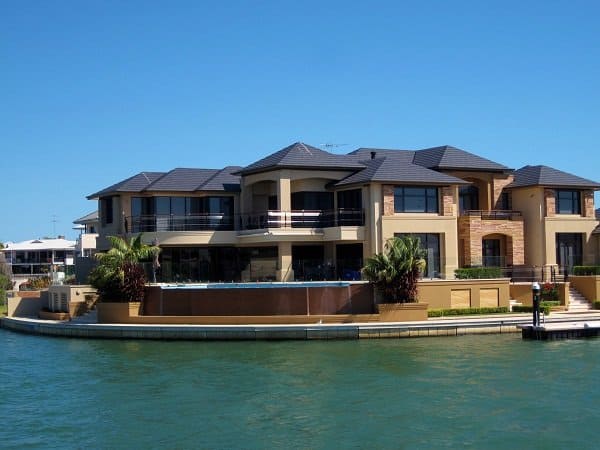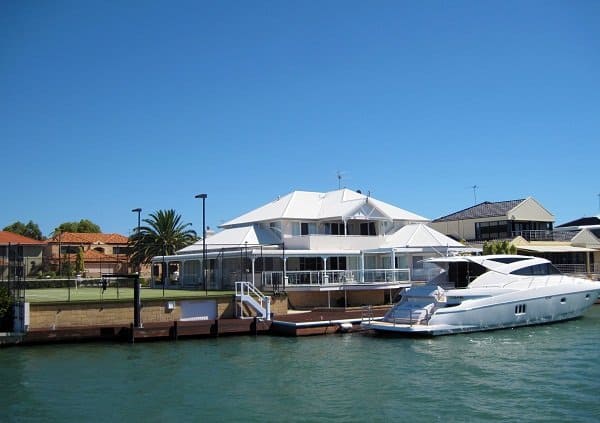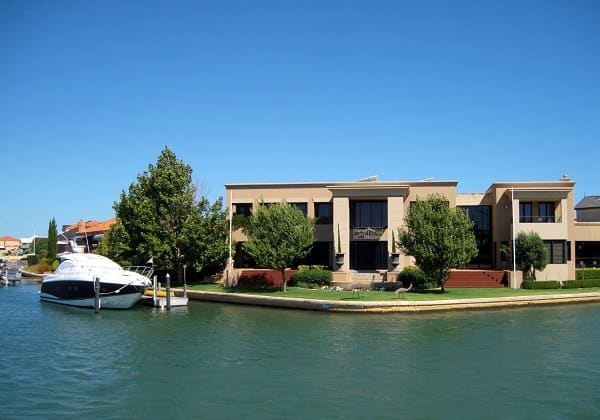 Visitors with more time to spare can enjoy the Yalgorup National Park, the Jarrah and Marri forests, four-wheel drives on the beach or a game of golf on one of seven courses in the area. It's easy to hire a houseboat and cruise the waterways or just relax and enjoy some nice food and wine. At Christmas, the residents decorate their houses and everyone goes out on their boats to celebrate and check out each others' creativity - the atmosphere must be so festive.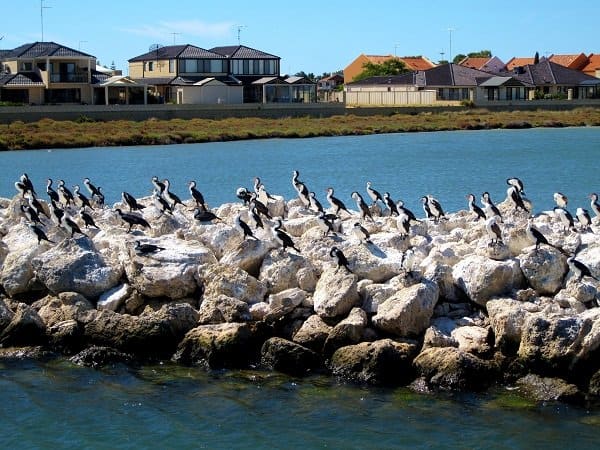 Getting there: Take the Transperth Mandurah train line from the Underground or Esplanade stations in Perth city (if you're coming from the northern suburbs on the Clarkson line, your train will probably go directly to Mandurah after passing through the city - listen for announcements). Once you arrive in Mandurah (the last stop), catch one of the shuttle buses to the foreshore. By car you have two options: the fast route is to take the Kwinana Freeway, exiting onto Mandjoogoordap Drive. This connects to Mandurah Road, which leads into the city centre. Otherwise, enjoy the scenic route along South Western Highway to Old Coast Road, which connects to Forrest Highway and then to Mandurah.
For more information, check out the Visit Mandurah website
Don't miss:
Crab Fest (mid-March)
Stretch Arts and Community Festival (May)
Mandurah Boat Show (mid-October)
Little Nippers Maawit Kara Children's Festival (October)
Seniors Expo (October)
Have you been to Mandurah? What's your favourite thing to do there?

Not interested in Australia? I'm sure you'll find a suitable travel-related book in our eBook shop – including many FREE titles available for immediate download.