This has been a rough year. While 2011 took us around the world for its entirety, 2012 has been about figuring out a new place to live, moving there and now adjusting to a completely new country. Full-time travel has stresses of its own but I don't think they are quite on par with the shift to expat life. So we have been in desperate need of some rest and relaxation.
When John and I are stuck in our everyday routines and feeling stressed, we often turn to a local hotel and spa for help. It's nice to take a weekend away from your normal surroundings, even if you're just going up the road a bit. We were regulars at The Langham and Crown hotels when we lived in Melbourne for this reason. My motto is, if you can't truly get away, get as far as you can and into a soft comfy robe.
Sola beach is about a fifteen minute drive from where we live but an internet search revealed that we needed to go no further to find Stavanger's most luxurious resort and spa, the Sola Strand. We booked their 'Dream Weekend' package and began to eagerly look forward to the included lunch, dinner and breakfast, spa treatments and a night away from home.
The Sola Strand Hotel's history takes us back to just before World War I, when the property was opened as an inn and wellness destination under a different name. During World War II it housed officers of the Norwegian Air Force, occupying Germans and eventually the Allied Forces. It re-opened to the public in 1947 after renovations.
We arrived in the early afternoon for a lunch of delicious cod fish and roasted potatoes, followed by a delightful duo of sorbets.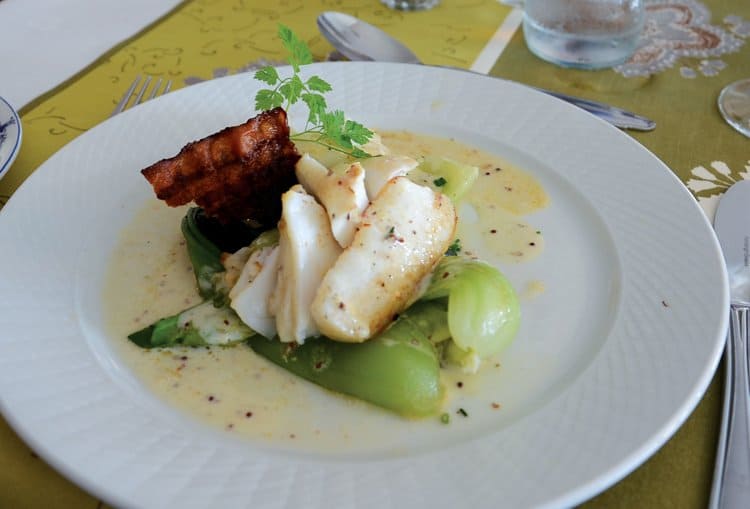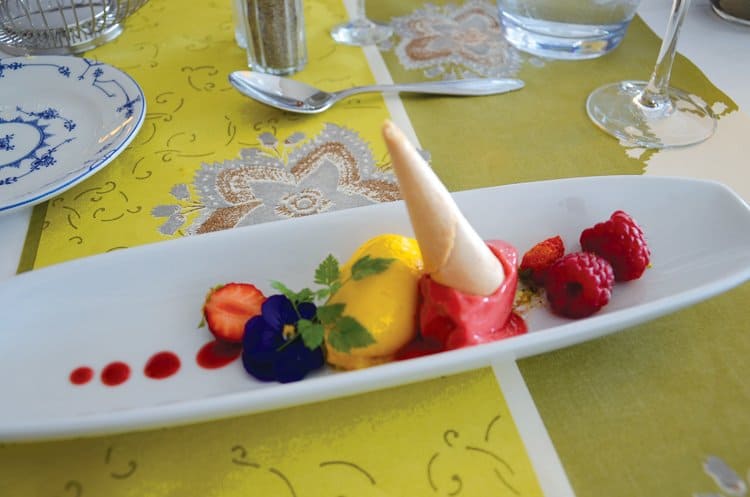 After lunch we had just enough time for a leisurely walk along the beach. It was a bit cold for us to swim but plenty of people were taking advantage of the rare sunny day.
When we returned to our room the included bottle of sparkling wine was waiting for us - a delicious Spanish cava, one of my favourite types.
And then it was time to head to the Nordsjøbadet Spa. We felt pretty relaxed by this time but 45 minutes splashing in the pool there prepared us even more. We booked a couple of extra treatments in addition to the included algae back wrap and massage. John enjoyed a mineralising therapy bath while I let a skilled therapist transform my feet into "Happy Feet" with a 50 minute organic treatment. The treatments were excellent and the staff did a really good job of making us feel completely pampered and relaxed.
Unfortunately the relaxation ended there as dinner was quite chaotic. We were hoping to have a drink beforehand but the hotel has some rules about having to order bottles of wine in the dining room, even though there is a lovely area with couches just on the other side of the restaurant wall. There was also a wedding going on, with the reception room at the back of the restaurant, so imagine that soundtrack going on during dinner. They wouldn't allow us to move a bit further away from the noise because they didn't want to clean any tables. We have a rule about not going out to dinner on Saturday nights because this is the kind of experience we've gotten sick of at any restaurant over the years, but in this case the idea was a weekend getaway so that couldn't be avoided. We did our best to enjoy the meal (the incredible desserts assisted with that) and then headed outside to the patio shown above to enjoy an 11pm sunset and some delicious breezes.
Aside from our dinner experience, a couple of other things keep this hotel out of the luxury category for me: the rooms have no amenities (toiletries, minibar, a safe or room service) and the spa setup needs improvement. It's a small facility and our treatment rooms were right next to reception. John's massage table was very wobbly, which meant interruptions to his treatment that couldn't be helped by the masseuse, who did a great job. Aside from these flaws, however, the goal of the weekend was accomplished: we left with soft skin, relaxed muscles and the feeling that we got away from it all for awhile.