Spring seems to have barely sprung here in Norway but it's Spring Break just the same. Norway has the longest Easter holiday of any Scandinavian country and, I'm guessing, the world. Everything here shuts down from around 6pm on Wednesday and most won't re-open until Tuesday morning. Alcohol sales at the Vinmonopolets finished at 3pm on Wednesday - it was funny to see a post on an expat forum today from someone looking to buy secondhand beverages from the better prepared (it is still possible to purchase regular percentage beer at the grocery stores on Saturday until around 3pm).
Easter in Norway is known as Påske and it's not so much about religion here as it is about having a nice long break. Maundy Thursday (Skjærtorsdag), Good Friday (Langfredag) and Easter Monday (second Påskedag) are all official public holidays. Norwegians take holidays, head to the mountains for skiing and hiking or retreat to their hyttes, cabins in the mountains that are owned by many Norwegian families for weekend escapes.
Traditionally everything looks about the same as in other countries - yellow is the colour of Easter and chickens, eggs and bunnies are the popular symbols. Children decorate eggs and have hunts for them, families and friends exchange chocolate bunnies or candy-filled eggs and loved ones gather for traditional meals such as lamb roasts over the weekend. But there is an unusual Easter pastime as well: crime.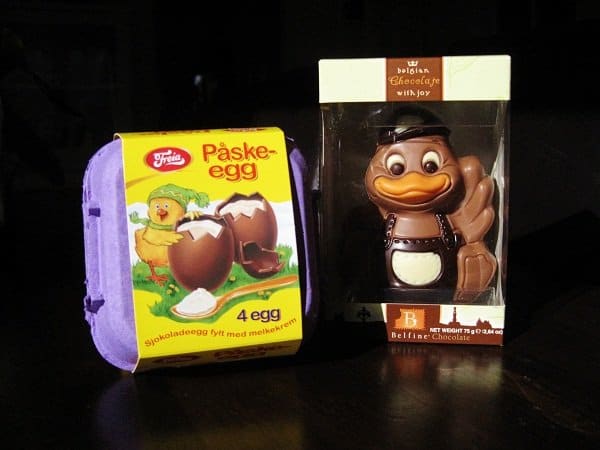 Norwegians become obsessed with mysteries and crime stories around the Easter holidays. This began back in 1923 with the running of a crime book launch campaign in a newspaper a week before Palm Sunday. The advertisement got everyone's attention because it was run as a normal news article with the headline, "Bergen Train Looted In the Night." Due to its success, the publisher ran a similar campaign the following year and today the phenomenon continues. Publishers produce Påskekrimmen or "Easter Thrillers." Classic detective shows and movies are broadcast on television and radio, with milk producers joining in the fun by placing detective stories and cartoons on their cartons.
The indigenous Arctic inhabitants in Scandinavia's far north, the Sami, have their own Easter festival as well, which you can read about in this great post from My Little Norway.
What are we doing this Easter? We just moved into our new home in Stavanger and have been settling in and relaxing. Hopefully next year we can take a mountain holiday of our own over the break. We hope everyone is enjoying the long weekend and your Easter celebrations if you participate in them.
What are the Easter or seasonal traditions where you live?
You may also enjoy these similar posts: