(Discovering Milan's Expo 2015 In a Day…Or Less)

It seems the lemon is turning into limoncello.
Weeks before Expo Milano 2015's opening in May, word on the street was not good. Nothing was finished; the money had disappeared; the Italian government had bungled it again.
But employing the classic Italian seduction method of arriving late, starting slow, and keeping expectations low, Milan's Expo is winning over skeptics with strong attendance, some genuinely crowd-pleasing exhibits, and less unfinished business than doomsayers predicted.
With only three months left before they tear it all down, it just might be worth stopping by Milan to see the Future of the Planet. How long to stop is open to question.
"I'm thinking of visiting Expo on Monday," I reluctantly volunteered to Simon, my Milanese friend. He stared at me, appalled.
"Listen, you need three days minimum to see Expo correctly. It's not a day at the shopping mall. Think of it as a city unto itself."
I reminded him that I'm an American. We're the people who book a week-long holiday to see Venice, Florence, Rome and Naples. Three vacation days for a super-sized school field trip is unthinkable.
Admittedly, I'd been an Expo-skeptic. Sure, it introduced the telephone (at the 1876 World's Fair in Philadelphia) and inspired architectural wonders like the Eiffel Tower and Seattle's Space Needle. That was then. Today, its mix of self-congratulatory nationalism and high-minded social initiatives feels like a cross between the Eurovision Song Contest and a United Nations subcommittee meeting. The 2015 theme, "Feeding the World, Energy For Life", seemed an ironic subject for what amounts to a worldwide architectural grudge match.
Even in a seven hour, grazing-menu visit to "Feeding the Planet", one inevitably takes on the mindset of an Olympic skating judge, pitting country against country, giving points for form and pretty costumes and throwing favors to nations deemed politically simpatico. Having duly noted then the disqualification of any pavilion with a long line or an exhibit that demanded more than 20 minutes, here's this judge's scorecard from one summer afternoon at Expo 2015:
To begin, a hearty bravo to Italy—not so much for Palazzo Italia, an asymmetrical jumble of buildings seemingly wrapped in pasta noodles, but rather for Expo as a whole. On a logistical level (rarely the Italian strong suit), the event is hard to disparage. It's easy to access, nicely laid-out, and well-staffed with friendly helpers. There are even plenty of bathrooms, and the toilets have seats,which puts them ahead of much of the country.
And the Gold Medal goes to…Korea— and their groovy white half-whale of a building, the Guggenheim museum filtered through a K-pop video. Even the young attendants look like they belong in a boy group.
Building on the theme "You Are What You Eat", the show opens with several art installations outside the pavilion: a trash pyramid of shiny tin cans ("waste" never looked so good) and an over-inflated black ball, symbolizing obesity. That subject comes up frequently with the Koreans. One can't help wondering if it's a barb aimed at North Korea's doughy Dear Leader.
With its flashy holograms and robotics, the Korean presentation flaunts its cutting-edge technology. But there's an artistic side as well. The Writing Wall, a collage of food-related words written in English, Italian and Korean, and an immense onggi, a Korean earthenware pot, are both visually striking and rich in meaning.
Silver Medal to the UK and rightfully so, as the main attraction here is a giant silver aluminum beehive that flickers with lights, triggered by activity at a real hive back in England. One approaches through a wildflower meadow, then finds the place brimming with typically British activity— there's a Pimms stand at the entrance and the whole pavilion empties into an outdoor bar. I trust it becomes the buzziest of nightclubs by sundown.
The Bronze Medal to Spain, my personal favorite. This simple, rustic exhibit uses little more than charming drawings and photos to create a laid-back tribute to the Mediterranean diet. You can smell the Iberico ham and Spanish cheese, there's good live music, a gift shop selling topnotch olive oil and an outdoor lounge that transports you to the Costa Brava. I stayed for dinner.
Punching Above Their Weight: One intriguing aspect of Expo is to see which countries are starting to flex their muscles, even if it's with mixed results. Vietnam and Malaysia both make bold architectural statements, with Vietnam constructing bamboo towers in the shape of lotus flowers, while Malaysia embodies it's theme of "seeds" in round pod-like buildings of wood and iron.
Unfortunately, they come up short on content. Vietnam builds it's exhibit around paper pop-up sculptures that look strikingly like something sold by a street vendor near my office. And the Malaysian seeds are more like shells. Inside the pod, you get a Chamber of Commerce video and a rain forest straight from a Tiki lounge. To their credit, the Malaysians are the only ones with a theme song, which actually opens with the line: "Welcome to Malaysia".
The Upsets: Starting with the name, "Food 2.0" and it's unpleasant associations with genetically-modified crops, the American presentation reinforces every negative impression of our native eating habits. The first three subjects are spaghetti and meatballs, barbecue and Thanksgiving, as if Paula Dean organized our program on nutrition. I hope the Koreans haven't seen it.
The Cold War Continues: Like the US, Russia doesn't hide its national stereotypes. Instead, it wears them proudly on it's puffed-out chest. A vast mirrored canopy at the pavilion entrance is a gaudy show of force, but it's perfect for selfies. Soviet-era propaganda posters line the walls ("Workers for Food Unite!), while a tribute to Russian scientist Nikolai Vavilov, who revolutionized grain farming, leads straight into a vodka bar, which is a nice little segue. Add in the fact that the credited sponsors are Beluga and a company called Russian Helicopters and the whole thing is positively Putin-esque.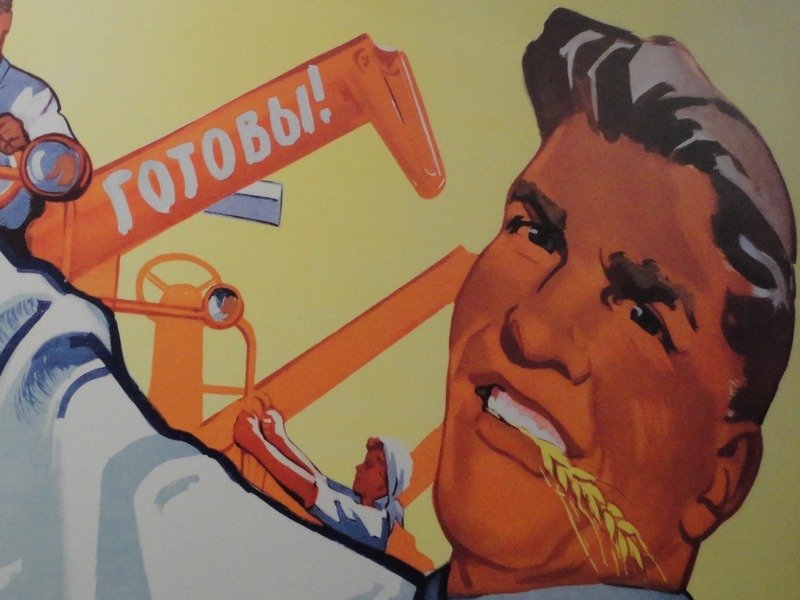 The Crowd Favorite: In one of the most hyped attractions, Brazil mounts a suspended net over which spectators can crawl, jump, or stumble while viewing a garden below. The message seems to be to walk softly over nature. But its popularity undoubtedly lies in its status as the world's most eco-friendly bouncy house.
They Grabbed Our Hearts: Putting aside the Malaysian theme song, real emotion is rare at Expo, which is why the Nepal pavilion stops you in your tracks. A Nepalese pagoda sits empty and unfinished— a team of Italian and Nepalese volunteers worked together to get it open at all. At the entrance, there is only a simple sign and a box, soliciting funds to help the country repair from April's earthquake that killed more than 9000 people. It's a reminder that sometimes the future looks like this, holding as much danger as it does promise.
On Expo's opening day, there were riots in the streets of Milan, as protesters railed at the absurdity of spending millions of euros on exhibits about poverty and world hunger. However, the demonstrations themselves were undermined when a video caught one angry young man sporting a Rolex watch. So it seems that life is full of contradictions. Identifying the paradoxes in Expo is like spotting holes in an opera plot. It's far too easy, and it misses the point.
Taking a breather from our break-neck pace, I caught the daily parade of the Expo mascot Foody and contemplated the meaning of it all. The fact is that even as Expo celebrates the world's diversity, the real message is the degree to which we're all the same. We all want enough to eat; we all lie about how healthy our diet is; we all prefer self- congratulation to self-improvement. And we all spend our summers waiting in lines and watching silly parades.
Wasteful as it is, Expo challenges the world to build, innovate and face the future with confidence. In this summer of 2015, perhaps that has value enough. After five years of economic crisis, the Italians surprised even themselves by pulling off such a large scale event. Now the general public is showing up in droves, having caught the faint whiff of optimism in the air. At least the people cheering on Foody and Friends aren't destroying antiquities or invading their neighbor's country. Don't underestimate the diversionary value of a guy dressed like a giant pepper.
By nightfall, I returned triumphant to Milan's central station, having vanquished the World's Fair in a single day. Granted, it's not enough time to see every site or adequately sample the food. But for those passing through the city this fall, a few hours could be enough to soak up a little of the Expo experience before it disappears like Brigadoon. You can even be back to Piazza del Duomo in time for that limoncello.
Bio: Eric Beall writes on the music and media industry, as well as all things Italian on his blog lifeliveditalian.tumblr.com. He is the author of Making Music Make Money (Berklee Press) and The Billboard Guide to Writing & Producing Songs that Sell (Watson Guptil/Random House) and a committed Italophile. You can also follow him on Twitter or Instagram.
Liked this story? Pin one of these images on Pinterest or leave a comment below!