After nine months of full-time travel, with all of our hiking and summer days at the beach, our feet were desperately in need of some pampering. We'd heard of dead skin-eating fish before but were reminded when my father asked whether we'd had the treatment in Turkey. The next day I saw a story about it in a local magazine and so it seemed destined that we'd give it a try.
Garra rufa obtusa, better known as the Kangal fish, come from the Northern and Central regions in the Middle East, in particular Iraq, Iran, Syria and the Kangal region of Turkey where they can be found in thermal springs, creeks and lakes. They only eat dead skin, leaving the healthy skin beneath smoother and softer. Apparently the practice has been banned in several U.S. states and Canadian provinces, making this a unique treatment to try when travelling overseas.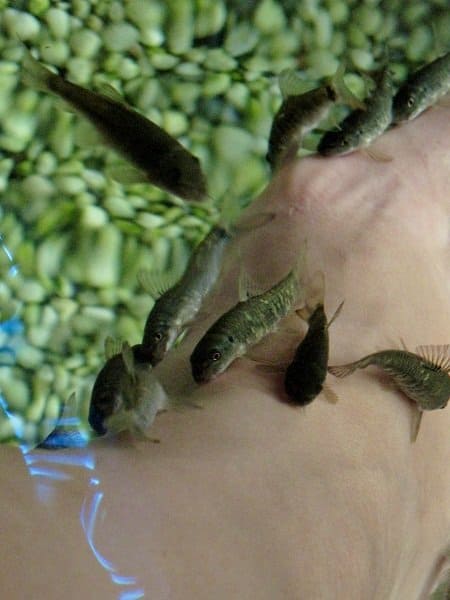 The spa we visited set the tanks right in front of the window and we were lucky to snag two comfy leather seats next to each other. Staff members cleaned and disinfected our feet and then it was time for the show. Into the tank went our feet and calves and the friendly little "doctor fish" swarmed and began their work. The sensation is like little electric vibrations all over and is quite pleasant and fun to watch. The fish are so cute! Many passers-by stopped to have a look, some even taking photos, so we enjoyed the attention for half an hour while the little nibblers had their afternoon snack. They pretty much suction onto your feet and visually the effect is both novel and engaging.
I can only imagine how silky smooth the entire body would feel after this treatment because our feet felt noticeably softer afterwards. Doctor fish have been suggested as a treatment for skin disorders like psoriasis and eczema as well, with the tradition of fish spas dating back to the 1800's. A good spa will have hygenically safe tanks with the proper drainage and filtration equipment and spa owners have responded to claims that the practice is unsanitary in this article, noting the importance of clients' feet being checked and sanitized (as ours were).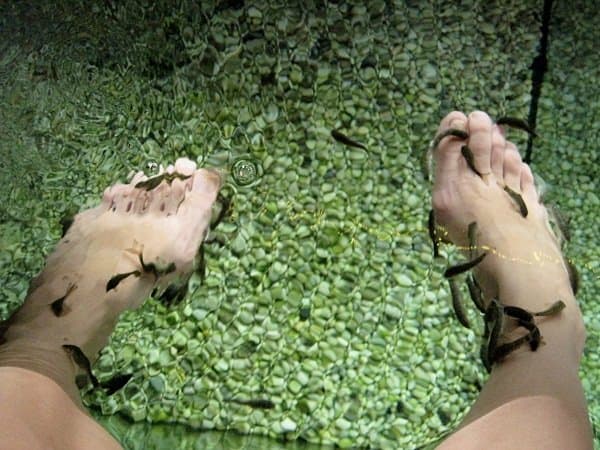 We had our treatment at A-List in Pest and took the combined package with a 15-minute foot scrub and massage afterwards (HUF 6800 or around €23).
Address: A-List, Jozsef Nador ter 8, Pest, Budapest
Have you ever had a garra fish pedicure?
Our week in Budapest was sponsored by EuropeNetHotels.com, managing a wonderful collection of short-stay apartments across 14 European cities. We stayed in the Town Hall Apartments, which are centrally located and provide all the comforts of home with the support of a friendly team of staff. We highly recommend these apartments for your next European city break.
You may also enjoy these similar posts: