When I moved to New York City years ago, a little black book became my indispensable guide. With detailed maps of every section of Manhattan and icons indicating where the best restaurants, shops, bars and attractions are, my Not For Tourists Guide (NFT) never left my bag. I found it especially useful for finding things like public transportation, ATMs, service-specific shops and other essential services in such a big city. They'll be just as handy to visitors as to established residents looking to discover more gems in their home cities.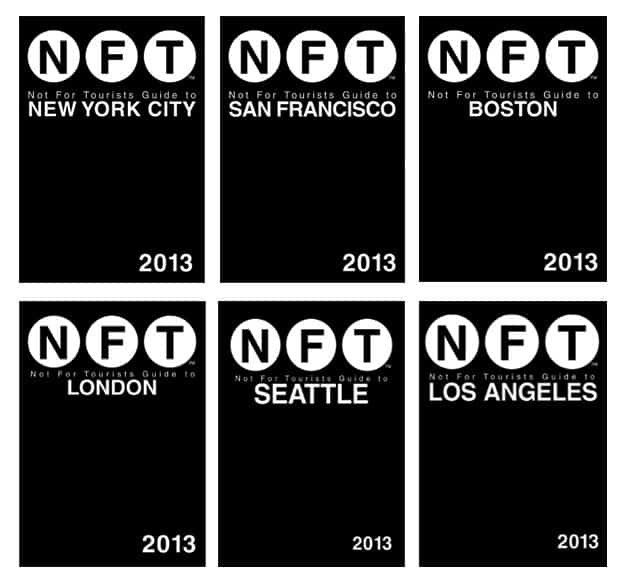 Inspiring Travellers has partnered with Skyhorse publishing to give away three guides to three lucky readers! Each winner can choose one fully updated 2013 guide from the list of cities that NFT covers:
·         Atlanta
·         Boston
·         Brooklyn
·         Chicago
·         London
·         Los Angeles
·         New York City
·         Philadelphia
·         San Francisco
·         Seattle
·         Washington D.C.
Whether you're looking for a dive bar in Seattle, a comedy club in San Francisco or a dog park in Los Angeles, you'll find it in one of the latest editions of the Not For Tourists Guides.
How to win:
1. Contest is open to everyone but the guide must be shipped to an address in the United States or Canada. Family members of John and Andrea, writers at InspiringTravellers.com are ineligible to win.
2. Leave a comment on this post with the city name of the guide you'd like to win from the list of 11 above. Be sure to leave your email address in the box on the comment form (not in the actual comment). It won't be published but will allow us to contact you if you've won.
3. Like at least one of our Facebook pages, either Inspiring Travellers or our World Beer Guide.
Three winners will be chosen at random using Randomizer.org and notified by email on Friday, 16 November. We'll announce the winners on our Inspiring Travellers Facebook page on Monday, 19 November. The contest will close at 10 pm. United States PST on Thursday, 15 November.
That's it and good luck!
You may also enjoy these similar posts: