"Bonjour, Mr. and Mrs. Spirov. Welcome!"
The doors of our car opened and suddenly we were whisked away to 18th century glamour. Originally a private residence built by Victor Louis in 1779, the former buildings of the Hôtel de Roly are now the Grand Hôtel de Bordeaux and Spa. The current incarnation has kept every bit of its original charm and we felt as though we were guests in a palace.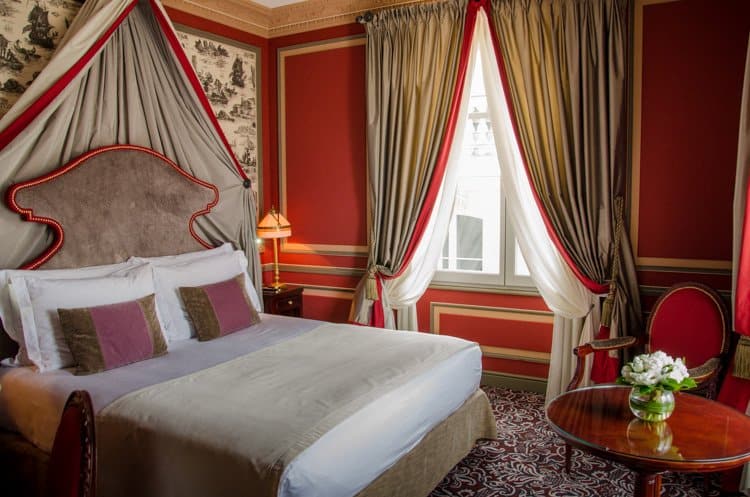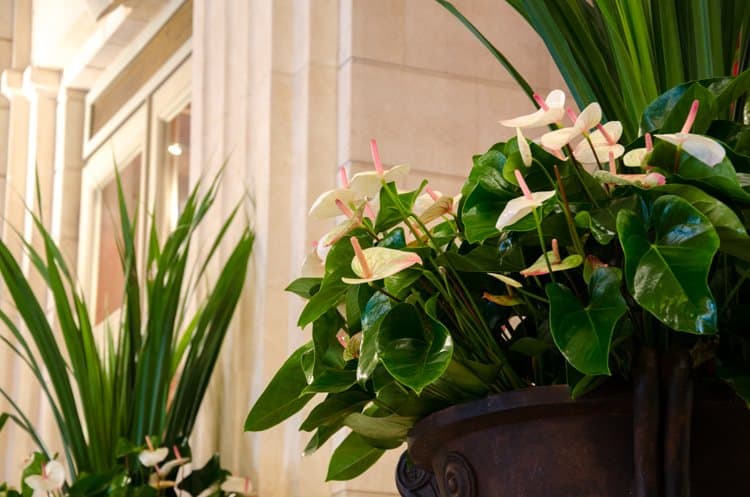 Such a feeling can only arise from the thoughtfulness of your hosts and the attention to detail found in Jacques Garcia's design. He oversaw the 2007 renovations here, ensuring that every touch is luxurious and elegant. Wherever the eye falls, one beholds rich fabrics, stonework, marble, handsome furniture and dazzling floral displays. And as you'll quickly learn, a city like Bordeaux is the perfect place to indulge in such finery.
It's difficult to know where to begin when describing this expansive property. Do I tell you about the brasserie, Le Bordeaux, where Victor Hugo and Toulouse Lautrec used to hang out? Or the pretty L'Orangerie, an inviting winter garden that makes a perfect social centerpiece for the hotel? The staff certainly deserves both a mention and kudos, for their constant attention and personable service. We never once felt like just faceless guests as we were always addressed by our names and with a warm smile.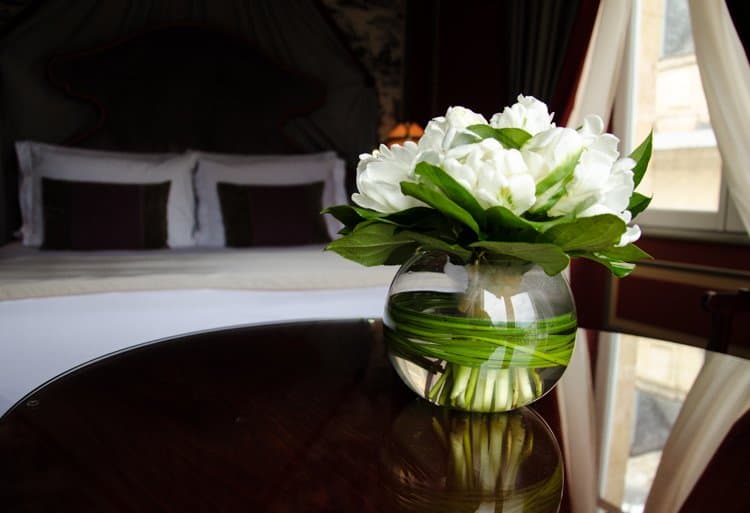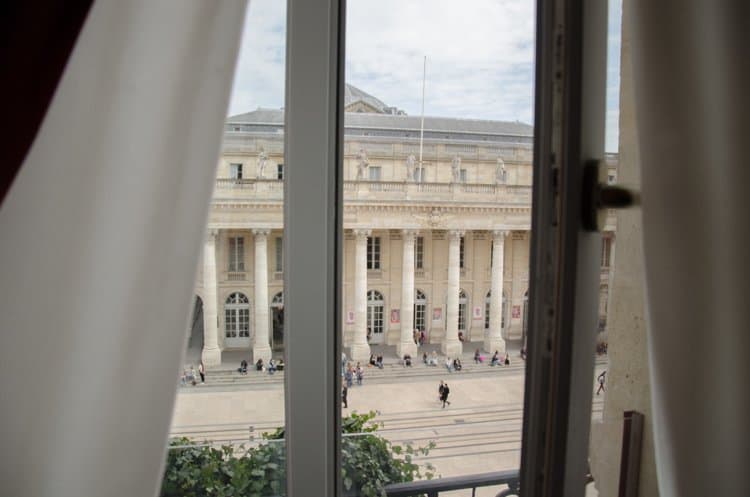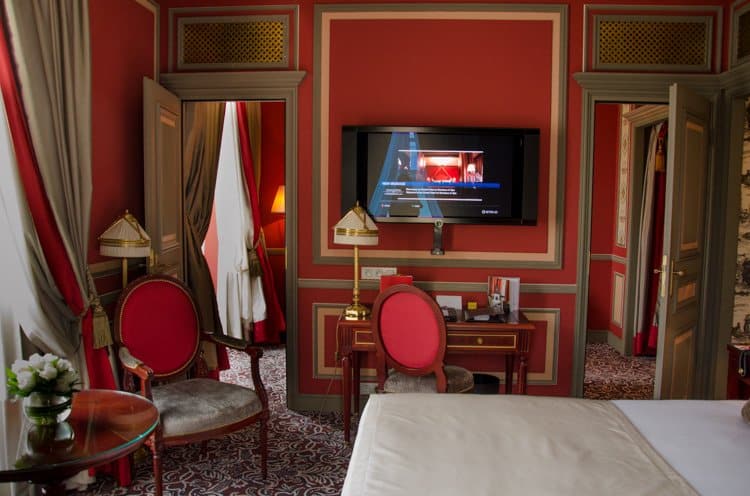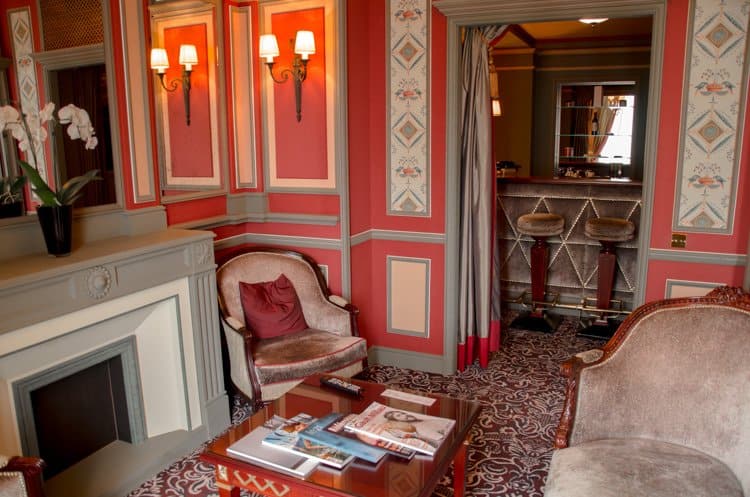 Perhaps I should start with our room. If you can call it a room. We stayed in one of the five 65 sq metre Prestige Suites, complete with its own bar and separate living room. Overlooking the Grand Théâtre de Bordeaux, also built by Victor Louis, with its imposing statues and columns is just one of the delights of this room. Every possible amenity is accounted for, but should you desire something else, the fine concierge team, headed by Julien Manuello is on speed-dial. As members of the Leaders Club, a program of The Leading Hotels of the World, we are treated to upgrades, a welcome bottle of champagne, early check-in and late check-out considerations and special attention. Be sure to sign up if you stay at one of their properties.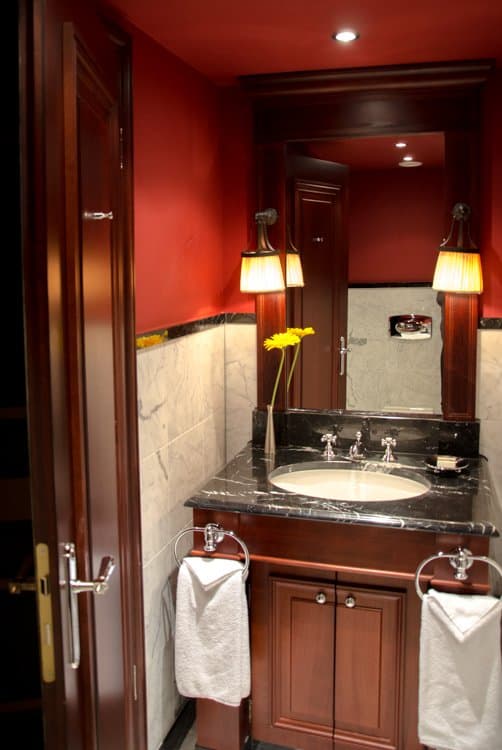 It was difficult to tear ourselves away from our room sometimes, but this is a hotel for exploring.  We were eager to check out the hotel's signature spa, Les Bains de Léa Spa Nuxe. Styled after the Roman baths, this is a haven for relaxation. Guests have access to the indoor counter-current swimming pool, fitness center, sauna and spa services in 10 treatment rooms. When the weather is nice, a favourite activity is to enjoy a dip in the Jacuzzi on the rooftop terrace. The panoramic views are not to be missed and in summer it is open for drinks. The spa uses exclusively organic Nuxe products and also offers a Turkish bath. The pool is especially marvelous at night when it is dark outside and little stars illuminate the ceiling. We made a habit of this activity in the evenings, followed by visits to the sauna.
The Le Bordeaux brasserie was the scene for a luscious lunch featuring traditional French dishes and local ingredients. We began with a selection of fresh raw oysters from different regions and spider crab ravioli with a ginger and mandarin oil emulsion, followed by mains of hake from French Basque country and tripe sausage with Espelette pepper. Desserts looked too good to pass up: profiteroles with vanilla bourbon and chocolate sauce and a chocolate and coffee cream cake. The brasserie is very historical and important to Lyon. It has been open since 1850 and is the only remaining restaurant of the Old Bordeaux.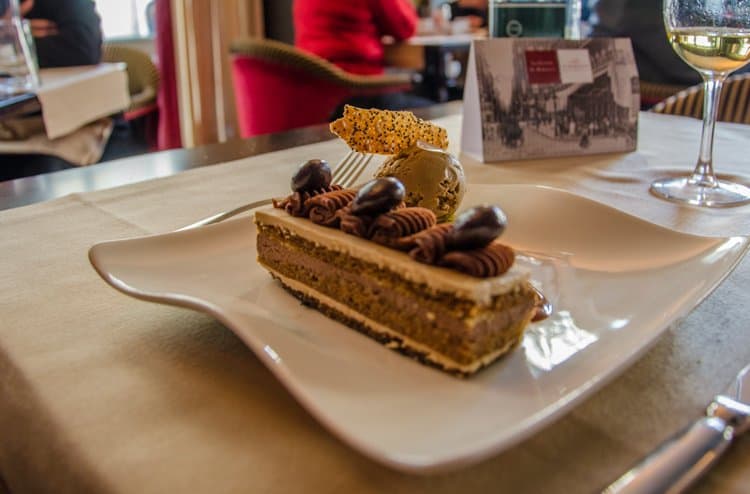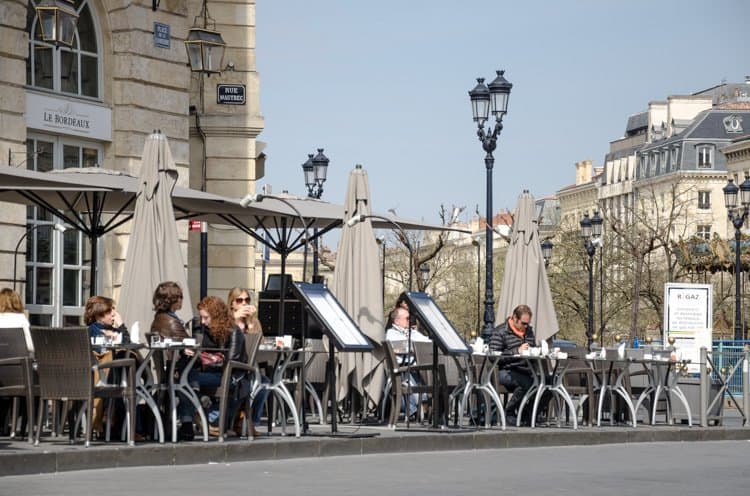 If you're merely thirsty, a drink at the dark and elegant Victor Bar, named for the two Victors, writer Victor Hugo and architect Victor Louis, is in order (we simply ordered night caps to be sent to our suite). The hotel is also the home of the exclusive Black Diamond night club, with its cigar cellar, smoking room and champagne cellar. No doubt this has been frequented by the many French and international celebrities staying at the hotel. If you are a guest of the Grand Hôtel de Bordeaux and Spa, you will feel like one too.

You may also enjoy these similar posts: