We haven't had a guest post in awhile but I'm excited about today's. It comes from Phebe of The Travelling Squid and takes us on a relaxing adventure across Siberia...
The decision to take the Trans Siberian Railway can be a tough one, especially if you have an office job. Most people would rather use their annual leave to visit a destination, than spend a full week on the train without modern day conveniences such as a stationary bathroom with hot water.
But despite the physical discomforts, the journey on the Trans Siberian is worth the time, effort and money. It is about taking life at a slower pace. After all, travelling is not about dashing to as many places as you can, but what matters is the meaning you can derive from each trip.  Here are six great reasons why the Trans Siberian Railway trip should be on the cards when you plan for the next trip. It is perfect for someone who wants to:
1. Marvel at breathtaking scenery.
The Trans Siberian passes through vastly different terrains. From the jagged peaked hills in China, to the snow covered Mongolian plains, to the colourful wooden houses which sit amidst the grand coniferous trees of Siberia, it's a dream come true for photography buffs. My favourite part was when the train passed through Mongolia. Dogs were pulling a sleigh across the snowy plains, and a couple of hours later, we were cruising along the brownish Mongolian plains set against the bright blue sky.
2. Relish the adventure of old world travel.
I was born in an era of jet planes and budget carriers. An airplane was always available to take me to the corners of the world, within a day or two. Despite the relative slower speed of train travel compared to air travel, the Trans Siberian did bring back memories of "Around the world in 80 days". I felt like Phileas Fogg, embarking on an epic journey with a goal in mind. It's a strange feeling when I set my eyes on St Basil's Cathedral for the very first time at Moscow's Red Square. Amid the throngs of tourists that were visiting the same sight, I felt that I was different. It was like the seven-day train journey from Beijing to Russia had finally paid off, and the sight of St Basil's Cathedral was my prize.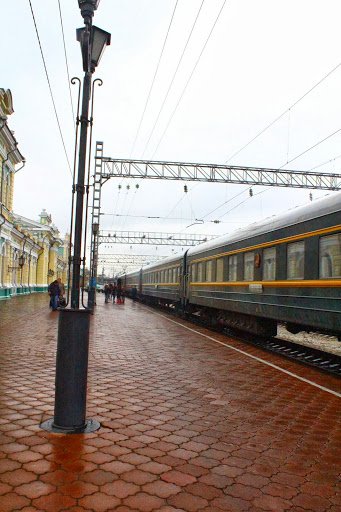 3. Lose track of time.
If you have spent years in your job rushing to meet deadlines, the Trans Siberian is the best place for you to lose track of time. Spanning nine different time zones, it is inevitable that sunset gets later and later (on the Irkutsk to Moscow train). Soon, you will be eating your meals only when your stomach calls for it. The time on your watch becomes confusing. You start to do things as and when you really want to. You throw routines out of the window. You're on a no-rules holiday.
4.  Learn about the way of life of others.
The Trans Siberian is a great place to make friends, especially if you can speak some basic Russian or Chinese. Some Russians and Chinese are friendly and you will get to hear an insider's perspective of their lives – it is always intriguing. You get to meet people from all walks of life. Kids, mothers, businessmen, students, retirees. Most commuters take an overnight train ride, so there's a change of people all the time.
5. Get to know your travelling companion(s) inside out.
If you are keen to find out more about your travelling companion, the Trans Siberian Railway journey is a great way to do so. Observe your companion when he is watching a beautiful sunset, and after he has a restless and sleepless night. It is very different. People tend to behave differently when they are hungry, tired or bored.
6. Embark on a journey of self discovery.
Just as how the Trans Siberian helps you get to know your travelling companions better, it also offers you an opportunity for self discovery. Personally, I have always prided myself to be a hardened traveller, one who could deal without creature comforts for a week. But it turns out that I wasn't so "hardened". After two consecutive days of not bathing, I felt a "psychological" itch on my scalp and yearned for a hot bath. I dreamt of home-cooked food made from a stove, after eating instant noodles and canned fish for four consecutive days.
In essence, you'll have more than enough time to do some self-reflection on the Trans Siberian Railway. After talking, reading, eating and taking photos, there is still time. The Trans Siberian gives you the luxury of time, away from the distractions of our modern world. That is if, you're willing to take up the challenge.
Bio: Phebe is the author of The Travelling Squid, a travel blog filled with tips and anecdotes of her "career of travelling", which began at a tender age of 19. Despite having been to many "top" destinations around the world, India continues to be Phebe's favourite place in the world. Phebe has a bad sense of direction but continues to travel, sometimes alone because of her quirky habits and intensely inquisitive mind.