We really enjoyed Hamburg when we visited last year but never got around to posting about the city. Thankfully we have Stephanie Kopf from Trenditionist to take us on a tour of the city in today's guest post.
The two young women sitting next to me on the subway are discussing Hamburg. They are clearly from out of town.
"I heard the city has more bridges than Venice and London put together," says one. My inner patriot grins at this oft-repeated comparison that I hear all the time on the local radio. "Yes, I thought so," answers the other.
It's true, Hamburg does have a lot of bridges, though it's not like you end up on one anywhere you go. But in a city where so much has to do with water it's not surprising. I hear a girl who looks to be about 11 years old telling her friend casually, "Yeah, Hamburg is nice, with the Alster and all." Don't I agree!
Anyway, as you can already tell, I do have a certain bias, because I'm in love. I'm in love with the city on the water.
This is the
Lombardsbruecke, a bridge in the center of Hamburg
. Stop here for one of many great views over the smaller part of the Alster river (Binnenalster) and the Jungfernstieg street opposite.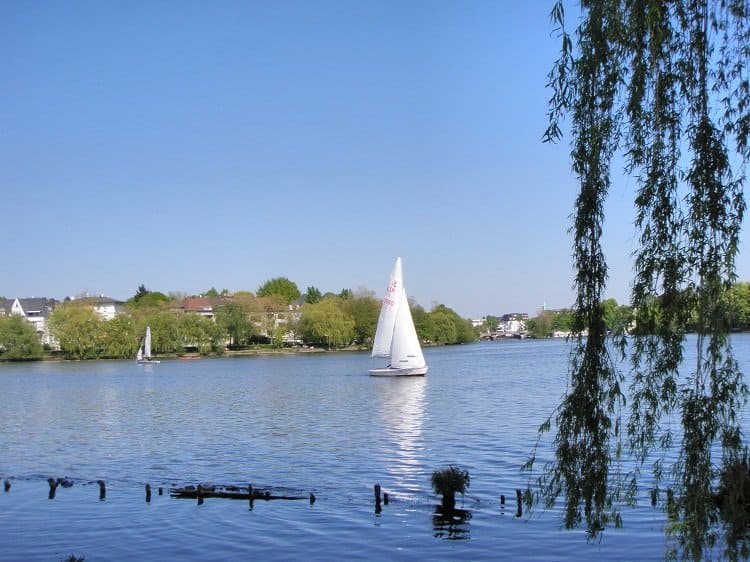 A few more words about the Alster, the river that flows through Hamburg. Basically it looks more like a lake. There's a smaller part, the Binnenalster, in the town center – a favourite spot to have lunch when it gets warmer. The larger part is the Aussenalster. You can start walking along one side of the Binnenalster and just go straight on along the water. Seven kilometres builds one of the most picturesque routes in the city. It's one of my favourite places to be. This is where I go to feel that spring has arrived.
The surrounding lawns are great for picnics or just lying around in the sun. And trust me, locals know how to make use of sunny days around here, since we don't get them all too often!
Various statistics from Germany will tell you many impressive things about the country. A lot of them are located in Hamburg, for example one of the largest ports in Europe. If you want to go to the Port of Hamburg on the Elbe river, take the subway to the Landungsbruecken station and then the exit to the bridge of the same name. On a clear day you might see the construction site of the Elbphilarmonie – a new concert hall that has caused severe debate among the city's cultural experts because of the amount of money spent on building it. At this point many have forgotten when the construction has started and it doesn't seem to be clear when it will be finished. Though tickets for the first concert seem to be sold out.
You can take a boat trip with your subway ticket from Landungsbrücken. Basically the boat is like a water bus, but it's also a great and cheap way to see most of the port from the water.
Hamburg is a northern city where it rains quite often, but there are still plenty of opportunities for a beachy feeling here. When the boat docks at Oevelgoenne station, you can just wait for it to turn and take you back to the port. Or you can get out and take a walk along the Elbstrand – the Elbe beach. You'll see at once that it's a different walk from the Alster, but there's plenty of history here as well, quintessential views combining the water and the ships making their way through the port, and you actually do walk along a sandy shoreline. So a beachy feeling with a Northern Germany note is guaranteed.
Needless to say, no swimming in the Elbe, since it's dangerous because of the current and ship traffic.
The Chilehaus is one of the most famous buildings in the city, stemming from the 1920s. Now an office building, it fits perfectly in the city on the water, also because the top part reminds one of a ship. The name comes from a magnate who became rich through trading saltpeter from Chile. My favourite part of the building is actually the inner courtyard. There are some nice cafes there, it's lovely to just sit there with a cup of coffee and look at this typically local brick architecture. And try to count all the windows without getting dizzy.
Feeling like something different? The Reeperbahn street is so much more than just a party mile. I remember a friend saying to me when I asked her about it, "I actually feel totally safe there, because it has the highest police presence in Germany."
It also has some quirky places to visit. The Beatles Museum is great for finding presents for an obsessed fan or indulging in your love for the band. Hamburg maintains that the Beatles' career started here, because they played on the Reeperbahn before they were famous. If there's a connection with something famous in the whole world, this city will find it.
Another fun place to stop by is the Panoptikum, Hamburg's very own museum of wax figures. Don't take it too seriously and don't expect a major likeness of the famous people you recognize. In any case there are plenty of quirky things to take pictures of.
Hamburg grows on you. I keep trying to put my finger on what makes this city special and keep coming up with new reasons or just taking another walk along my favourite stomping grounds. I still don't always know what it is and maybe that's what keeps me on my toes. And even when I want to go somewhere else, after awhile I start missing the city on the water.
Bio: Stephanie Kopf has lived in Siberia, New York City and Germany and is passionate about writing for an audience. Her subjects include the human psyche, education, communication, entertainment, travel and lifestyle. She has had her work published both in print and online and she currently blogs at Trenditionist, which focusses on trends and forecasts.
You may also enjoy these similar posts: