"We've decided to spend our last couple of weeks in South America in Colombia."
We always keep our families apprised of our movements when travelling. The reactions to this latest piece of information were, while not as extreme as we prepared ourselves for, not particularly enthusiastic. John's parents looked at us indifferently on Skype, while my father expressed his concern that we "be very careful." After all, kidnappings still happen. Only my grandmother seemed excited for us, though the last time she was in Colombia was probably sometime in the 1940's or 1950's. "It is beautiful there," she said.
Responses from others were mixed. We heard everything from "Colombia is pretty dodgy," to "The last time we were in Bogota they told us not to leave the hotel," to "Don't go to Colombia for only two weeks - you'll hate yourself!" The latter comment was more typical of the ones we relied on when spontaneously deciding to visit instead of spending the time in Northern Chile or the Galapagos Islands. Everyone who had actually travelled to Colombia recently raved about it. We had to see for ourselves.
In Colombia, they don't say 'de nada' (it's nothing). They say 'con gusto' (with pleasure). In Medellin, we displayed a moment of hesitation and uncertainty in line to purchase metro tickets. A young woman in her early twenties behind us stepped in to ask us where we wanted to go and we discovered we were going to the same place. She was headed off travelling herself the next day, to Russia, where she was concerned about her own language deficiencies. At another metro station later that day it was an older gentleman's turn to welcome us to Colombia.
"I am happy because you are in my country," he exclaimed loudly, stepping out of line to face us.
He told us that his country may have problems, but that "Colombians are good countrymen." He then asked if we were married. We smiled and said we were.
"How many sons do you have?" he asked with gusto, after congratulating us.
White holidaymakers in Colombia are still something of an oddity. But despite the locals' surprise to see you, they are delighted to have you there. Sure, some things take getting used to. If you go to an upscale bar or concert at night, you'll pass through a metal detector and maybe get a pat down. Even children are subject to the metal detector wand at the airport (can't be any different than TSA, right?) But these things aren't all bad. In Bogota, everyone has smiles on their faces and chats to each other excitedly on the streets.
Pretty much every Colombian we've encountered has been friendly, gracious and welcoming. Some of them seem surprised that we're visiting and travelling around so much even though by the standards of others, we're not here that long or going anywhere off the beaten track. Still, it seems that Colombia is more of a backpacker's insider secret than a mainstream destination for luxury or family travel; we aren't hostelling it - we're curious about travel in Colombia from a middle to upper-class vacationer's perspective. We're flying everywhere and staying in mid-range to luxury accommodation.
Our first stop was Bogota, where we stayed at Casa Real (Calle 93A No. 9A-53). Upon arriving we found that our room had two twin beds. Because all of the other junior suites were taken, we were upgraded to a 'Grand Suite.' And grand it was. We had a living room, fireplace, kitchenette, two desks, king-bedroom, two televisions, a giant balcony and a luxurious bathroom with a huge shower and jacuzzi tub. Staff member, Marta was incredibly helpful, telling us where to go and arranging a driver for us when we wanted to venture out of cushy, upscale Zona Rosa. The breakfast there was one of the best we've had in all of South America, with beautiful made-to-order omelettes, delicious coffee and fresh, yummy breads. We found a deal on this place through Expedia, so check there first.
We only had three nights in Bogota. We spent one wandering the streets of La Candelaria, which was thriving. In the evening we went to the Slayer concert, which was unplanned but fantastic - it was especially great to get out there amongst the crowd, of which we were probably the only or one of very few gringos. We spent the rest of our time in our neighbourhood, walking around the chic Zona Rosa and marvelling at how many pubs and gringo-style restaurants the Colombians have adopted. We definitely need to get back to Bogota and see more of the city. We barely scraped the surface in three days.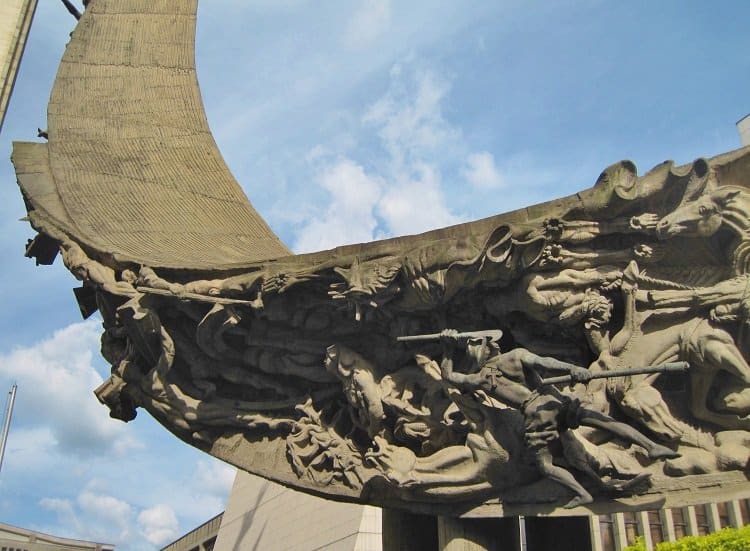 After that it was on to Medellin, where we stayed at the Diez Hotel Categoria (Calle 10A No. 34-11, El Poblado). Cheap and chic, this high-rise hotel has everything a traveller needs in Medellin: three restaurants, a nice breakfast, a spa and a safe location within easy walking distance of the Park Lleras. El Poblado is the affluent neighbourhood where most gringos stay. It's full of restaurants, bars and nightclubs, though it's not the most Colombian of barrios. We ventured downtown for a much different experience. A chaotic one. We turned our attention to the city's modern features: the safe, efficient metro, incredible public spaces with sculptured fountains and the paisas themselves. This was once one of the world's most dangerous cities. When Pablo Escobar and his cartel were destroyed, these people could finally shine. Their graciousness and hospitality won't be overlooked by travellers visiting here. We had our best taste of the fun-loving Colombian lifestyle after watching Medellin's Atletico Nacional soccer team defeat Equidad, the Bogota team to become national champions. The streets filled with revellers, tossing flour on each other, honking horns and savouring the win.
These two cities offer world-class museums, shopping and dining for the visitor. Both have viewpoints from the hills and interesting day-trip locations nearby (notably the Salt Cathedral for Bogota, located in Zipaquira, and Santa Fe de Antioquia for Medellin). But we suspect that Colombia's most interesting draw for short-term holidaymakers to the country will be our next destination: the Caribbean Coast.
Have you visited Colombia? What were your impressions?