Houston is big. Bigger than anything else I've seen. The biggest variety of everything in the US. So what better way to spend a Saturday than attend the inaugural Houston Press Brewfest, sampling beers from all over the country. And as expected, the choice was huge! We turned up early to get our VIP tickets with new friends and couldn't wait to get started; 3pm is beer o'clock anywhere in the world, but even more so when its hot as can be with humidity striking upon us with furious anger.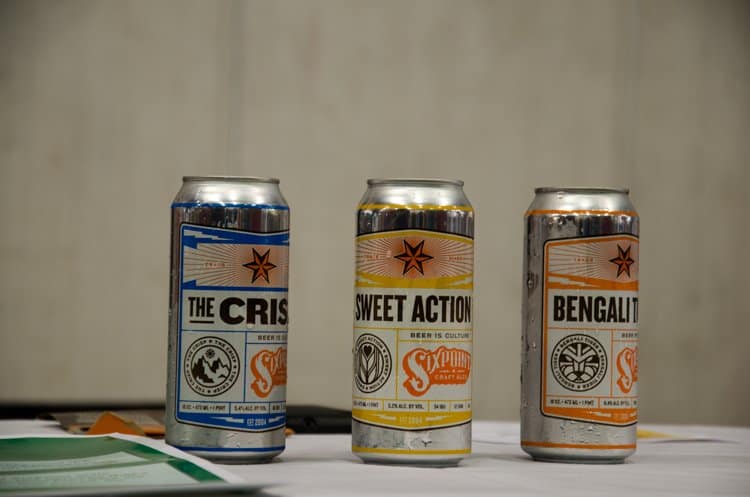 The event was held in a warehouse, so the oodles of sunscreen I'd drowned myself in only served to aid the beads of sweat that cannot be avoided. Yes, it was great to be out of the sun, but the warehouse did produce a stifling atmosphere with no opportunity for a breeze except at the far exit to the toilets. But no matter, we were here to drink. The VIP tickets meant we had an extra hour before the entrance would be flooded by the hordes. We were each handed a plastic cup, a beer card to sample either eight 3 oz or two 12 oz beers and a list of the beers available from each brewery on their own table.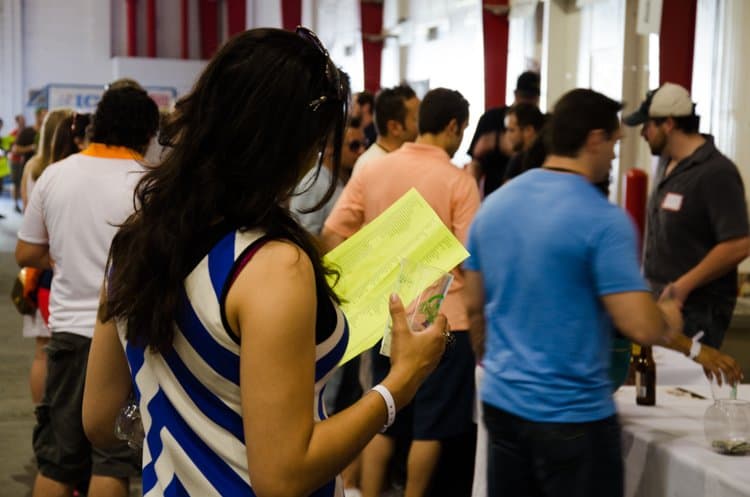 Adjacent to the VIP area, various bands played and tap beers could also be sampled. Bottled water was free and plentiful at the venue, with water stations also provided to rinse your cup before trying the next beer. There was wine, spirits and cider too, plus a few different tables with a chance to enter competitions and win prizes. We tried our luck on the spinning wheel and received free passes to a comedy club.
One look at the beer list and I was overwhelmed. I consider myself a fairly well-schooled master in craft beer, so I attempted to form an order for the day. "Start with the lagers and wheat ales, then progress through the stronger ales, then the dark beers and finish with the superior VIP beers (in their own section)", I told myself. When my first selection was not available, this order turned to disarray. I ventured to the VIP area and off the bat, went with the Blue Moon Brewing Co. (Golden, CO), Vintage Proximity, 8.5%. So much for starting slowly. This was an interesting drop that had a hint of champagne to it.
Because of the sheer volume of types on offer, I decided to go with eight different 3 oz selections. Here's a quick rundown:
Big Sky Brewery (Missoula, MT), Moose Drool, 5.1%: Brown ale
Boulevard Brewing Co. (Kansas City, MO), Tank 7, 8.5%: Farmhouse ale
Bridgeport Brewery (Portland, OR), Kingpin, 7.5%: Imperial Red
Dechutes Brewery (Portland, OR), Black Butte, 5.2%: Porter
Dogfish Head Brews (Milton, DE), Indian Brown, 7.2%: Brown ale
Harpoon Brewery (Boston, MA), Rich & Dan's Rye IPA, 6.9%: IPA
Ommegang Brewery (Cooperstown, NY), Hennepin, 7.7%: Belgian-style Saison
Southern Star (Conroe, TX), Buried Hatchet, 8.25%: Stout
Karbach Brewing Company is local from Houston and each of their Weiss Versa wheat ale (5.2%), Hopadillo IPA (6.6%) and Rodeo Clown Double IPA (9.5%) were truly outstanding.
Those of you with a mathematical inclination will no doubt have noticed that my list above totals more than eight beers. Never fear my friends, because once your beer card was full, a second (and presumably third and fourth) could be purchased for $8. The VIP area also had food to snack on in between beers, but there were also food trucks outside where more substantial fare could be purchased. With my second card hanging around my neck, it was time for VIP beers. The following list details my selections and you can see the potency increase with each delicious variety:
Founders Brewing Co. (Grand Rapids, MI), Centennial IPA, 7.2%: American IPA
Goose Island Beer Co. (Chicago, IL), Pere Jacque, 8.0%: Belgian ale
Alaskan Brewing Co. (Juneau, AK), Birch Bock, 8.5%: Doppelbock
Brooklyn Brewery (Brooklyn, NY), Silver Anniversary, 9.0%: Doppelbock
Real Ale Brewing Co. (Blanco, TX), Brewer's Cut Blonde, 9.5%: Barleywine
Samuel Adams Brewing, (Boston, MA), Cinder Bock, 9.5%: Smoked bock
Left Coast Brewing Company (San Clemente, CA), Left Coast Hop Juice, 9.7%: Imperial IPA
Six Point Brewery (Brooklyn, NY), 3Beans, 10.0%: Baltic porter
All I can say is WOWEE!! Much to my chagrin, the Saint Arnold's Brewery (Houston, TX), Bishop's Barrel No. 3, 11.5%, Imperial stout was out before I got to it. I guess it was popular! Overall, a fantastic event and I would've loved to be a fly on the wall (or more aptly, a bead sweat on the forehead) to view the shenanigans that ensued when it finished at 10pm.
What's your favourite US beer fesitival?
Disclosure: We were guests of the Houston Press Brewfest. All opinions are always our own.