So why do I spell the word kebab with a "p"? Because the Turks spell it that way, that's why!
The Iskender Kebap. You may have had it in authentic Turkish restaurants somewhere in the world (as I have), but until you've tried this unique dish in Bursa, all else pales in comparison. If, like me, you're used to the standard kebab loaded with meat and veggies in thick pita bread and drowned in garlic (and sometimes chili) sauce, then the Iskender Kebap is an attack on the senses.
There's always a story behind a great meal and this is no different. When we told our great hosts in Bozcaada that we were coming to Bursa, the first thing they recommended was a specific place to try the famous Iskender Kebap. As such, that was our main goal while visiting there.
When we told our hotel concierge the name of the place, she immediately knew it. She directed us to a mall called Kent Meydani and told us that anyone around there could show us the place. So off we trekked through the 30 plus degree heat, following the map she marked up for us.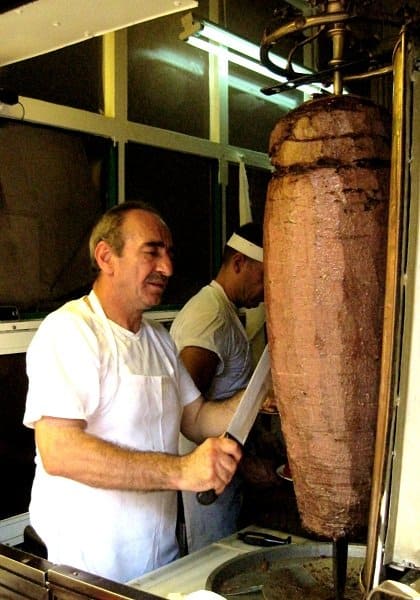 We walked and walked and finally found the end of a park where the road began to take us to the Iskender. Nothing but fortress walls stood where the place was supposed to be. We asked two different locals and both pointed in a general, but totally opposite direction. We walked aimlessly as the heat and hunger was taking its toll, finally gaining help from an English-speaking Turk in another mall. We followed the new directions until we eventually saw a sign with the magic words "Kent Meydani."
The long road continued and even after finding the mall, we received more incorrect directions before a super-friendly and more importantly, helpful shop owner not only researched where the place was, but drew us a map to the Iskender glory.
Once there, we were welcomed us with a huge smile and quickly ordered two Iskender Kebaps and drinks. We waited patiently whilst the busy place was pumping out orders and once they arrived, our tastebuds were treated to delights and after all the "pre-game hype", the meal delivered like Michael Jordan is his Chicago Bulls heyday. When our dishes were almost finished, our host took them away and returned full plates for a second helping. Çay followed as is customary in Turkey and, after shaking his hand and thanking him for a truly wonderful eating extravaganza, we quickly found a cab and headed for the hotel pool.
Fast Facts: The Iskender Kebap is essentially thin slices of grilled meat on a bed of soft pita bread, glazed with melted butter and tomato sauce and served with a side portion of yoghurt.
The place is Uludag Kebapcisi, Cemal & Cemil Usta located at Garaj Karsisi Sirin Sokak No. 12 Osmangazi. Ask your cab driver to take you to Kent Meydani and when you get there, ask a local to point you in the right direction.
Have you tried Iskender Kebap? If not, what's your favourite type?
You may also enjoy these similar posts: