My previous visits to Cologne (Köln) in Germany were quick and with a host and this time was no different. Melvin from Traveldudes picked us up from the train station, and with rain closing in, it was time to indulge in the local bier. Kölsch is a light-styled golden brew with about 4.8 % alcohol content.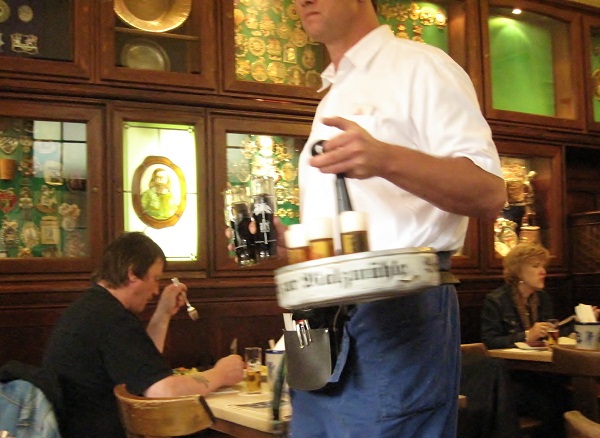 After a nice tour of the city, we entered a 'brauerei' to experience the taste and atmosphere of Muhlen kölsch.
Served in 20cL skinny glasses by gruff male waiters who exude authority
, no money is exchanged. No further had I finished my glass (which went down fast being way past beer o'clock), that the waiter had replenished it with a fresh one and also for my wife and friend.
Keeping up with the fish (i.e. me) brings a whole new meaning in this game. The waiter will take your glass with dregs or more left when he is bringing a new round, so keep up with the fishes!! A coaster placed on top of your empty glass indicates to the waiter that you shall wallow no more. Funnily enough, the coaster is also used to tally your beers!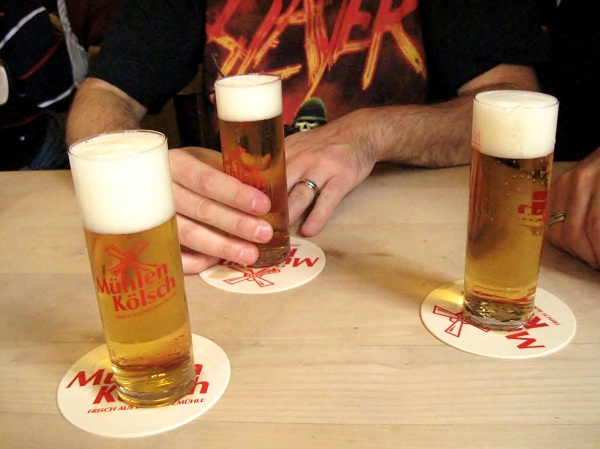 Dinner drinking continued later that evening with more kölsch. Initially drinking in the same style glasses we had at the pub, we switched to bottles as the conversations headed into the night. This time it was Reissdorf kölsch. The beer itself is easy-drinking, but sweet and bitter at the same time in a weird way. It goes down a treat and if you eat the hearty meals served at the brauerei, then I would suggest you could drink it all night with relish.
I also tried one other called Fruh kölsch. German beer is brilliant and kölsch is just another that, even though not up my particular alley, keeps on giving.
Have you visited Cologne?

You may also enjoy these similar posts: