I've been to Barcelona a few times already, yet until now, I still hadn't visited Gaudi's architectural masterpiece: La Sagrada Familia.  So when I arrived in Barcelona last month on my way to the TBEX conference (a conference for travel bloggers), I had to go and have a look.
Luckily I received a Tinggly gift that allowed me to do just that! Tinggly is a company that specialises in special experiences, right now they have over 350 activities in more than 80 countries, and you can buy vouchers on their site that allow you to easily book adventures all around the world. It's actually the perfect gift for those who love to travel since their gift card is valid for 2 years! So When I got my own Tinggly gift card and noticed that they also offered a guided tour of the Sagrada Familia, my mind was made up rather quickly!
The guided tour of the Sagrade Familia that the Tinggly voucher offers, is actually valid for 2 people, so I invited Jane from Scarlet Jones Travels to join me on this epic adventure into the extraordinary mind of Gaudi.
When we arrived at the Sagrada Familia, the first thing I noticed were the long waiting lines. Clearly not everyone knows that booking your ticket online is actually the best way to go. Luckily I didn't have to deal with that, since all I had to do was contact Tingly with my voucher number, and they arranged everything for me. All we had to do, was be at the meeting point 15 minutes before our tour started and when our guide arrived we just cut in front of all those people in line and entered via a special 'VIP' gate. I never felt better! 😉
A mishmash on the outside
My first impression of la Sagrada Familia (literally translated" The holy Family") was one of "work in progress", everything felt like a mishmash of different styles too me.
Construction of the basilica began in 1882 under the architect Francisco de Villar in the Gothic style and was taken over by the young Catalan architect Antoni Gaudí in 1883. The church became his most important life work, and he dedicated himself to it until his death in the year 1926.
Over the years, construction of the church has been delayed for a number of reasons, including the Spanish civil war between 1936 and 1939, funding issues, strikes, and disagreement over the interpretation of Gaudí's original plans which were all but destroyed by anarchists during the war (and have since been partially reconstructed).
All of this resulted in the outside of the basilica being a collection of older sandstone constructions mixed with newer parts in concrete.
After decades of construction they hope to have everything finished by 2026 (for the 100-year anniversary of Gaudi's death) but rumor has it that they won't meet that deadline.
When construction will be finished, this is how it should look like:
Light and stained glass windows on the inside
While the outside is a hodgepodge, I was gobsmacked by the beautiful interior and the light show coming from the stained glass windows!
The interior of the basilica is flooded with light. The windows, the vaults and the skylights were all conceived by Gaudi to allow the light to penetrate and create an atmosphere of seclusion and prayer. Beyond their decorative value, the stained glass panes of the windows which Joan Vila-Grau has been working on since 1999 have a clear symbolic meaning, in accordance with Gaudi's guidelines.
Conclusion
Being the number one attraction in Barcelona of course it's touristy, but I would say it's absolutely worth a visit.  You'll never see another church like this in your life.  And if you don't want to deal with the crowds, make sure you book the tickets online or use a Tinggly voucher, like I did.
 Subscribe to our Newsletter if you too want a chance to win a Tinggly Gift worth $125 !! 
Practical Info
November to February,
9 am to 6 pm
March,
9 am to 7 pm
April to September,
9 am to 8 pm
October,
9 am to 7 pm
December 25, 26, January 1 and 6,
9 am to 2 pm
Sale of tickets finishes 15 minutes before closing time.
The times and days when the Sagrada Familia is open to the public may occasionally be modified by the management due to special events taking place inside the basilica.
Pin the following image on Pinterest if you liked this story: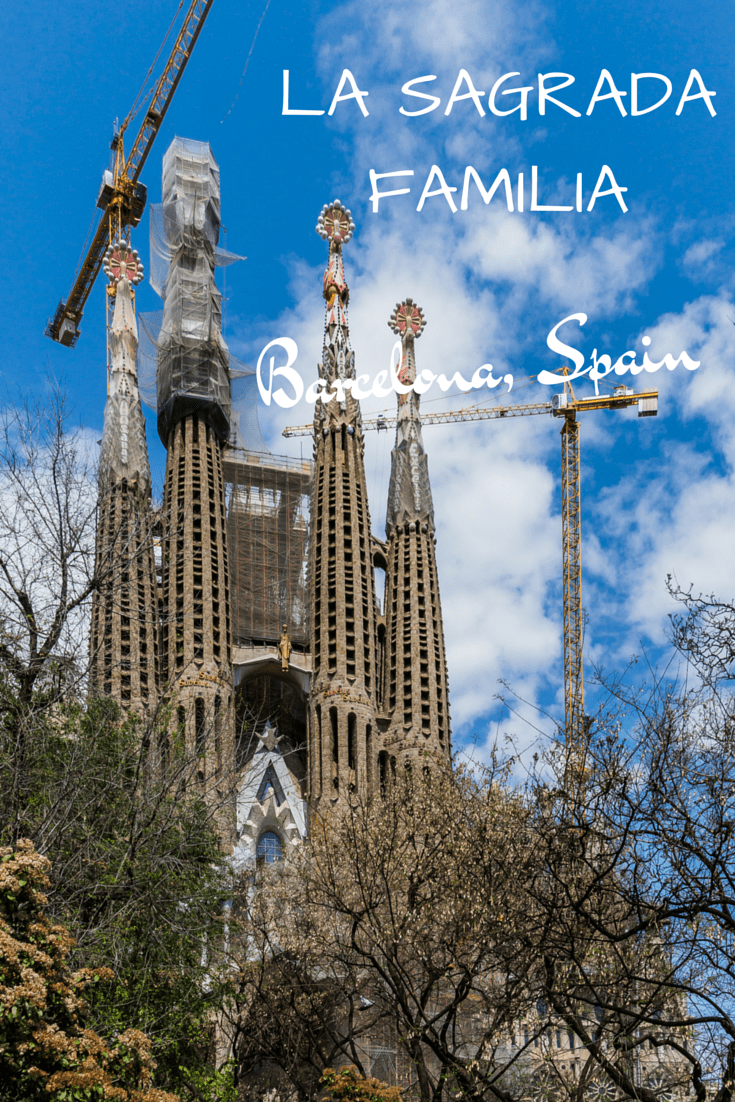 Disclaimer: While I did receive the Tiggly gift for free, this hasn't influenced my review of them in any way.