Imagine carving a city into this landscape:
The fact that one of the world's most magnificent architectural and anthropological marvels was created here and managed to thrive as it did is testament to the clever nature of the Nabateans, an ancient Arab tribe that excelled in trade. Once situated between the most important caravan trade routes,
Petra was as important to the region then as it is to Jordan now
. The trade in luxury products made the Nabateans rich as items like incense, myrrh, spices, fabrics, precious stones and bitumen passed through. Even smarter, they held customs rights over these goods, which could be up to 25 per cent of the value. This enabled them to build the incredibly beautiful, rose-tinted treasure we see the remains of today.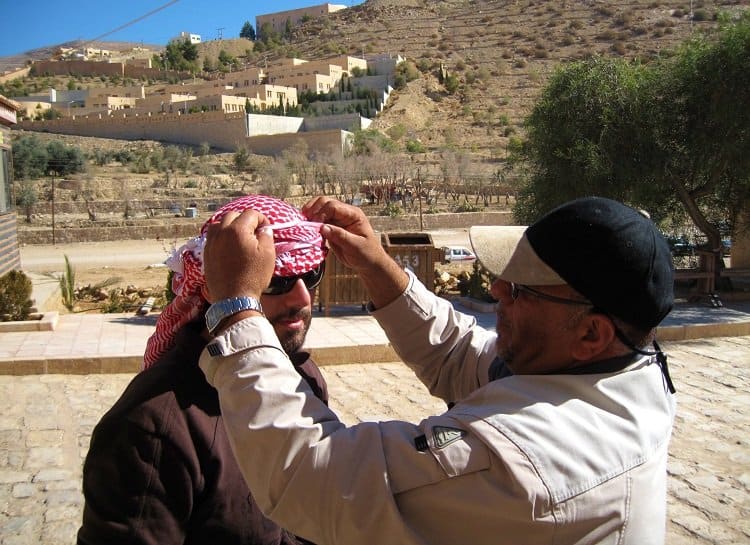 Before we began our explorations of Petra, our guide, Raed helped us fashion the keffiyehs we had received as gifts from the Four Seasons Amman the night before. A huge part of our time in Jordan was spent learning about the culture and customs of the Jordanian people and we quickly learned that these once mysterious (to us, anyway) garments are actually very practical for use against the hot sun beating down on our heads and the sand blowing about in the desert. We then set off on horseback to the entrance of the ancient city.
The horseback ride is included in the price of entry to Petra but it is customary to tip the guides a couple of dinars after the ride. Horses without carts are only allowed to the entrance but it's possible to hire a horsecart to take you through the As-Siq, the 1200m long main entrance. We chose to walk through this deep, narrow gorge instead.
As our guide pointed out the features of the novel irrigation system, terraces and carvings that surrounded us, we were interrupted by the local children selling their wares. These were certainly the most clever sales-pitches we'd encountered from young merchants this year.
"Buy a necklace for your wife, sir," said a little girl. "She'll love you more."
Another child offered to tie my keffiyeh better, not happy with Raed's work. I declined, but she reassured me that she didn't want any money from us. Hers was quite stylish but we were in a hurry and moved swiftly along.
Suddenly, Al-Khazneh, known more popularly as the Treasury, appeared before us. I'd seen heaps of blog posts and photos about Petra before this moment but I was still awestruck at the sight of it. At 40 metres high and 28 metres wide, this tomb is a marvel of engineering. It's difficult to believe that something like this was created in the first century BC. Here we also found the first market area in Petra. Locals mix with tourists to sell crafts and souvenirs or transportation by camel, donkey or horsecart.
We continued along, past the intricately carved tombs and living spaces of Petra's ancient inhabitants. I was constantly distracted, however, by the local people around me. Most were dressed in bedouin clothing, looking as we expect them to, perhaps. We knew they live modern lives but they played their parts perfectly, providing the experience of a living, working city. Because Petra is as alive today as it was centuries ago. People still visit from the surrounding regions and even further these days. Trade still happens, though few luxury goods are on offer now.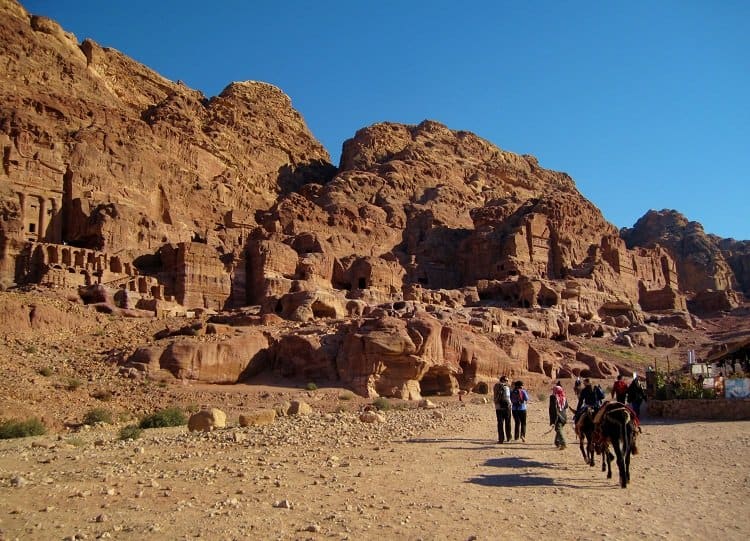 After lunch it was time to fulfill a dream I had for my first time in the Middle East: a camel ride! These are easy to negotiate with any number of guides around the grounds. John wasn't as keen after being nervous on the horse and opted to ride a donkey instead.
I was cold by this time and had changed into a woolen hat (the breezes are cool this time of year in the desert). Riding a camel was a lot better than riding a horse for me as you don't have to straddle as much and sit a lot higher. It was great for gazing out over Petra as the sun began to set. At one point my guide handed me the reigns and disappeared! I still had John and his guide, Mohammad, behind me but they stopped to pick up some souvenirs and I suddenly I was riding alone. Luckily, camels are incredibly smart (they're my new favourite animal). They have excellent memories and will always find their way home. I could go on all day about these fascinating creatures but just know that when I got nervous and tried to stop my camel, he stopped, turned his head, saw Mohammad behind us and then proceeded more slowly so the rest of our little caravan could catch up.
Our time in Jordan was sponsored by the Jordan Tourism Board. Thanks to them for a wonderful trip.