I've never lived in London, but spent many weeks on end there crashing on friends' couches in the past. I also did a stint living in Reading (a short distance away) to at least give me a feel for the English life. And the English life is this: work, talk about football and go to the pub, and sometimes not in that order. Make no mistake, being Australian I certainly understand the pub culture. Even though we do it a bit differently (i.e. sunny beer gardens as opposed to dark dungeons), the English influence is undeniable.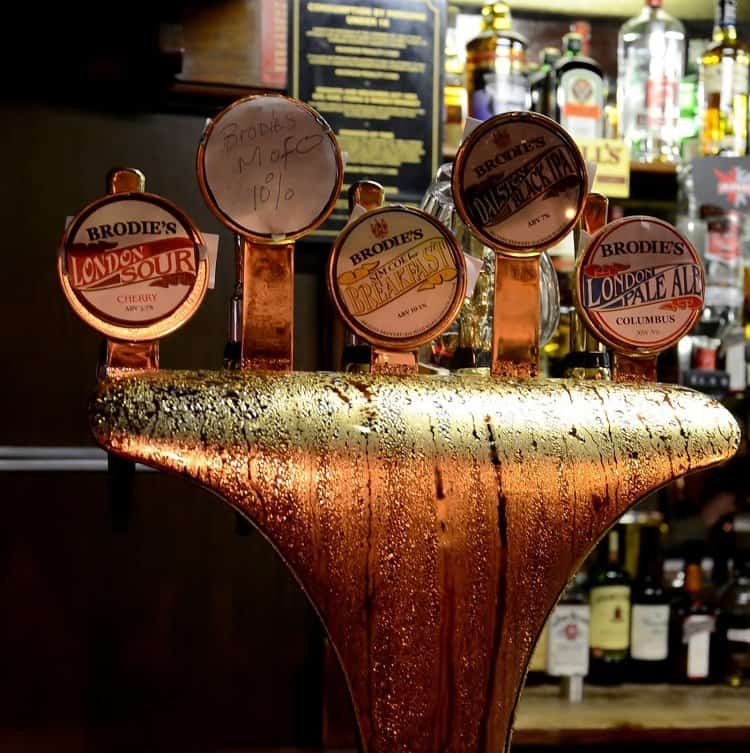 The beauty of English pubs is that when you walk into one and look at the beer taps, there's usually something there you've never heard of. And that's fantastic! Sure some have longer names than Brazilians, but therein lies the charm. Room temperature ales - how do you feel about them? Some swear that they don't taste like real beer and I swear that those people don't know what they're fuckin' talking about. I like all beer and I think that's plainly obvious. There's nothing like a good ale freshly pumped into a nice pint glass. When you've finished trying the wide varieties, then it's time for some crisps or pork snacks. Mmmm...pork snacks. The only downer with London pubs is that they shut before midnight and then the drunken rush to get to the Underground ensues. But that's all part of the fun, isn't it?
During our recent pre-Christmas visit to London, one such pub example was The Old Coffee House (Beak St, Soho). There's plenty of nooks and crannies and memorabilia as you'd expect, but the most important thing was the beer! The two I tried were Brodie's Sim Coe for Breakfast (10.1%) and Brodie's Dalston Black IPA (7%). They were both as powerful as they sound and provided a good buzz for exploring Soho in the evening rain. I would've loved to visit more pubs this time, but at least I got to try a few weird and wonderful beers:
Chalky's Bite, 6.8% (Sharp's Brewery, Cornwall) - This is a Belgian-style "white" beer made with wild Cornish fennel, giving it a unique taste that got better with every sip. Thumbs up!
Pure Brewed Organic Lager, 5% (Samuel Smith Old Brewery, Tadcaster) - Organic beer is all the rage and this crisp beer is suitable for vegans and vegetarians. Go figure!
Wells Banana Bread Beer, 5.2% (Wells and Young's Brewing Company, Bedford) - What can I say about about a banana bread beer? Drink up!
I'll never tire of walking the streets of London, ducking in and out of pubs to be among the locals. My enjoyment grows with each trip and I can't wait for the next time!
Do you have a favourite English pub?
You may also enjoy these similar posts: