Big cities can be harrowing for travellers in the food and drink department. First-time visitors are faced with a minefield of options, from trendy restaurants and bars to old classics to traps that annoy both locals and tourists alike. I often head to Time Out, Trip Advisor and travel blogs for recommendations when planning a city break, but when a new guide comes across my desk I'm always keen for some alternative inspiration. This trip to London we spent some time with the Secret London: Unusual Bars & Restaurants  guide to find a few hidden gems.
As author Rachel Howard notes in her introduction, this book is a "collection of unusual places in unlikely locations," celebrating local, independent institutions. Carefully curated, it includes restaurants or bars with fascinating owners and decor, incredible food and hidden locations, barring those considered "too trendy, tacky, classic, unwelcoming, or downright ghastly." We only had time to visit a few out of over 100 featured but from what we sampled, this guide does a great job of helping people avoid bad bar fads and truly awful eateries. Most of all, I loved reading all the little stories about the different places we visited; how they came to be, who runs them, why they are decorated the way they are and more. I can't wait to return to London and visit more places in the guide, which you can now get as an iPhone app as well.
Le Beaujolais (25 Litchfield Street, Covent Garden, 020 7836 2955) was one of our stops for a drink after a day of shopping and exploring London's Christmas markets. This might be the first French wine bar in London, packed by 5pm with local regulars and expats. The decor is cluttered - beer tankards and French bric-à-brac hang from the ceiling, along with an interesting collection of ties that the book claims are taken from customers of the members-only restaurant next door after they loosen them up. We ordered our glasses of wine (French, of course!) from the French-speaking bartender and managed to squeeze into the one of the last remaining tables by the door. I enjoyed the ambiance of this place the most, dark, cosy and filled with chatty Francophiles. Visitors will find wine from all over France here and, if you can get a seat, it's a great place to people-watch.
Inamo (134 Wardour Street, Soho, www.inamo-restaurant.com) Given its gimmicky premise, I did not expect to love the food at this "high concept" restaurant as much as we did. Each table is outfitted with an overhead projector and touch pad, which transforms your seat into an interactive dining extravaganza. Each person at the table can browse the menus, add items to your order, change your virtual tablecloth, spy on the cooks in the kitchen and much more with a single click. Items are then brought to your table, which saves you having to hail a waiter. After enjoying this experience so much, I've decided that every restaurant should operate this way.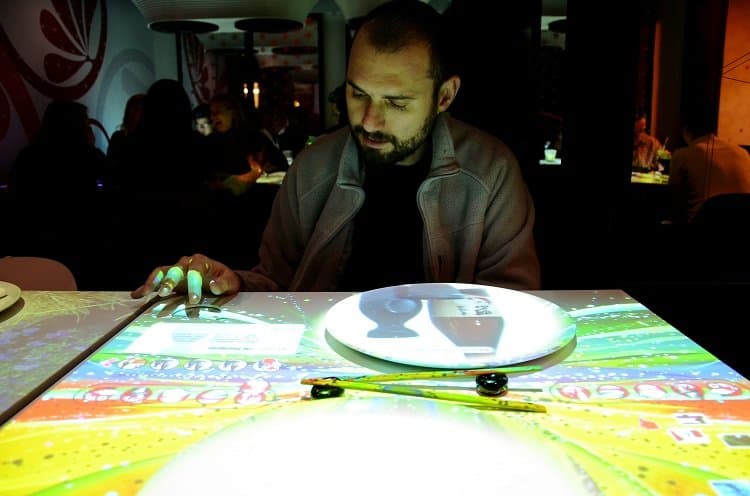 Not only is dining at Inamo a fun experience, the food is also delicious and carefully prepared. The cuisine is pan-Asian, which allowed us to enjoy tasty dishes like sushi rolls, satay, grilled seafood and their incredible Cinnamon Chicken. Getting the check was as easy as clicking a button and we were able to constantly review our total bill to see how we were going. The food isn't cheap, so you have to be a little careful (it's easy to get carried away here), but it's also nice to be free to order as you go without having to keep clunky menus at your table or have to keep asking a waiter to bring them back.
Next on our list was the Courthouse Hotel Bar (Courthouse Doubletree Hotel, 19-21 Great Marlborough Street, Soho, www.courthouse-hotel.com), another place I thought might be more gimmicky than good given its concept. I was happy to be wrong again, thoroughly enjoying cocktails and food in one of the three holding cells that have now been converted into private drinking rooms at this hip Soho bar.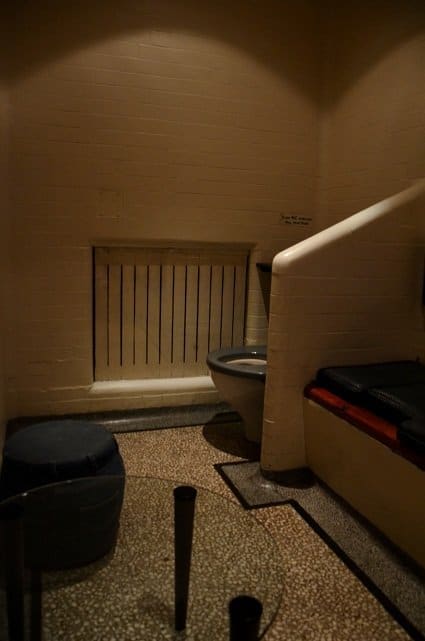 In 2005 the Great Marlborough Street Magistrates Court was converted into a Doubletree hotel. It was the second oldest magistrates court in Britain and the building has seen some very interesting people within its halls, including Charles Dickens, who used to cover criminal trials here when he was a reporter, and Oscar Wilde. The three cells have given shelter to the likes of Mick Jagger, Johnny Rotten, Francis Bacon, Keith Richards and Bob Marley, who have all spent a night here at one time or another (guess who was the worst offender of those five?) The cocktails are excellent and we feasted on a delicious trio of bar snacks here (chorizo, spring rolls and cheese biscuits), so there's more to this bar than just fascinating history.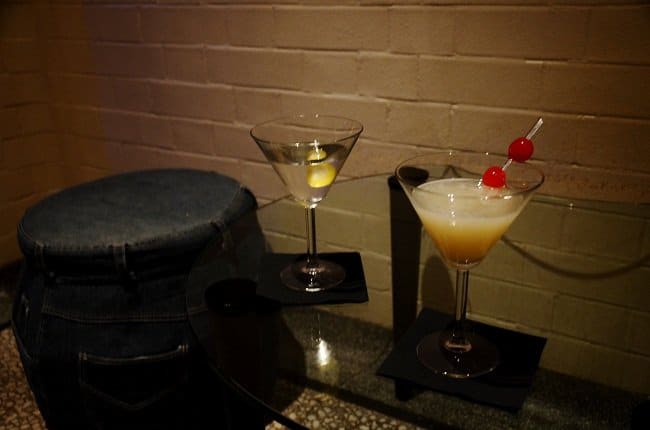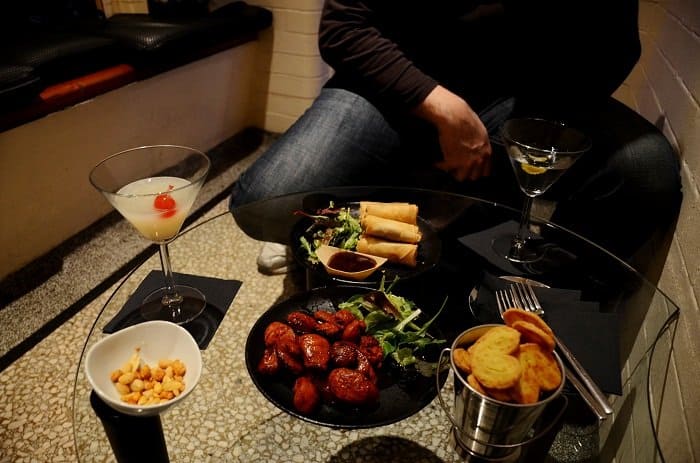 On the day we visited Portobello Road we sought out another gem from the book, Notting Hill institution, Books For Cooks (4 Blenheim Crescent, Notting Hill, www.booksforcooks.com) As its name suggests, this is a cook's comprehensive book store, filled with every type of food-related book imaginable (over 8,000 titles). I was super-impressed with their international cookbook selection and even more impressed with the little test kitchen at the back. We're still smacking ourselves on the head for not coming at lunch time because apparently this is THE place to be for excellent-value two and three course set lunches.
Every day the shop's three chefs test recipes from the cookbooks in the kitchen, tweeting the selections in the morning to customers who swarm in droves at lunchtime (it's noon sharp if you're headed there - the food sells out FAST!) While we didn't taste anything, I'm going to take the fact that the shop is quickly selling out of their "best of" compilation cookbooks at every edition as a vote of confidence in the cuisine. The shop also offers cookery classes and workshops in the demonstration kitchen upstairs - check the website for listings.
JonGlez Publishing provided us with a review copy of  Secret London: Unusual  Bars & Restaurants for our trip to London but all opinions are always our own.