Lest anyone think our current lifestyle is glamorous, allow me to share our recent journey across two continents and three countries in under 14 hours. With no reasonably-priced direct flights between Istanbul and Budapest, we decided the best way back to central Europe was by a combination of planes, trains and automobiles. Our last stop in Turkey was the city of Bursa, which has several ferry connections with Istanbul, but the closest one to our hotel took us to the European side. Our flight was, of course, out of Sabiha Gökçen Airport on the Asian side. Sigh.
5.30 am. We reluctantly crawl out of bed and finish the last of our packing, dress and head to the lobby. 6.30 am. Rather than take a taxi to the bus station to catch a bus that may or may not take us directly to the ferry terminal, we elected to use a private transfer service (actually cheaper than taxi). The driver is on time but doesn't speak English. He misunderstands John's request for air conditioning and puts the heat on. We get nice and toasty in the back on the drive. He's speeding and we have to shuffle around to find seats with working belts but we settle in and try to be zen. 7.30 am. We arrive at the ferry terminal and pick up our pre-ordered tickets. Just enough time for a coffee. 8 am. Board the ferry for an 8.15 departure. 9.10 am. Off the ferry and straight into a taxi to the airport. 9.30 am. The security checkpoint is before check-in at this airport so we put our bags through and line up. Excess baggage should cost us €40 but the woman checking us in says nothing. She does, however, put our bags on a pile with some other backpacks instead of on the conveyor belt with the rest of the luggage. We wonder whether we'll finally have to make a claim with our travel insurance.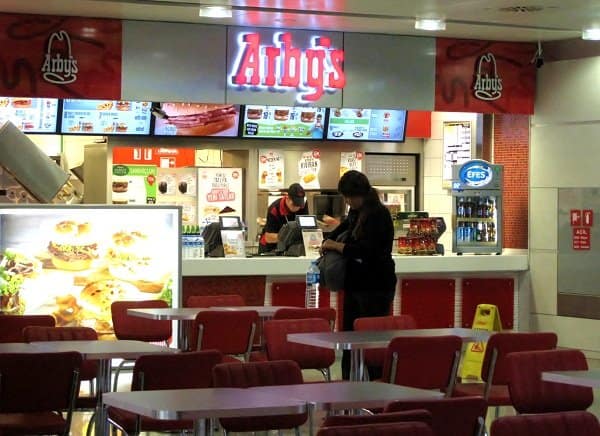 10 am. Is that really an Arby's? In Turkey? Yum! We're both fans and can't resist a classic roast beef sandwich. The beef tastes the same, if a little drier than I'm used to but the buns are different. And it has tomatoes on it - interesting. 10.15 am. Head to the bookstore to look through the books and magazines while we wait. 11 am. We're yawning like crazy with tears in our eyes so we walk through Duty Free and get a coffee. Internet is supposed to be free but refuses to connect. 11.30 am. Another security screen at our gate and then onto the plane, which is filled with screaming children as usual. The one seated in front of me is a little terror, crashing about in his seat and making so much noise that the stranger in front of him offers him pretzels. The stranger's little boy is, of course, an absolute angel. 12.30 pm. Shortly after our (late) take-off, I feel some moisture on my foot. I check my shoe to see strange pink liquid and notice that said liquid is dripping down from the seat in front of me. Damien's little brother has gotten sick and the budget airline has no air sickness bags (Is that really the best way to cost cut?). I get upset for a minute and then feel sorry for the mother travelling alone with these two, kindly offering us baby wipes and trying to clean up the mess. Just another day at the office. 1.30 pm. We land in Vienna and head through immigration. Does anyone else get really annoyed when the officers stamp right across all your other stamps on a full page instead of using a new one? 1.40 pm. Baggage claim is crowded - three flights on one carousel while the others stay empty. What gives, Vienna? Luckily our backpacks arrive and we make a dash for the next City Airport Train to Wien Mitte station. 2.21 pm. Walk to the train station to buy tickets to Budapest then take the U-bahn seven stops to Westbahnhof to meet our train. 3.30 pm. Board train. We asked the woman who sold us our tickets for non-facing seats but the train was full. We take some others that are marked free and luckily their owner doesn't mind switching. 4 pm. It is most definitely beer o'clock. We don't even wait for the drink cart to come around. John heads straight for the bistro and comes back with a Czech Budweiser and an Ottakringer - in bottles! Even the trains have quality beer in Europe.
4.20 pm. Time to get some writing done, including this piece so if I sound a little snarky please be forgiving =) 6.55 pm. We're finally in Budapest! To save an unnecessary journey later we head off in search of the ticket office to book our onward train to Munich. I ask at the information office while John finds answers from a taxi tout just outside. As I exit the office the tout scolds me in a most condescending tone, "You need to listen to your man, not the stupid office." Well! We find the office and also a huge queue by way of numbered ticket. We wait and wait. Finally our number is called but there's someone at that window. John goes to the next window and the woman starts yelling at him that he doesn't have the ticket for her window. I can hear her shouting from my seat next to our bags, "IT'S NOT MY NUMBER!" John has lost it a bit by now as the people standing at our window have been replaced by a couple of youngsters who missed their turn earlier because they were chatting. Our number is no longer on the board and it seems no one is going to help us now. Fortunately the young people agree to translate and help us buy our ticket. Unneeded drama for the end of the day - check.
8.15 pm. After a long search for the metro entrance we board the train. 8.30 pm. Three stops later we're on our way to our accommodation. After a warm welcome we're able to finally relax and enjoy the start of our time in Budapest. Have you ever had an epic/crazy/hectic travel day? Would love to hear everyone's stories...