Way up in northern Norway, along the shoreline of the Lyngen Fjord, lies a special place built with the sole purpose of allowing people to experience the splendor of the area's wilderness. After a short flight over the Lyngen Alps from Tromsø and a twenty minute drive, we reached the warm and welcoming Lyngen Lodge for a unique weekend away.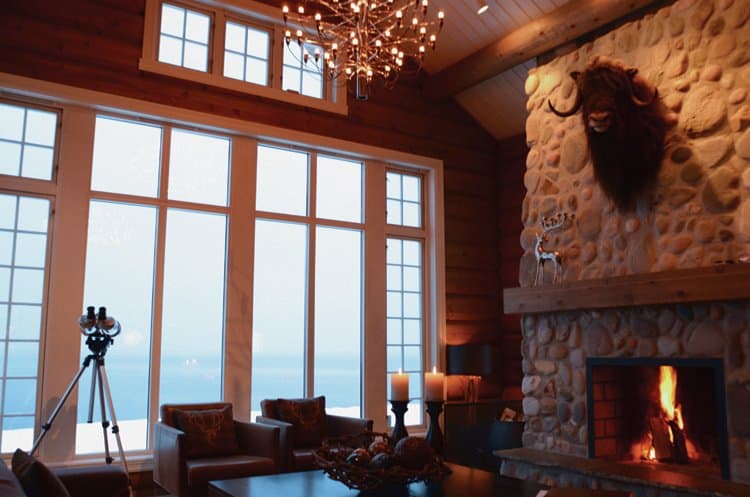 Located in the Arctic Circle, the lodge is
set in the woodlands with panoramic views of the Alps
. Of course, if you've been reading this blog for awhile, you may know that John and I are not very lucky when it comes to weather. If there is a destination that requires certain weather for the best experience, we are likely to visit it during a period of unpleasant conditions. As was our fate on this particular weekend. After several weeks of clear skies and excellent conditions for viewing the Northern Lights, snow and rain had found its way to Lyngen. We knew there was no chance of seeing the night sky light up, but we were determined to enjoy ourselves no matter what.
Like many of the world's most unique properties, the Lyngen Lodge has a great story. Its founders and owners, Graham Austick and Elisabeth Braathen, ran an Austrian ski company called Piste To Powder for years before the days of the Lyngen Lodge. On a trip to ski the local mountain, Store Haugen, Austick became enamored with the area around Djupvik and thought it would make a great place for a lodge. He unknowingly dropped his small camera in the snow after snapping some photos of the area, only realizing the mistake later the next day after he was far from the area. In a twist of fate, a local man found the camera and after drying and reassembling it, looked at the photos. Within them was a photo of Austick's boat and by contacting the skipper they were able to connect. This man just so happened to be a local property development officer and was able to help the couple to purchase the land for their vision.
Today the traditionally built wooden lodge can accommodate 18 guests at a time and offers an inclusive room and board rate for active travellers who wish to experience activities in the region. After a day out exploring, visitors return to a warm and cozy home away from home. The lodge is luxurious and features various amenities: a sauna and jacuzzi, living room and fireplace, a library and television room, bar and communal dining room.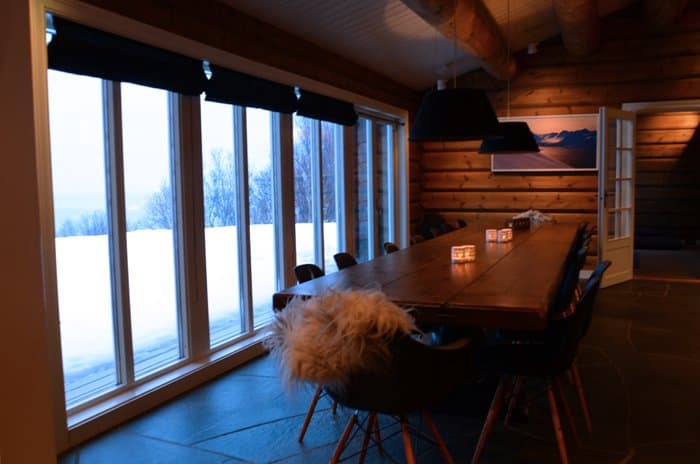 Our room was very comfortable with an ensuite bathroom and rain shower. The rooms have different configurations - some with double beds, others with bunks. We got the last available room for our weekend but were still able to squeeze in together in the bottom bunk. Norwegian bedrooms are traditionally small but the common rooms at the lodge offer plenty of space for rest and relaxation, along with the opportunity to meet interesting like-minded travellers from all over the world.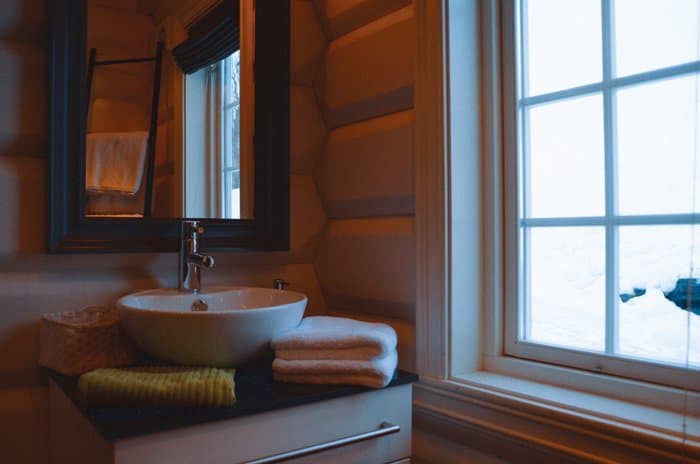 One of the comforting things about being somewhere when the weather isn't great is that you aren't alone. Everyone in the group was in the same boat but we were lucky to have a great mix of friendly guests, which made for good fun during dinner and the activities. The hosts at the lodge, Elisabeth, Laura and Linda were all very friendly and made us feel very welcome, looking after us and answering questions.
A highlight of our time at the Lyngen Lodge was the food. Chef Steve Newson bases his menus around the availability of fresh, local produce, preparing inventive dinners. Breakfast was also delicious, with a nice spread of freshly baked breads, cheese, meat, local fish, yoghurt, fruits and spreads. Guests are provided with lunch during the activities or one of Newson's lunch creations should they stay at the lodge during the day.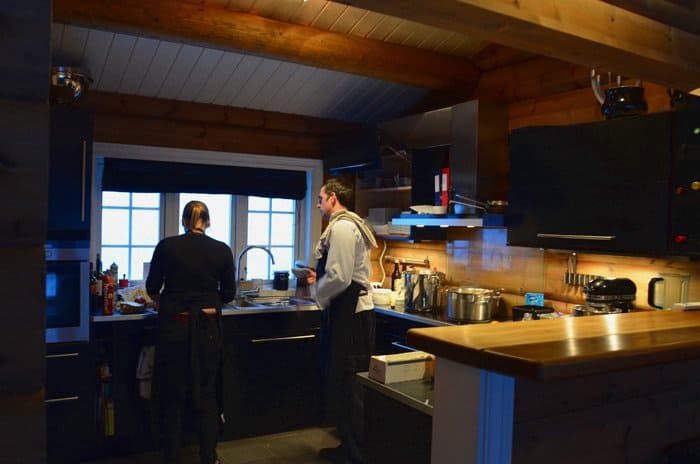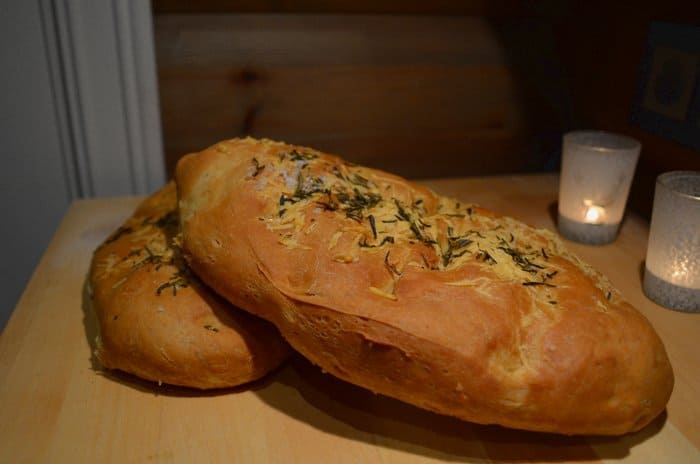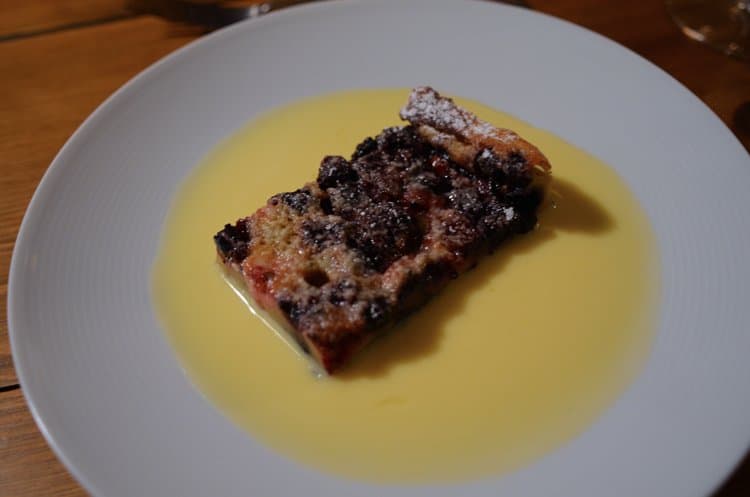 Activities at the lodge run based on the seasons. January to March is the Northern Lights season, with nightly guided viewings and daytime activities such as snow shoeing, horse sledding, sea safari, ice fishing, photography courses and cross country skiing. We enjoyed a half day of dog sledding, which was a lot of fun.

From February to May they offer week long ski holidays for those skiers who are experienced in backcountry (off piste) skiing. In summer, guests can take in the midnight sun and explore the area via boat, heli-hiking or on horseback. There are also opportunities for fishing, mountain trekking, rowing, sea kayaking and to explore the glaciers.

While, of course, our experience would have been even better if the weather had turned it on for us, we still had an enjoyable time at the Lyngen Lodge. It would be wonderful to return someday to take in more of the landscapes and experience some additional activities. For now, the Northern Lights will continue to elude us, but as with anything involving nature, its untamable qualities are what makes it so exciting. Should you wish to experience a fantastic adventure in Norway's north, look no further than the Lyngen Lodge and its wonderful hosts.

You may also enjoy these similar posts: