If you do only one thing in Lyon, be sure to eat. Eat a lot. Spare no expense. Try everything, even if you've never heard of it before or it falls outside your normal gastronomic comfort zone. Just eat.
Lyon is home to 2,000 restaurants, 14 of which have been awarded Michelin stars for 2013. The tradition of incredible cuisine in Lyon began in the late 19th and 20th centuries with a group of women called the 'Mère Lyonnaises,' or "Lyon mothers." Wealthy families at that time had to let their cooks go and some of these women went on to find work in local restaurants or to start their own. And so began the 'bouchons,' which are the small traditional restaurants of Lyon that serve up local specialties in a convivial atmosphere. You'll often be eating at long tables with family-sized portions of at least some of the dishes to be shared.
The region is known for its excellent produce. So what you're eating didn't come from very far away. It doesn't matter where you eat or at what price range; the food will be fresh and local. We had dinners at both a bouchon and a brasserie, and one lunch and one dinner each at Michelin-starred restaurants. Perhaps I'll stop talking now and just do a little show and tell about what we ate. We paid for these meals on our own, by the way, so there is no bias here. The food was absolutely sensational.
Beginnings
A long dégustation lunch at Mère Brazier (12, Rue Royale, lamerebrazier.fr, two Michelin stars) is a foodie must. Just relax as we did and ask them to choose some wines to pair with each course and you cannot go wrong. Long lunches are a French birthright and you can rationalize away the bill by reminding yourself that this isn't just a meal, it's a cultural mainstay.
I have been enjoying my review of these photos and the menus that accompany them (don't forget to ask for your 'copie du menu' as you leave) because I speak enough French to get around and I really try hard to speak as much of the language as possible when I'm in the country. It's particularly helpful in France because even in the large cities you will encounter many people who don't speak much or any English. Of course, in the finer restaurants English is almost always spoken and you can often get an English menu. But I am stubborn! Anyway, sitting here now translating the menu at home, I had no idea there were frogs accompanying the snails in this dish but it was absolutely delightful. As were the two seafood dishes that followed.
At a bouchon, the first course may be a trio of salads, as we found at the wonderful Le Bouchon des Filles (20, rue Sergent-Blandan, 04 78 30 40 44). Typical bouchon dishes include (in English): chitterling sausage, dumplings, different chicken dishes, roasted pork and all kinds of offal. I had actually never seen a "triperie" until visiting Lyon.
Our second Michelin-starred experience was at Le Gourmet de Sèze (129, Rue de Sèze, le-gourmet-de-seze.com, one star). Here I had one of my most memorable dishes in Lyon. Again, I did not know what it was and could not figure it out with the waiter due to a language barrier but I should have known it was one of my all-time favourite things to eat: sweetbreads.
Main Dishes
Main dishes are always a bit heartier, even more so at the bouchons...
Move over Argentina. This blood sausage was the best I've ever tasted and the pairing with warm baked apples in a pastry was divine. The blood sausage (boudin noir) is traditionally served with apples (pommes). Look out for it. Back at Mère Brazier, we were enjoying pigeon during the main course, which I've never had before but thoroughly enjoyed.
Mère Brazier is an important historical restaurant in Lyon. Mère Brazier was the first woman to receive three Michelin stars. It was here that France's most famous chef, Lyon-based Paul Bocuse, did his apprenticeship. Since 2008 the executive chef here is Mathieu Viannay - and he is doing a spectacular job.
Endings
We really should skip the cheese course but that is impossible for us when in France - we love it too much. At least if you are eating so much at lunch you have the evening to recover...
The reason to skip the cheese becomes apparent when you realize how seriously the French take dessert. The sweets never stop coming, each one more beautiful and decadent than the last. The French are also obsessed with chocolate fondant, which is great because we are too.
It's also fun to try new things when dining in a foreign country. Our big discovery in Lyon was a drink called Chartreuse. It's green.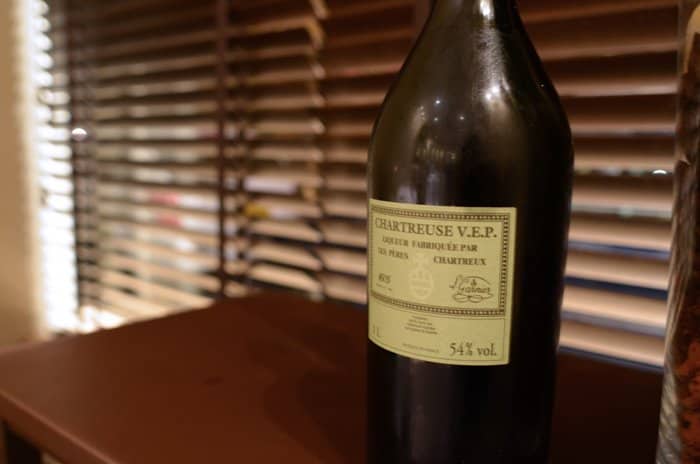 And it's 54%. Something I would only try after already having an aperitif and sharing a bottle of Pinot Noir with my husband.
It's made, surprisingly, by monks from Grenoble with 130 different herbal extracts. If you're thinking a medicinal taste, I might say yes but that would be doing this liqueur a tremendous disservice. It's pretty delicious, starting out very sweet in your mouth but with a powerful, extremely complicated finish. I couldn't have more than one or two sips, albeit big sips. But I couldn't believe how much I liked it.
Bon appetit!
What is your favourite French dish?
You may also enjoy these similar posts: