Maine is famous for their wonderful lobster but the craft beers are just as fabulous. Prior to arriving there, I discovered the Maine Brewers' Guild, which contains the Maine Beer Trail. Established in 2009, the Maine Beer Trail contains information on the Maine breweries and a map to assist you throughout your visit. The best part is if you visit five breweries, you receive a hat and 10 breweries will get you a t-shirt. During our week-long drive through the state we managed to stop at five so here are some of the brews I tried.

Marshall Wharf Brewing Company, Belfast (Two Pinchy Lane)

Doppelbock Lager (8.0%) – dark and malty, my love of bock beer just grew with this drop. This was a tiny brewery where you can fill up your growler(s) or sit on the couches whilst enjoying your beer tasting.
Bar Harbor Brewing Company, Bar Harbor (Eight Mount Desert Street)
True Blue Blueberry Ale (5.2%) – we tried blueberry ale in Patagonia in 2011, but the wheat aspect of this one was more than intriguing. Bar Harbor's first microbrewery was also small, but terrific. I had a great chat with the knowledgeable server and sampling the beers gives you credit to use in the gift shop.
Atlantic Brewing Company, Bar Harbor (15 Knox Road)
Coal Porter (6.5%) – one of their 'classic' varieties, this was outstanding and reinforced to me that porters are amazing. Perfect on our only rainy day in Maine, the BBQ was a fantastic accompaniment to the beer. The local I sat next to at the bar was super-friendly and couldn't wait to tell me of the brewery's history.
Gritty McDuff's, Portland (396 Fore St.)
Red Claws Ale (~4.5%) – dark red-amber with nice nutty flavors. Maine's first brew pub since prohibition, this was a good place to stop by for an afternoon pint. They also have locations in Freeport and Auburn.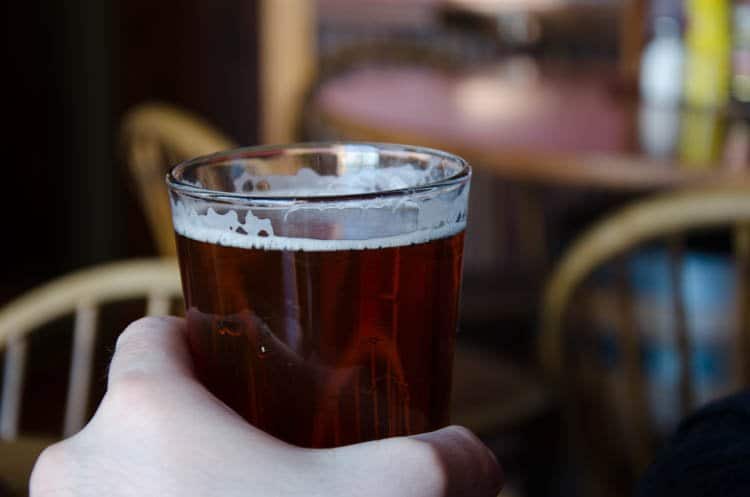 Shipyard Brew Pub, Eliot (28 Levesque Dr. - Route 236)
Old Thumper (5.6%) – bitter style that was easy to drink. Located just across the border from Portsmouth, NH, the GPS almost foiled us in our search for this place. Part of the Shipyard Brewing Company with three other locations.
Maine Beer Company, Portland (525 US Route 1)
MO (6.0%) – American pale ale is my favorite type of pale ale and this was delightful with dinner and an interesting bottle to boot. While not officially attending this brewery, it was on my list. Their production is limited, so make sure you get stuck in when in Portland.
The Portsmouth Brewery, New Hampshire (56 Market Street, Portsmouth)
Barleywine (10.0%) – the 'knockout' factor of such a beer always tempts me and barleywine is truly a great style. On our last day in Kittery, Maine, we walked across the bridge straight into downtown Portsmouth, NH. Stumbling across this brewery, it gets an honorable mention here.
What's your favorite brewery in Maine?
You may also enjoy these similar posts: