Every year on the first Saturday of May, people in cities around the world gather to celebrate cannabis culture in what is known as the Global Marijuana March (GMM). We've never attended an event before, but this year we found ourselves in Montevideo and thought it would be interesting to check it out.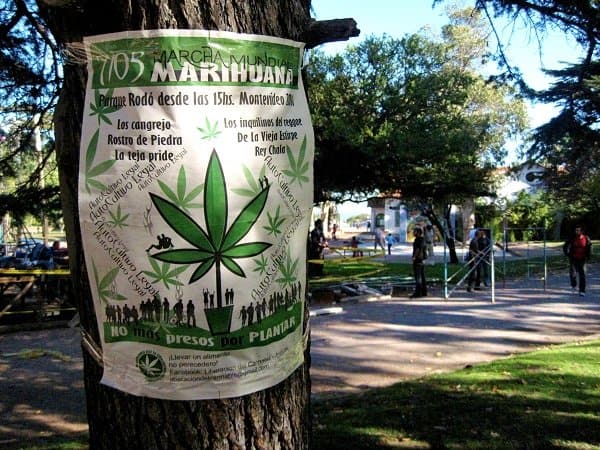 I've never been to any kind of march and wasn't sure what to expect.
Uruguay has some of the most liberal marijuana laws in the world
with no penalties for the possession and use of "personal" amounts. So we didn't see any need for people to protest or demand anything of the government.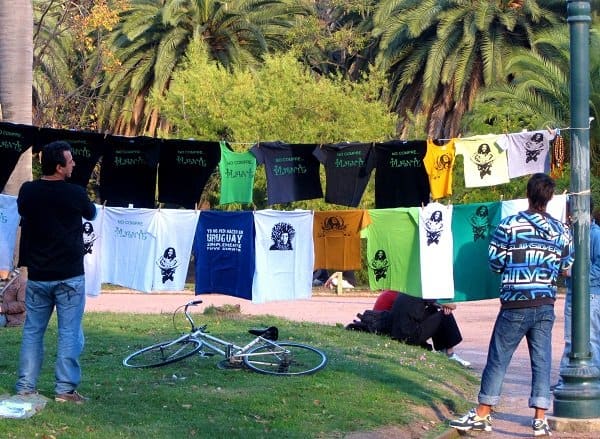 GMM events don't follow any standard format. They can be a march, meeting, festival or concert. The plan for this event seemed to be a free concert in the Parque Rodo. We arrived at the start time of 3 pm and hung out. Over the next three hours the park filled with people. We couldn't tell who among the crowd was actually there for the "march" or just happened to be enjoying a beautiful weekend afternoon in the park. In fact, aside from the small stage set up at one end and a few people selling t-shirts and jewellery, it was difficult to tell that there was an organized event happening at all.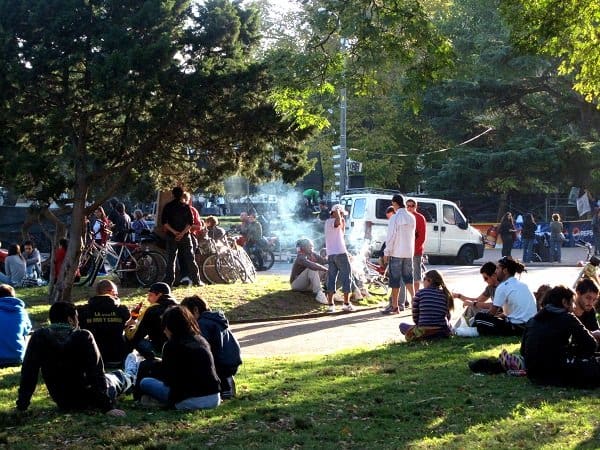 Except, of course, by the smells. People everywhere were lighting up in public on a Saturday afternoon, waiting patiently for the live music to begin. A guy came up to our group with pamphlets and asked for a donation to the cause. It turns out that a primary objective of the event was to encourage the legalization of growing cannabis at home for personal use. If everyone grows their own marijuana then there is no need for drug trafficking and the problems that come with trade of the substance. This is a popular practice in Uruguay and neighbouring Argentina, which has decriminalized possession of personal amounts of marijuana and has a well-organized cannabis community.
We'd never seen anything like this before, especially coming from countries where it would never be acceptable to enjoy a little pot in public. By the time the first band started playing at six o'clock, everyone in the park seemed nice and relaxed. It was intriguing to also see families at the event. We finished our bottles of beer (which everybody was also enjoying out in the open) and left at sundown with a sense of amusement. Countries often surprise us when we visit. The liberal laws and relaxed, friendly people of Uruguay are just a couple of the things we love about the country. We definitely hope to return someday.
What is something that has surprised you about a country while travelling?
You may also enjoy these similar posts: