A walk around the Ciudad Vieja, or Old Town, is a must on any visit to Montevideo. While we weren't aware of it at the time, we spent our first weekend in Montevideo over the Labour Day public holiday. Perhaps this is the reason that the Old Town was dead, with hardly any people on the streets. We wandered for awhile and eventually found our way to the Mercado del Puerto (Port Market).
The 3,500 square metre market site sits in front of Montevideo Bay and has been the home of steak houses and restaurants since 1960. Diners congregate inside and under the awnings to sample the wide variety of meats and other delicacies on offer. This, we discovered, was where everyone was hanging out on a Saturday afternoon.
Outside the market, artisans and craftsmen display their wares on tables and musicians entertain passers-by. We later found out that this is one of the most frequently visited attractions in all of Montevideo, and it is easy to see why.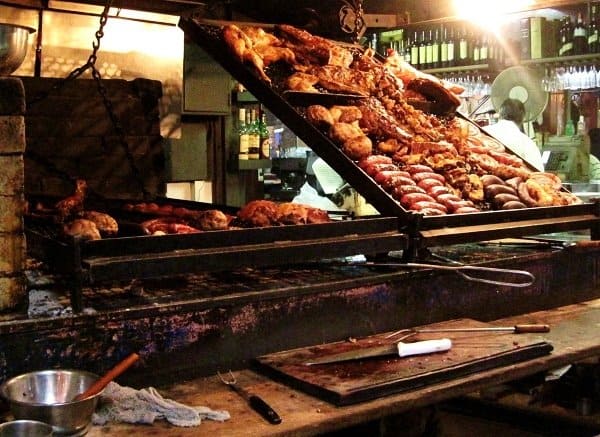 Getting there: The Mercado del Puerto is located near the corner of Perez Castellano and Piedras in the Ciudad Vieja. We were advised not to visit the Old Town after 5 pm., however, many hostels and the nightlife along Mitre are located there so we aren't sure just how dodgy it really is. Use your own discretion and protect against pickpocketing, as you should in any big city.
Have you visited Montevideo? What was your favourite area to explore?