It was raining when we arrived in Miami. I had forgotten about the vast wetlands lying just to the west of the city until we were forced to circle them for fifteen minutes before being cleared to land. John's and my conversation shifted to alligators and the tropical climate, which I never got used to. Miami was my home for four years during my undergraduate studies and it would be interesting to return as I hadn't been back in over 12 years. I was curious to see how it would be different. Or perhaps how different I would be when revisiting old haunts.
On the ground we quickly forgot about the Everglades as our taxi sped across the causeway to South Beach, our home for the next few nights. We were there to re-connect with our dear friends Andi and Lucas who we hadn't seen since their amazing wedding in Buenos Aires two years before, and to celebrate Lucas's birthday. Well, Miami is just the place to celebrate anything. I have never lived in a more passionate city, where people are just simply in love with life. Perhaps it's the fiery Latin influence...or the heat, but Miami turns it on for its visitors and residents alike.
I never lived on the Beach. I can't really write about the rest of the city and compare Miami to its beaches. Even geographically they aren't that close. The journey from where I lived in Coral Gables, and later Kendall, could easily take an hour on a busy weekend night with everyone standing in traffic trying to get onto Washington or Collins Avenues. The Beach is full of trendy restaurants, shops, nightclubs, bars and tourists, where the rest of Miami looks like a lot of other places in the United States. Except, of course, for the ubiquitous palm trees and everyone showing a little more skin.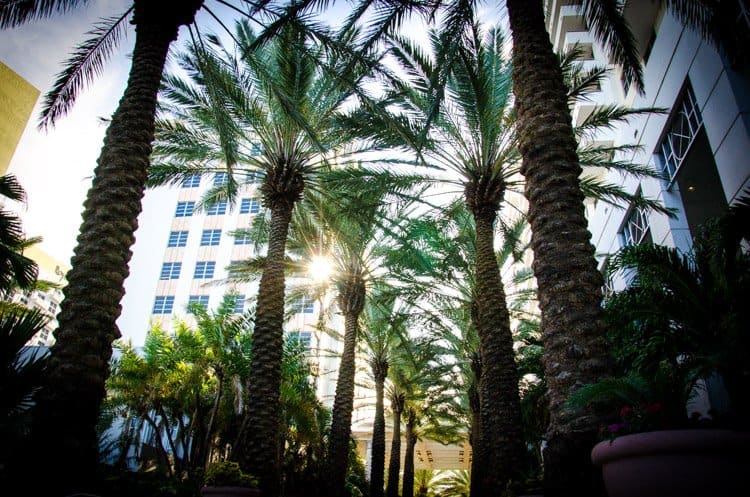 We checked into the Loews Miami Beach, with its unbeatable location right in the heart of everything you want to see and do on a trip to Miami, and immediately caught up over food and drinks at Preston's downstairs. We had a fun weekend planned ahead, with a sampling of some of the wonderful things that Miami has to offer. It is impossible, of course, to pack in everything that there is to do in Miami over a weekend. Sitting here writing this after the fact, I am reminded of so many of the amazing things that we did not have time to experience. But because my memory is so awesome, I will include some of my additional favorite things to do at the bottom of these posts.
Because Miami is just exactly the same as I left it. There has been quite a lot of new development, certainly, but the core of what the place is and the types of people that circulate within its streets have not changed. It is every bit the same colorful, vibrant, sassy and lively place that I left behind over a decade ago. There's big money to be made and big business to be done during the day. Or perhaps a lot of lounging around at the beach or pool if you're so inclined. At night, the neon lights come on and everybody is out to party. People in Miami almost always look like they are having a good time. From the idle waiter busting moves at the front of the café while he waits for his next table to arrive to the grandmother showing off her tan and age-defying figure in a tiny white outfit while she shops on Lincoln Road, these are some people who are serious about loving life.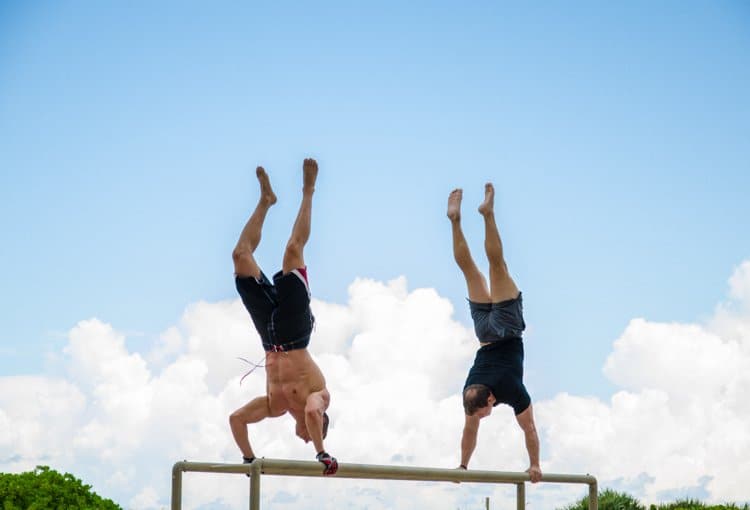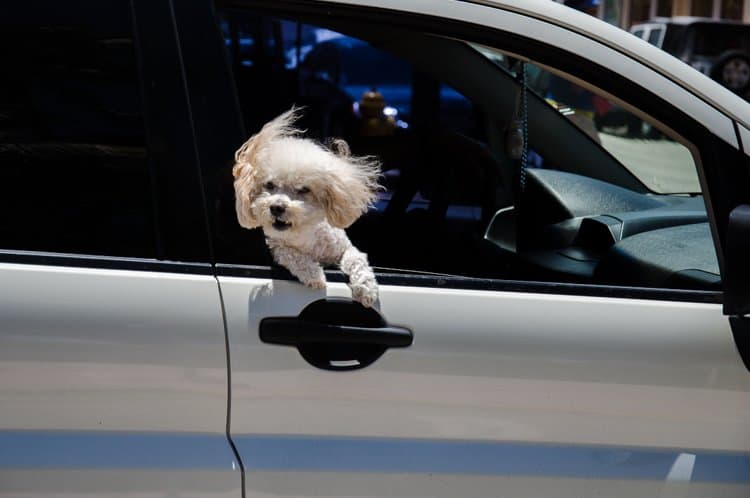 And there is a lot to love in Miami. You can be passionate about food, art, fashion, music, cars, hard bodies, roller-blading, athletics, dancing, sunshine, Cuban coffee, tattoos, turntables, Art Deco, the way your feet feel in the sand, that hottie in the red convertible cruising down Ocean Drive, your dog, your kids, your pool, the weather…the tropical birds in the trees if you like. Everyone seems to immediately soak up that vibe the moment they arrive. I slipped into dresses I could never get away with on a night out on the town here in Houston and we all put on our best clothes for dinner and didn't bother to budget as we made reservations at the best restaurants in town. You have to live it up when you come to a place like Miami.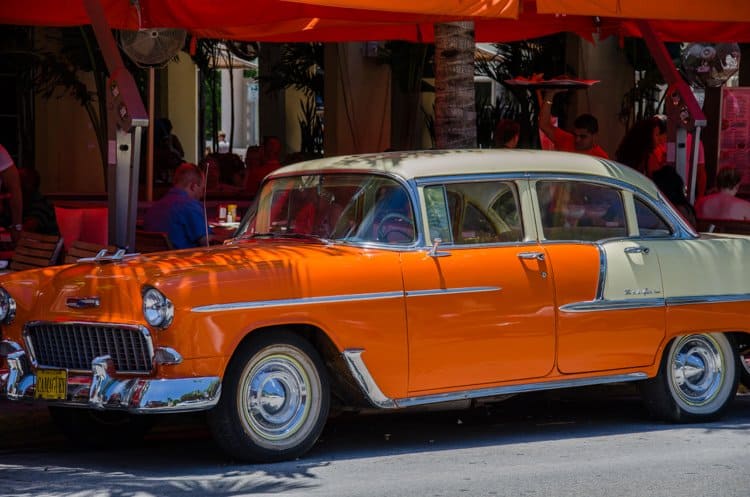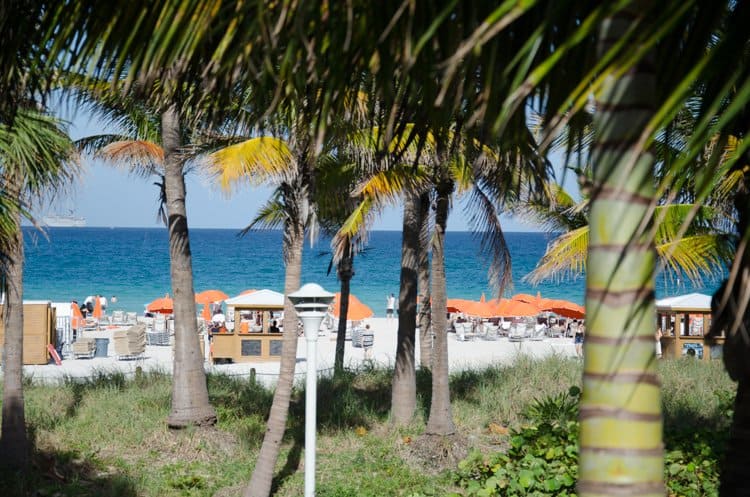 It's also an especially great place to get together with friends. The night we arrived we met up with Kyle Hepp, who we last caught up with in Helsinki last year. A group of us hit up the Hyde Beach nightclub, where a pile of beautiful people (including Lionel Richie) danced poolside under the stars. Be sure to check out one of Miami's hottest nightclubs when you're in town, if for nothing else but to see the ridiculousness that goes on in the VIP rooms.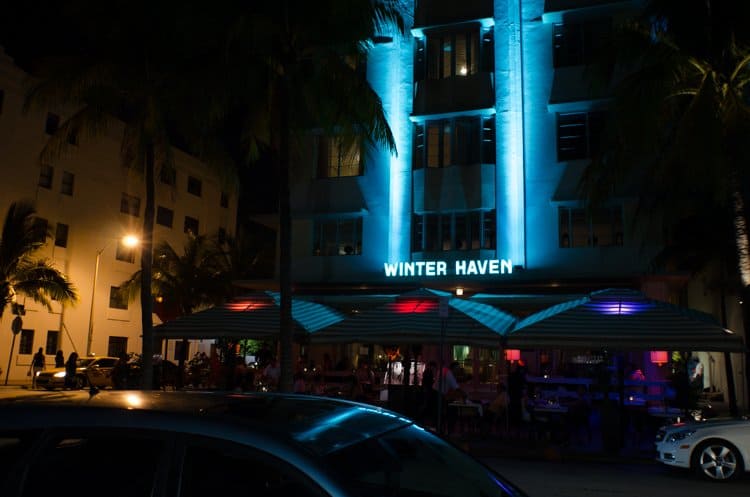 What else not to miss in Miami at night?
If you prefer the college scene, head to Coconut Grove in the evenings for a more laid-back atmosphere and bar-hop amongst heaving shops and restaurants. While you'll still find plenty of co-eds on South Beach, only the most hard core partiers head out there on the weeknights.
For something different, watch or try Latin dancing at one of the numerous clubs around town. We tried to get into Mango's on Ocean Drive one night but didn't want to wait in line. Here's a list of some great places to check it out.
Miami is home to some seriously good restaurants. Avoid the tourist traps along places like Ocean Drive and seek out places where you can savor the work of some of America's hottest chefs. Two places that we can recommend are Ola (1745 James Ave., Miami Beach) and Bazaar (1701 Collins Ave., Miami Beach), the latter of which will be covered in a later post.
Have you lived the sweet life in Miami yet? What did you think?
Disclosure: We received a significant media discount for our stay at Loews Miami Beach.
You may also enjoy these similar posts: