Did you know that the cinema was invented in Lyon?
During the 19th century, two smart and talented brothers began to experiment with animated pictures under the suggestion of their father, photographer Antoine Lumière. The pair had already discovered several new photographic processes and, in 1895 registered their first patent for the cinematograph and made the first ever film. While Auguste and Louis Lumière did not continue to make movies (they went on to invent colour photography), their invention spread to the rest of the world and provided the first seeds of the movie industry as we know it today.
Because of these prolific inventors, Lyon has always had a strong connection to film. The Grand Lyon Film Festival is in its fifth year (visit 14 - 20 October 2013 to attend that) and from June to September annually the city explodes with open-air cinemas. The city is also home to film and television studios as well as a few museums dedicated to the subject. These include the Model and Cinema Decor Museum, Musée Lumière and Musée Miniature et Cinéma. Let's look at the latter two, which we visited.

The Musée Miniature et Cinéma (60 rue Saint Jean, Vieux Lyon, www.museeminiatureetcinema.fr) is home to two different collections. The first is a collection of 300 film artefacts, including models, costumes, props, set pieces, masks and robots from movies made in Europe and the United States. The second collection is of miniatures, not only the 100 miniature scenes but also over 1,000 miniature items that could keep you busy for an entire day if you looked closely at each one.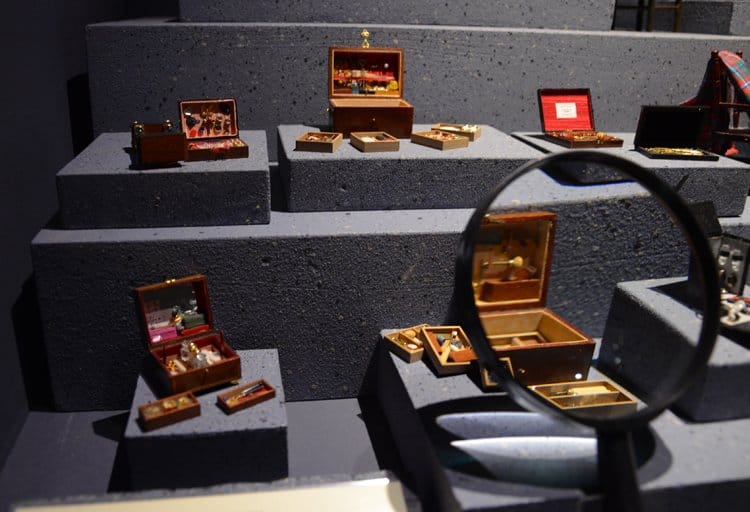 This is an awesome museum spread over several floors. We loved checking out all the different exhibits - it's like a behind the scenes tour of popular films that lets you understand just how they make such complex visuals appear on screen. There's a real artistry and craftsmanship involved in the creation of everything in the museum. The miniatures are unbelievable. I couldn't stop thinking about the tiny tools and dexterity that would be required to create such tiny scenes and items. The museum also has quite a few puppets and figurines, also with exquisite details. This is a great activity for families as well; any sensitive exhibits are clearly marked and placed in separate rooms.

Another excellent museum to see if you're interested in film and photography is the Musée Lumière (25 rue du Premier-Film, Lyon 8er, www.institut-lumiere.org). This is more of a historical museum, housing a collection of old film apparatus such as the "No 1" Cinematograph, which was used to show the first 33 people to ever watch a movie, an event that occurred in the Grand Café in Paris in 1895.
The museum building is actually the Lumière family mansion and it takes visitors through the history of film and the various stages in its creation. It also explores colour photography. The museum also has a reading room, film archives, exhibitions on the Lumière family, a library and park. At the First Film Warehouse, visitors can see the first ever film set and, every evening, a film screening.
Our time in Lyon was hosted by Rhône-Alpes Tourisme and ONLYLYON Tourisme et Congrès. All opinions, however, are always our own.
You may also enjoy these similar posts: