India is one of the countries that is still on my bucket list. Today I bring you the inspiring story from Vishanth Vijayakumar about his road trip to the Nagarhole national park in Coorg, India.
It was back in January, 2012. I was studying at Vellore, India (A city, two hours away from the state capital, Chennai). My brothers who lived in Dubai decided to visit me and go on a trip to somewhere nice. I have not been around India much at all, In fact, I had not even seen much of South India. But I really enjoyed one of my visits with my University to Coorg (A hill station in South India), it was quite different from Tamil Nadu (The state that i lived in and was born in), especially the climate, was very pleasant, it has an average temperature of 15 degree celsius over the year. This trip inspired me to visit Coorg again, but, this time I wanted it to be different, so i started asking people about trips nearby, we brothers were into the idea of forests and animals.
It happened to be that one of my friends had been to a national park in Coorg, he visits there quite often apparently and he gave me a number of a person called Rakesh, who is in charge of Bethel home-stay near the national park. My friend's experiences with the place sounded interesting and I went ahead and called Rakesh and made a reservation, he was very friendly and was very helpful in the planning. Meanwhile I talked about the plans with my trusted cab driver and friend, he said it should not be a problem and we planned to visit Nagarhole national park in Coorg, Mysuru (A south india city in the state of Karnataka) and Ootacamund (A hill station in Tamil Nadu).
We started our journey from Vellore and I picked up my brothers from Hosur a town near Bangalore and set off towards the national park at about 12 in the midnight, we planned the trip at night because we wanted to save money and also visit the park early in the morning so that we could see the animals. We stopped at a Cafe coffee day (A very popular coffee shop in the state of Karnataka), on the high way to stay awake. In the Car, we were talking some stories and singing till we could, but soon we started sleeping off.
The next thing I remember was waking up at 8 in the morning, when the driver asked us for more details about the location and we were awake, entering the park around 8.10 am, the place had signs showing a car speed limit of 30 kph and said that the car must not stop anywhere as we were entering the zone where animals could enter the road. We saw some deers, monkeys walking by and birds chirping everywhere and few other animals that came near the roads or were on them. This road to the entrance of the main forest extends up to 30 km and is a bliss. It gives you splendid views of nature around, with occasional visits from animals, a beautiful sun rise and chilly breeze keeping you alive than ever before. We reached the destination at about 9.30 am and bought the tickets (400 Indian Rupees) for the safari to visit the main forest at about 10 am. We were told that four baby tigers were spotted the day before and it was a matter of luck to be able to spot a Tiger in the forest.
We started the safari with lots of excitement and the spotter took us through the various trails spotting a lot of deers, wild boars and monkeys and birds. The national park is home to over 250 species of birds and some exotic flora like sandalwood and teak, which Karnataka is known for. Tigers, leopard, elephants and Indian bison are known to be common here, But unfortunately, we could not spot the Tigers on this safari tour. We were advised that we should visit the national park in April-May for the best forest experience. The safari was worth it nevertheless, we got to see the animals up close in an amazing ambiance of calmness filled with only nature and wildness.
We contacted Rakesh from the home-stay meanwhile and he asked us to meet his driver who would be waiting for us, this was 30 minutes away from the safari place and the driver helped us with the luggage and got us into the jeep, we had to use the jeep provided by Rakesh because the road was very rugged and it was a bit of a bumpy journey to the Home-stay. We reached the place, which is in amidst coffee estates and hills around. We did not realise that we were already at an altitude of about 1000 meters above the sea level, it was quite sunny in the noon and we were greeted by Rakesh himself, He showed us briefly around, the tree houses and wooden benches around gave it a sense of being in a natural zoo.
We were introduced to our Swiss Bamboo cottage (You could choose between Cottages, Tree houses, Dome tents). We were quite happy with the cottage, we had two rooms with comfortable mattresses and toilets with hot water. The Place runs on solar energy, so they generate just about energy to use traditional lanterns and charge your phones using USB ports. If you want to charge something more powerful or need some help, Rakesh is very helpful and responsive with these queries. The cottage is not really super luxurious or over flamboyant, but it does feel like home in between all the wilderness. Rakesh noticed that we were tired and he asked us to take our time and offered us some breakfast (Which was super delicious with aloo parathas, omelette and juices, coffee, tea).
Rakesh asked us to rest for a while and suggested that he could check on us in a couple of hours so we could visit the Iruppu falls, We had a nice little nap and as expected Rakesh was calling for us at 2 pm, we were ready and we set off for the falls, before going to the falls, we took a couple of pictures at the machaan present there, The views were splendid. We got on the jeep with one of the drivers and another family who were staying at the home-stay as well. The road was bumpy like the drive before, but, we were at the falls in about 15-20 minutes.
The falls looked very green with signs asking to be quiet and asking not to disturb the animals which lived there, There is a king cobra den as well (Wohoo!), we climbed the stairs and few bridges to the top, it is not a difficult trek, but it can be slippery at places, it would be advised to keep an eye on children and yourself because you have the waterfalls on the top and you don't want to slip over there. The falls were beautiful, we did not get spare clothes with us to get under the powerful streams of water, it's something you must do. The falls has some seriously pretty butterflies (They are everywhere), Remember to buy some snacks or water from the store before you enter the falls, as you don't find any shop inside.
After a short while, we head back to the homestay to have our lunch, The food and hospitality is their specialty, It's very diverse with options like Aaaki (Flat bread) rotis, Aloo (Potato) parathas, Pork puttu, Chinese and Continental food options, the food never stops here and you are fed till you are ''belly full''. The cuisine at the homestay is an experience on its own.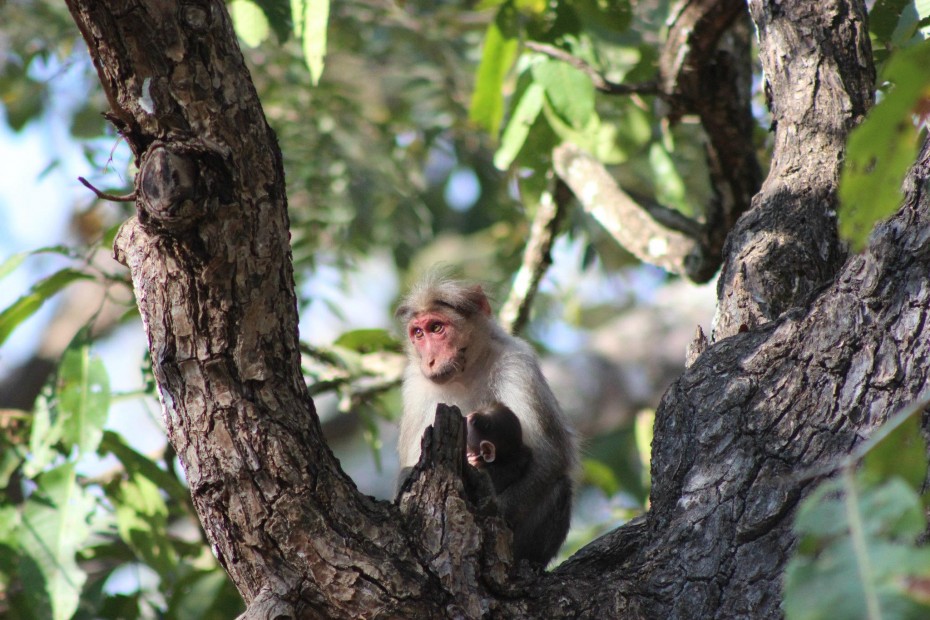 We were offered to go on a trip to the river nearby to have a bath, we skipped this to restore a bit more energy, But we decided to trek the beautiful hill and visit the coffee estate to watch the sunset. Just before the sunset, we started the trek to explore the hills behind and around the estate, we saw a lot of coffee plantation and while we were getting closer to the sunset view-point, we came across fresh Elephant dung, which means that Elephants roam around the estates, which was quite thrilling (haha!).
We enjoyed the view as the Sun started to set and we started to take the trail back to the cottage, They have a pet dog without a tail, who is extremely loyal and follows the visitors into these treks. When we were back to the cottages, It was time to get pampered again, as we were treated with tea, coffee and snacks.
As the night started to set in, the staff of the estate started setting up barbecue fire for every cottage, it was like the night was completely planned for us. We were treated to some amazing masala roasted peanuts, chicken tikka and fish fry as we sat around the fire. If you want to buy something to drink at the homestay, you are welcome to do so, but you must buy your beverages from a shop below the hill before you enter the route to the cottages (Rakesh can help you). The part that stole the stay was the sky gazing you could do from this altitude in the middle of the forests in the hill. The skies look quite unreal at night and the curiosity of the wilderness is an absolute delight of an experience. We were full with the food given at the Barbecue that we could not eat much of the delicious dinner that was served (Yeah that's a lot of food, haha!).
We had a quick chat with Rakesh, he asked us if we enjoyed the activities (Which we obviously did) and gave us his suggestions on other places to visit nearby, He reassured that the hot water should be ready by 4 am in the morning and with that, we went to bed. It can get quite cold at night, because of the high altitudes and the bamboo housing, we got ready by 4 in the morning and Rakesh offered us complimentary breakfast as well before we left as a token of gratitude, it was a really adventurous and enjoyable visit and I will be visiting later this year to enjoy more of Coorg and places around. It's location is perfect to explore the wilderness of South India, with Wayanad wildlife sanctuary just couple of hours away. They also organise treks to peaks nearby and White water rafting opportunities ranging up to class 5. Coorg is a beautiful district in the South of India with Peaks, waterfalls and forests and with lot of opportunities to enjoy both Nature and Adventure.
I highly recommend at least a 3 day visit with the ideal time to visit the national park in April/May and the stay with Bethel home-stay fits your bill and comforts perfectly, Moreover, the ideal location in the centre of South India let's you enjoy the Greens of Kerala, The Hills and temples of Tamilnadu and the beautiful city of Bangalore within close proximity.
Would you visit Coorg?
Bio: Vishanth primarily works as a Research assistant at The University of Gent. He likes to write about his travels and life experiences in general and is the creator of vishualization.com with a goal to inspire and be inspired. His recent interests include travelling alone and volunteering with animals and children. Follow his journey at vishualization.com or via Facebook, Twitter or Instagram
* : Photographs were taken by both the Author and Avinash Vijaya Kumar
Liked this story? Pin one of these images on Pinterest or leave a comment below!
You may also enjoy these similar posts: