Bachelorette Party
If you are thinking of having a wild bachelorette party filled with drinks, food, music, and more, New Orleans is one of the best cities to party in. New Orleans is packed with culture. Dressing up in costume on any old Saturday night is a regular occurrence. Where else will you see 20 men walking down the street dressed as Elvis? Where else could you walk around on the streets with open containers of alcohol.
NOWHERE!
Staying in the French Quarter is recommended because everything is in walking distance. Some of the best bars, like Pat O'Brien's, and restaurants like Court of Two Sisters. Dance the night away at the Hi-Ho Lounge or at one of the many venues on Frenchman Street, the best street for bar crawling and hearing local New Orleans brass music. You will definitely be heading home as the sun is coming up.
Wedding
Having your wedding in New Orleans is incredible. There are some of the most beautiful churches too. One of the most famous cathedrals is St. Louis Cathedral located right next to Jackson Square. The Cathedral was built in 1794 and is officially the oldest cathedral in the entire United States, and that sings romantic. With the beautiful backdrop of Jackson Square, and surrounded by historic buildings, this Cathedral is a perfect wedding venue.
It honestly looks like a fairy tale. Some of the best wedding photo opportunities are just steps away from the cathedral too. Jackson Square, pictured below, with the cathedral in the background, is one of the oldest and most beautiful sights in the city.
Just a block or two away is Royal Street, a street once known for its mix of shops, bars and hotels, but is now mostly known for its art. Just on the other side of the park is the Mississippi river, which is so beautiful during the sunset. The French and Spanish architecture that lines the French Quarter provides an amazing backdrop for any photo. The centuries-old iron works, bright colors and balconies will make you feel like you are not in the United States.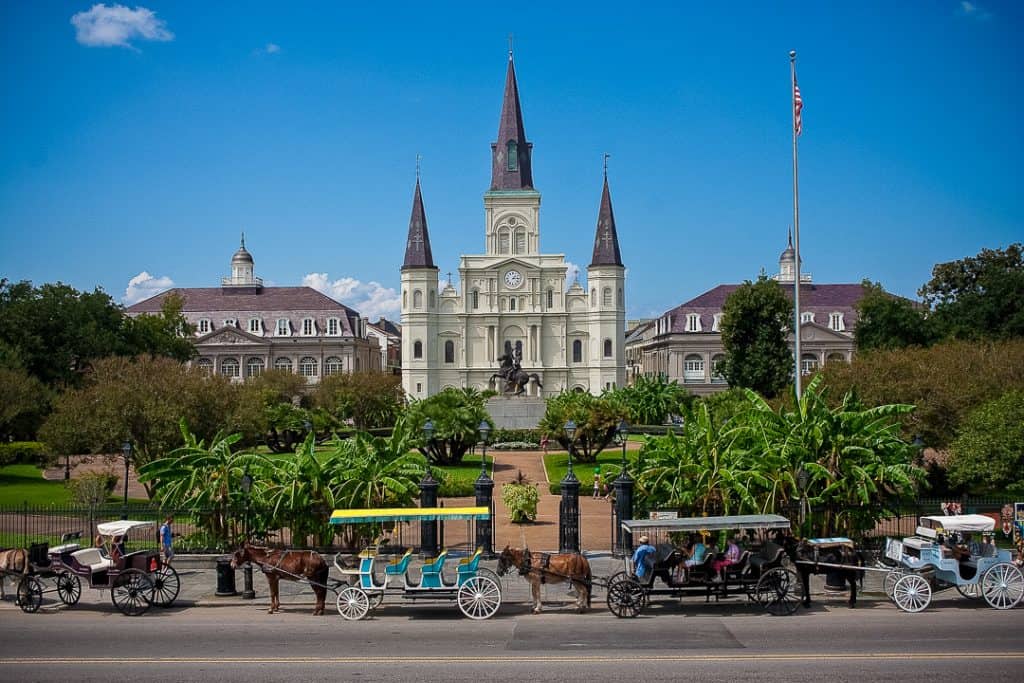 Honeymoon
Taking that post-wedding vacation is essential, and New Orleans is filled with a magical romance that will bring any couple closer. From walking the French Quarter at night, hand in hand, looking into all of the small shops and boutiques, to taking a horse and carriage ride through the oldest neighborhoods, Nola is beyond romantic. It is enticing, seductive, and delicious all in one.
Chateau Le Moyne is a beautiful historic hotel in New Orleans French Quarter. The rooms are very private, and beautifully adorned. Sit out on one of the balconies in the morning and watch the French Quarter come to life. At night, try eating at one of the many outdoor dining spots around the city.
Cafe Amelie is a very romantic spot just a few blocks into the Quarter. Even Beyoncé and Jay Z have eaten at this 150 year old location. Or try the newer N7, located just 10 minutes outside the Quarter. This is a hidden French style restaurant that channels Europe with its natural wine selection and brief menu. Exploring in New Orleans is a must. Every nook and cranny is to be found.
Written by Max, a marketing assistant for Chateau LeMoyne, a French Quarter boutique hotel.