Having done a sailing holiday before, I can certainly vouch for its charms. In today's guest post, Kelly Girl Waterhouse shares her tips on why you should consider chartering a boat for your next adventure and what destinations not to miss.
For your next getaway, consider chartering a boat. Chartering maybe easier than you think. It can be as simple as:
Selecting your destination.
Packing light using soft sided luggage or a backpack for ease of stowing.
Provisioning your boat with food
The chartering company can provide a captain and crew or, if you have documented sailing experience, you could operate the vessel yourself. They will also assist you with your provisioning and will have suggestions on which islands to visit.
Once on the boat, you will have an experience of living like the sailors of old; sailing to new destinations, harnessing the power of the wind and leaving all your worries on land behind.  If this appeals to you, below are five boating destinations not to be missed.
Bay of Islands, New Zealand
The Bay of Islands, is a treasure with over 80 mystical islands containing rolling hills with lush green trees. Cool clear-blue water invigorates the soul when you go for a dip. Here you can find dolphins playing with a boat's bow as it sails towards a new destination. Look to the rocks to find millions of mussels and oysters on shore-side rocks, ready to be harvested and served on the half shell with a lemon-wedge and hot sauce. Trek around an uninhabited island or visit a harbor town to mix with the locals or for a dinner out.
Nautical Note: Many of the islands are sheltered and close in proximity. This allows for protected anchorages and short day sails to each destination allowing enough time to enjoy your surroundings.
Marmaris, Turkey
Charter a traditional Turkish vessel, called a Gullet, or charter a modern-day sailboat to explore the historically rich and vibrant coastal towns of Marmaris Bay. In the city, haggle with vendors at the local bazaar, experience a Turkish bath or find the local coffee shop to enjoy a thick Turkish coffee and decadent baklava. Tour a Turkish rug gallery, walk over ancient roman fortresses or swim in the aqua blue waters of the Mediterranean.
Nautical Note:  In this region, the wind is brisk that can promise a lively sail to each coastal destination. Anchorages are well protected.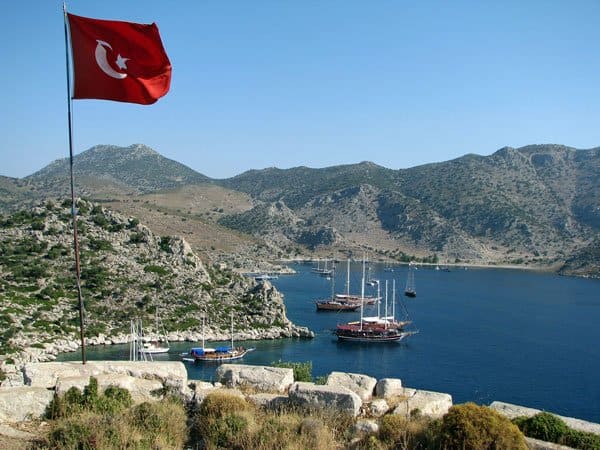 Vavau, Tonga
Named the "Friendly Islands" by the legendary Captain Cook, this Vavau island group in Tonga lives up to its name. The Tongans are reserved but friendly, keeping to their traditions. Don't be surprised if you find men wearing a traditional woven Tongan mat around their waist, called ta'ovala. This island nation does not have large cities, just villages where you can hear the rooster crow, smell the floral incense of burning coconut shells or partake in an Umu–a Tongan feast where the local dishes are cooked underground. It is a laid-back destination with pristine anchorages. This is also a destination for humpback whales from Antarctica. These mystic creatures come to the warm Tongan waters to mate and give birth. This is a popular location for diving and kite surfing.
Nautical Note: The sailing is exhilarating with steady summer breezes and islands within an hour's sail or full day-sail.
Phuket, Thailand
Thailand is diverse. Some examples include an aromatic spicy cuisine, majestic Buddhist temples, intrepid rock climbing, sugary beaches and gracious people.  Visit a fishermen's stilt village, James Bond Island where "Man with the Golden Gun" was filmed, or Ko Phi Phi Leh Island made famous by the film, "The Beach."  All these destinations are only accessible by boat.  Explore seaside caves or barter with the local fisherman that stops by your vessel to sell the day's catch. The choices are endless.
Nautical Note: Most Islands are within a day's sail or island hop to farther destinations. Winds can range from 5-20 knots.
Pacific Northwest, Washington, USA
When cruising the waters of the Puget Sound you may have the good fortune of spotting an Orca whale pod or Humpback whales. Whether or not you see whales, the San Juan Islands have it all, from quaint sea-side towns to uninhabited forest-packed islands. Go to town for a grilled salmon or Dungeness crab dinner or put on your hiking shoes for a walk in the woods.  While sailing, you will see the white-capped mountain peaks of Mt. Rainer and Mt. Baker as you steer clear of a Washington ferry making way for port.
Nautical Note: When sailing watch for strong currents. Protected anchorages and marinas are abundant.
What companies charter boats?
Sunsail and Moorings have charter boats in the locations I have mentioned.  Both are reputable and have chartered vessels for many years. Also check out local operators for price and service comparisons, which may have more of a local flavor.
Remember: when you are chartering a boat, be flexible with your schedule and be safe. Fair Winds my friends.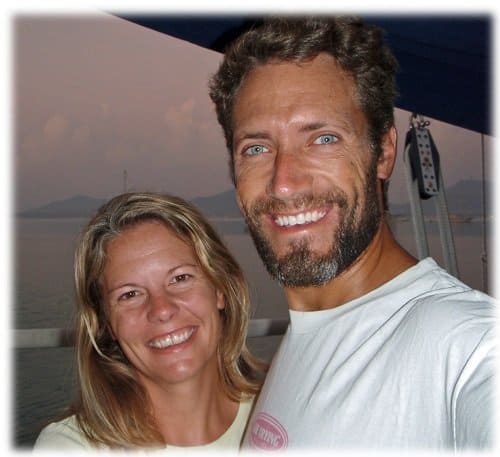 Bio: Kelly "Girl" Waterhouse, has sailed to over 30 countries, covering 35,000 nautical miles with her husband, Kelly on their 35 foot sailboat (yes, they have the same name). Read more about their adventures on their website, Sailing the Waterhouse.
You may also enjoy these similar posts: