Berlin is full of history. Aside from the many museums devoted to the city's long period of division and the remnants of the Berlin Wall itself, relics of the Cold War seem to just be part of the landscape.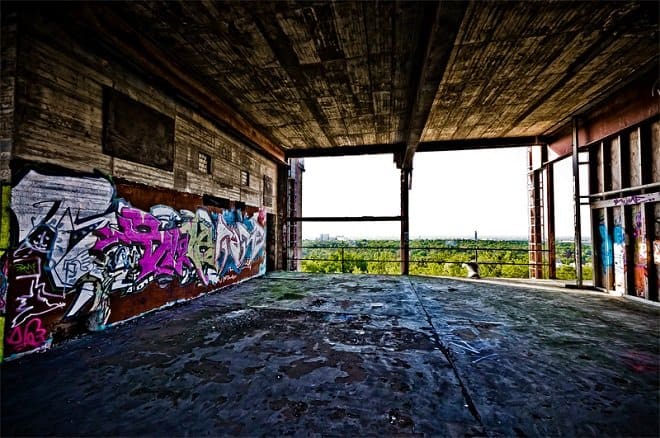 Teufelsberg was created from the rubble produced after World War II (approximately 75,000,000 m3) and in 1972 the senate of Berlin decided to plant greenery on it, making it the highest natural hill within Berlin boundaries. The mound has an interesting history as it covers an unfinished Nazi military education facility, which was unsuccessfully bombed by the Allies. It proved easier in the end to just cover it up.
The US National Security Agency then built one of its biggest listening stations on top of the hill, which was actively used until the fall of the Berlin wall in 1990. A Sunday tour provides a detailed explanation about the history of building and the surrounding area.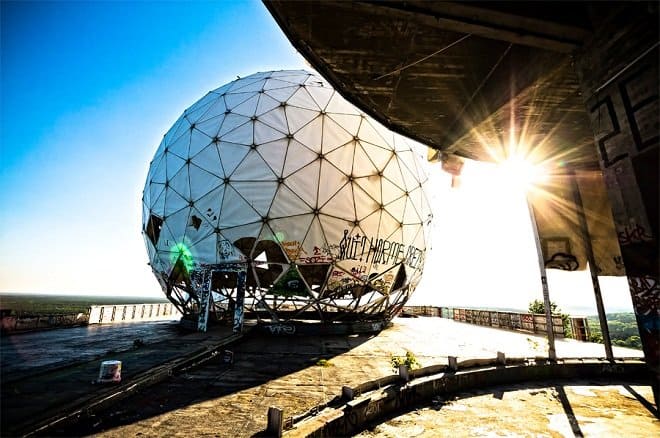 No one has been able to turn the space into a viable commercial project. Investors' attempts to develop a luxury residential complex were thwarted by worries over the possibility of radioactive waste.
The now vacant building is home to endless walls of uniquely artistic graffiti. On a clear day, the top of the building will show off a spectacular view of the city and surrounding area that can't be seen from anywhere else.
It's really easy to get here. For €2.40 you can hop on the S7 (in the direction of potsdm HBf) to Grunewald station and you will be there in no time. From the station you will need to walk about twenty minutes, which will take you through a lovely tree filled forest, until you reach the man made hill of Teufelsberg, which translates to 'Devil's Mountain' in German. Once at the base of the hill walk up the only paved road to the main entrance. Tours are given here every Sunday at 13:30.
If you can't come on a Sunday, not a worry - there are other ways in that you will find for yourself once you are here!
Bio: Shay Compton is a freelance writer and photographer from Atlanta, Georgia who enjoys traveling to Europe's historical cities and discovering attractions that are off the beaten track.
You may also enjoy these similar posts: