The best Lightweight Travel Backpack?
One of the more well-known brands of travel backpacks in the travel blogger community is certainly CabinZero.
Most travel bloggers try to travel as lightweight as possible and a lot of them promote traveling with carryon size luggage since it saves you a lot of time at the airport and it's just more pleasant to carry a lightweight backpack compared to dragging around a large and heavy suitcase all the time.
So when Cabinzero asked if I wanted to test out one of their carry-on sized travel backpacks, I jumped on the chance to find out for myself if this could be my ideal travel bag!
While CabinZero's classic bags come in a lot of vibrant colors, I was instantly drawn to their military style bag in army green.
I guess it's the prepper in me that always wanted a bag like that, haha 😉
One of the first things that stood out to me when the bag arrived ... It's really lightweight! 
Why is this so important?!
Because I live in Europe, I travel a lot with low-cost airlines like RyanAir to fly between different European cities.
One thing that all of these airlines have in common is their restriction on the number of bags you can carry on and an even bigger restriction on the weight of those bags.
Ryanair, for example, limits your cabin baggage to one small bag e.g. handbag, laptop bag etc. not exceeding 35cm x 20cm x 20cm and one cabin bag, not exceeding 55cm x 40cm x 20cm in size and 10kg in weight.
While a lot of travel backpacks or trollies, including this bag from CabinZero, do fit these size restrictions, I mostly struggle with the weight factor!Most of the time I can`t even fill my bag because I'm over the weight limit of 10kg, and that's why it's so important to have a lightweight
Most of the time I can`t even fill my bag because I'm over the weight limit of 10kg, and that's why it's so important to have a lightweight bag to begin with!
With a weight of only 2lbs (950 grams), this CabinZero Military bag is certainly one of the lightest travel bags I own!
And their classic bag is even lighter! It ways only 760 grams!
Features
The 'Military' Cabin and Travel bag in Military Green features a huge 44-liter capacity, side compression straps, top grab handle, air mesh padded back and straps, front zipped pocket, inside zipped and mesh pockets, sternum and waist straps.
You could say it covers all the basic needs for a travel bag. However, if you are planning to take a laptop or a tablet, it would be useful to put that in a separate padded sleeve, since the backpack itself doesn't provide any padded storage pockets.
Because the bag is so lightweight, it doesn't have a built in frame and so I would recommend using packing cubes to create a more stable pack.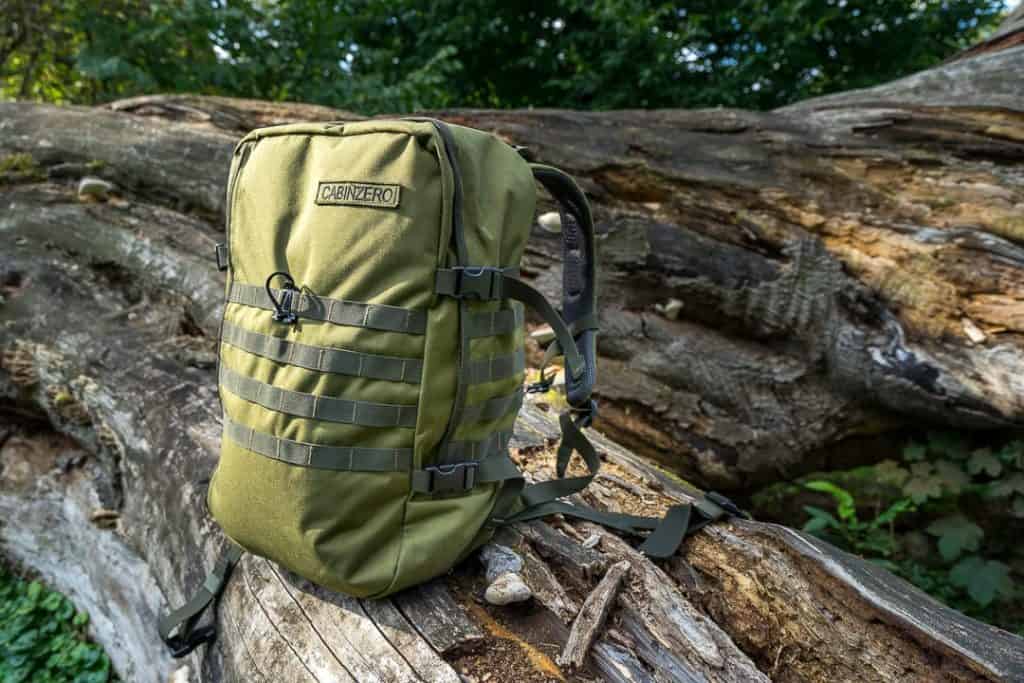 I really like this military style backpack because it has the military accessory webbing which is really handy to attach things, like a tripod or water bottle for example, to the bag.
Additional standard features include:
Built in Global Luggage Tracker, powered by Okoban (see below)
Lockable Zippers on main compartment (lock not included)
25 years warranty (If you 'like' CabinZero on Facebook 😉 )
Thick padded AirMesh shoulder straps
Partially Lined
Security
The bag comes with heavy-duty YKK zippers that have lock loops so you can keep your backpack secure. However, the TSA approved cable lock that I normally use didn't fit thru the holes of the zippers!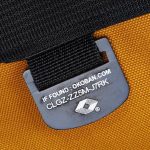 The best security feature is perhaps the integration of the Global Luggage Tracker, powered by Okoban!
Each bag has a unique code which can be registered online. If your bag is lost or stolen, this system dramatically improves your chances of getting it back and returned to you.
Design & Comfort
The suspension system of this bag is pretty standard.
The shoulder straps have a good amount of padding and they are curved to help fit your body better.
The shoulder strap also has an additional clip that lets you adjust the angle of your bag at the shoulders. This helps to redistribute the weight to different parts of your back so you can carry it for a longer time.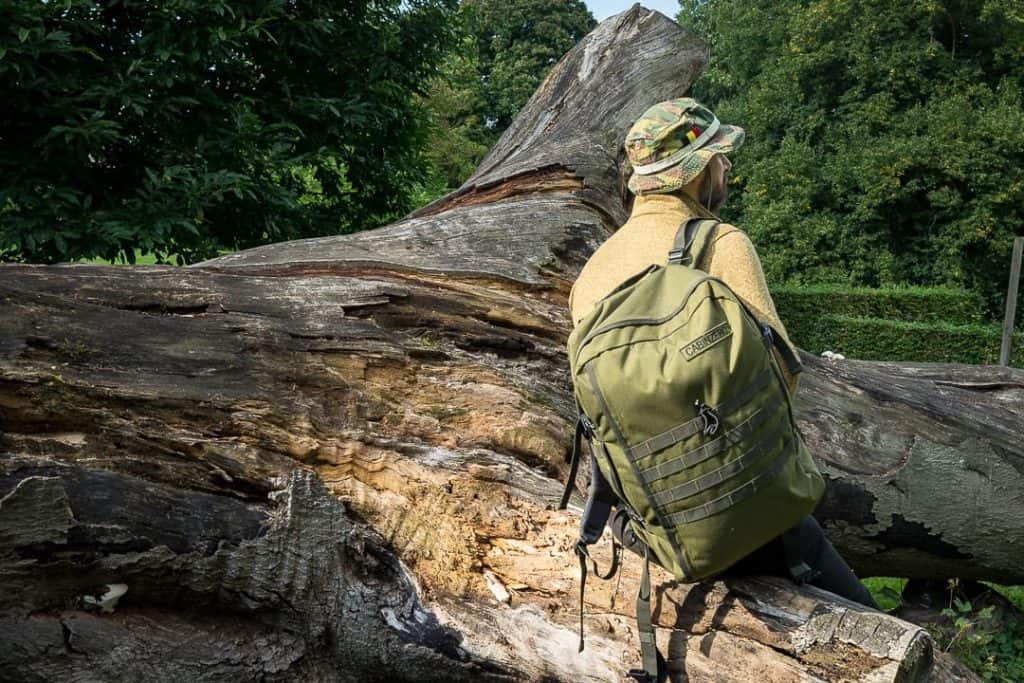 Packing your CabinZero Military Travel Backpack
Check out the video below to see how you can pack this backpack for your next adventure:
Conclusion
The CabinZero travel backpack is the ideal lightweight bag to take on short citytrips or on longer overseas trips if you like to travel light with only one carry-on bag.
THE GOOD / The CabinZero Military bag looks different than those standard boring black travel backpacks and is well designed and made with high quality materials for a competitive price.
THE BAD / Zipper lock loops aren't big enough for my cable lock
THE BOTTOM LINE / The best lightweight travel backpack I've used so far.
Check out CabinZero's website for more information and prices!