The Ultimate travel backpack?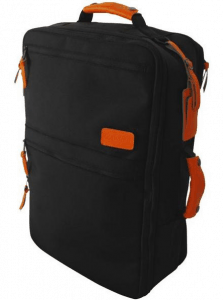 Finding the perfect travel bag can be a struggle.
Large backpacks are too big when you go for a shorter trip and a lot of the "carry-on" size backpacks are mostly made to carry on international flights but are never small enough to fit the carry-on regulations for European low-cost airlines like Ryanair for example.
I started using smaller wheeled bags, like the American Tourister bags but these aren't handy when you're visiting an old medieval town like Bruges that has a lot of cobblestones.
So when I  noticed the Kickstarter campaign for the ultimate travel backpack from Standard Luggage I asked if they could send me one to review.
And they did!
I decided to test it out on my trip to Berlin:
The backpack is a 3-in-1 travel backpack, suitcase, and shoulder bag. Designed with concealable backpack straps, compartment dividers, and easy-to-carry handles.
One of the first things I noticed was the nice quality of the outer shell. The ballistic nylon feels sturdy and looks luxurious. This is important since you don't want to feel like a hobo when you enter a nice hotel with only a backpack 😉
The exterior fabric is also water resistant which helps since a rain shower is never far away when you travel through Europe.
Watch the video below for a full demo:
Standard's Carry-on Travel Backpack v.2.0
Features
What makes a good travel pack? I guess everyone has a different opinion about this! And it's also the reason why there are so many different styles of travel backpacks out there. These are the features that I like (or don't like) about the Standard's Carry-on Travel Backpack that make it ideally suited for traveling around Europe:
Bag dimensions: 21.5 x 13.5 x 7.5 in (54,6 x 34 x 16 cm) when zipped and 21.5 x 13.5 x 9.5 when expanded
Volume/Capacity: 35L zipped and 45L when expanded
Weight: 3.7 pounds (1,6 Kg)
Carry-on size: When traveling thru Europe I want a bag that I can carry on smaller Airlines like Ryanair or Easyjet, and this bag is perfect for that. And an expandable zipper adds 10L capacity instantly whenever you need it.
Hideaway straps: If you do want to check the bag, you certainly can. The straps tuck away so they can't get snagged or damaged, which is also useful for stuffing them into overhead bins or under a seat. I would have liked however that the backpack straps would also be removable! When I want to use the backpack as a messenger bag, for example, I would like to be able to take off the backpack straps to save on weight.
Multiple carrying options: You'll notice the pack has two handles, one on the top, and one on the side. This allows you to carry it like a briefcase, or pull it out of an overhead bin. Plus, the aforementioned backpack straps and included messenger bag straps let you carry the bag however you feel like it.
Laptop compartment: I always take my Chromebook with me when I travel for more then a few days. So this is a must!Version 2.0 of the travel backpack has a sliding & removable laptop sleeve for easy access and while I love the idea to be able to slide out your computer at airport security, most of the airport security lines make use of baskets these days, and then it's not so convenient to slide that compartment out while keeping it attached, so I just remove it and use my own laptop cover.
Locking zippers: Locking zippers are easy and hugely helpful and while the zippers of the travel backpack can be locked, the hole to put your lock thru is too small! (for my cable lock anyway). This could easily be fixed by using zippers with larger locking holes.
Flat packing: The Standard Luggage Carryon has a large main compartment that zips open like a suitcase. This not only maximizes packing space, but it allows you to easily access the contents of your bag without having to pull everything out of it. I prefer this system to the traditional "top loading" bags that you find on traditional hiking backpacks because it is much more practical for urban travel.
Internal compression straps: You pack the bag while it's flat, then turn it upright. The compression straps keep everything stuck the way you packed it.
One thing that I would change is the length of built-in compression straps inside the bag! When I tried to strap down the clothes and packing cubes after I had packed everything, I found the straps to be a bit short to cover everything
Design & Comfort
The Standard's Carry-on Backpack is well made and has a luxury finish to it that I really like.
The design of this backpack actually allows you to pack much more efficiently than with traditional luggage because it does away with the weight of wheels and a hard shell while still being sturdy enough to use for urban travel.
A complete travel system
Next to the carry-on backpack, Standard Luggage also sells complementary items that make this a complete packing system
Standard's Packing Cubes
One of the essential items for easy packing are packing cubes, and the packing cubes from standard luggage are designed so that they fit perfectly in their carry-on backpack, they are exactly half the size of the backpack.
Their design allows for coupling and attaching and together the cubes can form a hanging dresser that can be placed on a door hook or stashed on a closet hanger while the mesh windows allow you to see the contents inside:
One thing I wish they would add is some kind of compression system like an extra zipper in the middle that would compress the packing cubes even tighter when you close the zipper. That way the packing cubes would help to save even more space!
Backpack Packing Cube
Another addon is Standard's Backpack Packing Cube, a packable backpack:
I always travel with a small backpack that I can pack in my suitcase to use as a day pack when I arrive.
While I love the idea of using a packing cube as a backpack, I didn't fall in love with this backpack Packing Cube. While it's perfect to use as a small daypack when you're on a city trip, it's a bit small for me to really use as a daypack when you go for a hike in the country somewhere.
Perhaps it would be a great idea to actually make it twice as big and in a more lightweight fabric, that way you could actually fit 2 normal packing cubes inside it (like a shell around it) and it would still fit the complete system!
Conclusion
Overal I really liked version two of the Standard's Carry-on Travel Backpack! I think I have found my new urban travel backpack that I can use for shorter trips around Europe.
THE GOOD / I really like this type of travel backpack for shorter city trips. The Standard's Carry-on Travel Backpack is well designed and made with high quallity materials.
THE BAD / Except for the zippers (see remarks above) I don't have any real faults except perhaps the straps inside that need to be a bit longer to be useful.
THE BOTTOM LINE / Version 2 of the Standard's Carry-on Backpack is a versatile travel backpack, ideal for the urban explorer!
Check out Standards website for more information and prices!