After our interesting border crossing from Argentina, we continued through Bolivia's barren altiplano to Tupiza. This is the poorest country in South America and evidence of this was everywhere. Tiny ramshackle houses, many abandoned or in various states of disrepair confronted us everywhere that we saw life. The rest of the landscape was dry and dusty. Huge cactus dotted the high plains against a copper mountain backdrop. We weren't in Argentina any more.
We reached Tupiza just after sundown and didn't get much of a chance to explore it. The town is best known for being the place where Butch Cassidy and the Sundance Kid met their ends at the hands of the Bolivian Army (though this actually happened about 100 km north of there). The pleasant little town gave us our first taste of the Bolivian people: warm, gracious and curious, they always had big smiles for us.

Our journey continued the following day to Potosi, stopping in a tiny community for snacks and a restroom break. A merchant showed us his rabbits while a local woman tended to a huge pile of corn. It was nice to rest because the next segment of our trip was rather unpleasant. The paved road from Tupiza to Potosi is in progress and we gazed at it from alongside the horrendous bumpy road we were stuck with for a couple of hours. The vehicle filled with dust at one point, choking us (yes, all the windows were closed). When we finally arrived, our packs were covered in Bolivian earth as well.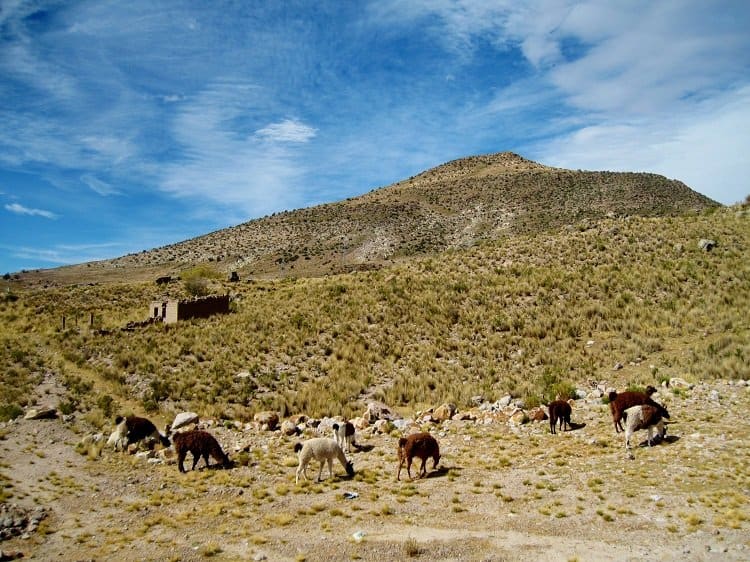 Potosi is the highest city of its size in the world at 4070 metres and is a UNESCO World Heritage Site. Suddenly we were dealing with altitude, which means some slight adjustments to diet and expectations. John and I had been taking the altitude sickness medication, Acetazolamida since our last night in Salta to prepare, but we still felt short of breath after any little bit of exertion. We're reasonably fit, but even climbing a small hill took effort. That night we ate llama for the first time, which was interesting. It tasted like smoked sausage with the texture of beef.
We were, of course, headed to Uyuni to see its famous salt plain. This stretch of the journey was the most interesting as we travelled through different rock formations and past tiny villages. The sand became redder and the cactus were smaller with white tips. Road works are everywhere in this part of Bolivia. Mining is huge there: minerals, silver and lithium (Bolivia has the largest reserves of the latter in the world) need to be transported over land. We had to rough it a bit travelling on the terrible dirt roads, but future travellers to the region will likely have a smooth passage.
Have you been to Bolivia? What were some of your first impressions?