We had stormy weather on only one day of our summer stay in Vienna. It was a public holiday and our plans to visit a museum were already foiled. We intended to visit the Cafe Sacher on our next visit to the city in November, but with little else open we decided to brave the crowds and try the posh hotel's famous torte.
The place is probably always crowded. My late mother stayed there once and I remember how excited she was about it. The Hotel Sacher has an interesting history as a meeting place for aristocrats (even the bankrupt ones), politicians, artists and celebrities. The British used it as their headquarters after the end of World War II, when Vienna was an international zone. Today it's an exclusive 5-star hotel near Vienna's famous opera house.
Though many imposters exist, one can only taste the real Sachertorte at the hotel or its shops and cafes. It was created by 16 year-old Franz Sacher when he was an apprentice in 1832 and perfected by his son Eduard, who founded the hotel 44 years later. The recipe is top secret, consisting of two layers of dense chocolate sponge cake with a thin layer of apricot jam between them. The main feature is the dark chocolate icing, consisting of three types of chocolate produced by different manufacturers in Belgium and Lübeck just for the Sachertorte.
We crowded into the small foyer amidst other tourists in line, trying to squeeze in away from the inevitable people who think it's ok to smoke right inside the doorway. Groups of two are more easily accommodated than the larger parties and we wait less than ten minutes for a table. I can't imagine that anyone who stays at the hotel would bother coming here. Everyone is dressed in their summer travel gear, mostly foreign and looking out of place in the plush, traditional decor. It is decidedly bourgeoisie and having to sit in the cafe is probably the worst part of the experience.
Waiters bustle by with three plates on each arm. Most of them are chocolate tortes with a perfect fluff of whipped cream on the side, their spoons perched perfectly on white napkins. We examine the menu, which offers much more than just the acclaimed cake. Everything from strudel to exotic coffees to lunch items are listed and the back pages explain the history of the hotel, its famous guests and the dessert. I am tempted by some of the other items but regain my focus on the torte.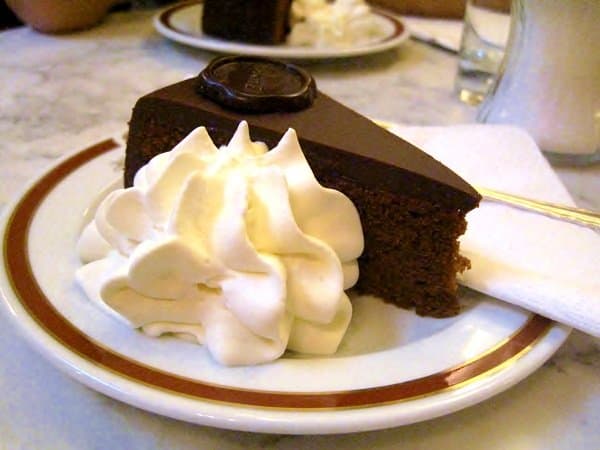 John is in love with chocolate and has insisted that we have our own pieces. We expected to pay anywhere from seven to ten euros for the privilege but the torte is a reasonable €4.90. We order and wait only briefly for the tortes to arrive. I get straight into it, tasting the tiny tip first and then moving on to the centre. The chocolate icing on top is so rich I know I won't be able to finish my piece. Halfway through I'm wishing I had started at the wider part. John looks on with schadenfreude for he knows he's getting that last bit of mostly icing.
The only disappointment for me is the cake as it's drier than I like, but this is a minor complaint and one shared by many other people. I lost my sweet tooth a couple of years ago and, as much as I love the icing, I can only eat so much. The cream is a perfect accompaniment: rich, smooth and bland, a perfect balance for the rich chocolate. The thin layer of jam is a nice touch, adding flavour to every bite. The piece of signature chocolate on top is perfect whether eaten first or last.
I take a sip of John's creamy caramel and chocolate-flavoured coffee, which actually cost more than the dessert. It's not my taste but I admit to its goodness. We pay our bill and duck out back into the rain, full and satisfied. Would I recommend putting the Cafe Sacher on a Vienna itinerary? If you like chocolate, yes. The Sachertorte met my expectations and even if you don't like chocolate the menu offers plenty of other treats. Some may enjoy the little cafe with its regal decor and traditional service. It's a fun little activity to indulge in and I'm sure we'll go back to satiate my chocolate lover's sweet tooth again in November.
What's your favourite kind of chocolate cake?

You may also enjoy these similar posts: