When I went on a press trip to Israel a couple of weeks ago, I knew that I would be actively promoting the trip on social media and so I wanted to bring along some extra battery juice for my iPhone 6s.
Luckily I received this solar powered battery case from Sunny a few weeks earlier and I thought the Negev desert would be the ideal place to test out it's solar charging capacities.
Solar powered iPhone Case
The Sunny Case is a solar powered battery case for the iPhone 6s that packs a 2500mAh Lithium-ion battery and uses a foldout solar panel to let you charge the battery and your phone. While it might not be much use if you live somewhere that's miserable and grey nine months of the year, those lucky to live somewhere sunny might find it indispensable.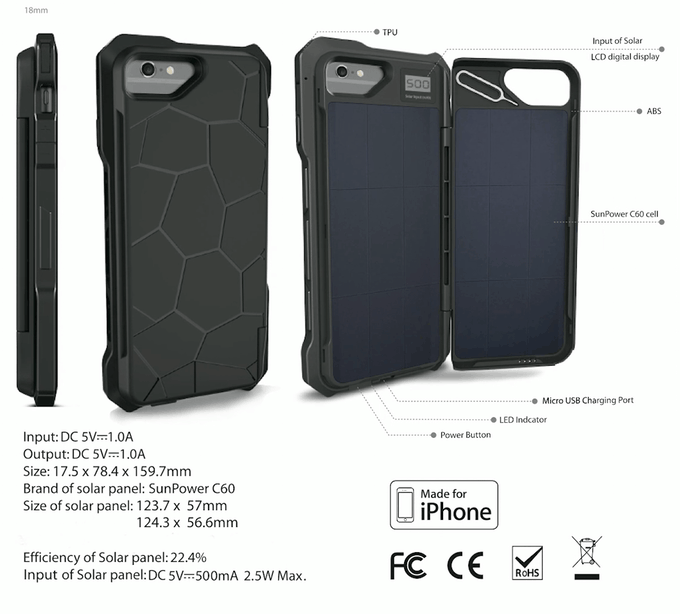 Manage your expectations, though. While it's a nice feature, it still takes a while to charge the battery, so I would actually remove the case to charge the battery in the sun while I was using my phone. I was able to get a charge of around 300mA on average when I put the case in direct sunlight.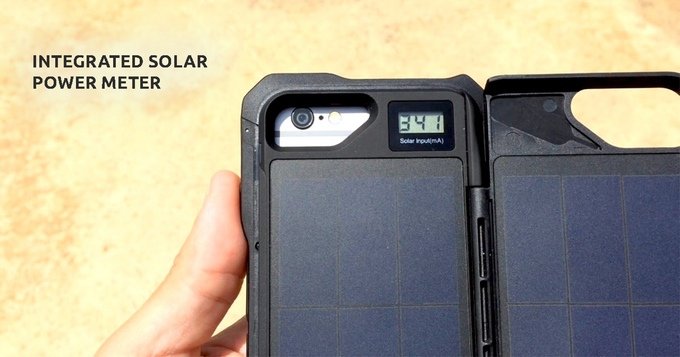 The Sunny case is compatible with the iPhone 6 and 6S, but not with any larger or smaller iDevices. No version for the 6 Plus or 6S Plus exists, which is probably fine since those models already have better battery life than their smaller counterparts.
You can easily insert and remove the phone by clipping off the top part of the case and sliding the phone in and out. The case has a lightning port connector on the inside to connect with the iPhone, but it has a mini USB port on the outside to charge the battery in the case, so you can just use a standard mini USB cable to charge the case and your iPhone. You can plug in Apple's ear pods and any similarly sized headphone jacks without any kind of extender or adapter, but if your headphones have a larger plug at the end you'll need to remove the case or use an adaptor.
The iPhone case has a bit of a tactical look and feel to it, which I kinda like. It's not the most stylish looking case out there, but that could work to your advantage since it's a good thing that people don't really notice you're carrying an expensive iPhone, especially when you are travelling and have to be careful with pickpockets.
Another great feature is that you can use the case as a stand.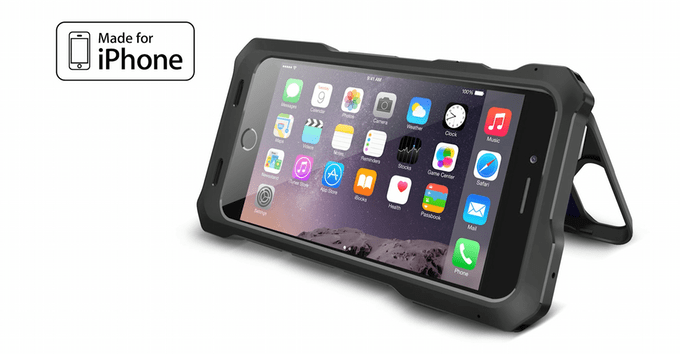 Conclusion
THE GOOD / It's easy to slide your phone into the case and easy to take your phone out of the case again - I like that it enables you to charge your iPhone with a simple USB cable, that I already use for other devices (so no need to bring your iPhone lightning cable for charging) - Sturdy build
THE BAD / Sometimes I would hit the battery charging activation button at the bottom by accident when I was holding the phone. I would have liked it better if they put that button somewhere else.
THE BOTTOM LINE / The ease with which you can "just use" the battery case is probably the best thing about it; it's easy to get your iPhone in and out of the case. While I wasn't a fan right out of the gate, I needed to get used to the more bulky feel of the phone, I`ve grown fond of this solar case and have been using the battery case on a regular basis, especially during press trips where I'm constantly using my phone for social media coverage.