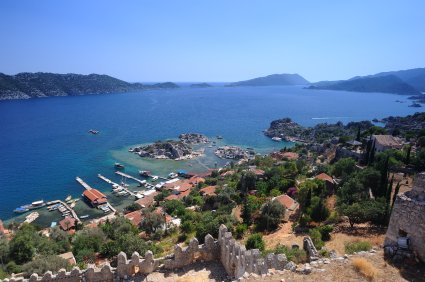 Before tourism hit Turkey the entire country was untamed, rough-edged and excitingly exotic to holiday-makers, who felt like they were travelling the untrammeled, undiscovered path. However, in the past decade package holiday tourism has caught up, especially in the southwest of the country, and the mighty tourist dollar has encouraged mass urbanisation along the coast, replacing traditional fishing villages with cheap resort hotels. Before you give up on Turkey's stunning coastline altogether, be reassured that
unspoilt Turkey does exist, and often just minutes from the ugly resorts
. Here is our pick of the best of tranquil, traditional and untouristy coastal southwest Turkey.
Bozburun Peninsula
A short drive from the heavily touristed resort of Marmaris lies the largely unspoilt Bozburun Peninsula, with its stunning coastline, turquoise waters, pine forests, hillside villages and guluts anchored in sleepy coves. For the most seclusion and peace, head to the western side. Just one road winds its way around hairpin bends in the cliffs and through traditional villages where all the men sitting under the shade of the trees and drinking coffee stop and stare at you. For a truly peaceful getaway, book a stay at Chalet Vista in the rural village of Bayir, where tourists are still a novelty. Nestled up in the hills, the villa, which has its own pool, vegetable garden and chickens (freshly laid eggs for breakfast are a bonus!), is built from local wood and stone and offers breathtaking views of the wooded hills and sea beyond - especially spectacular at sunset.
Faralya
It is hard to believe that the popular resort of Olu Deniz, lit garishly by neon signs at night, is only 20 minutes from the peaceful hillside village of Faralya. The village's vine-clad eateries offer delicious pide (the Turkish equivalent of a pizza, with flatbread for the base), a range of mezze, and simple grilled meats and seafood, all of which can be walked off on the Lycian Way, which runs through Faralya. This long-distance and well-marked walking trail spans 509km and stretches from Fethiye to Antalya. The village boasts a number of excellent, good value pensions as well as a few small, family-run boutique hotels.
Akyaka
This lovely riverside village is where the locals like to holiday. The beaches, surrounded by pine forests, feature clear, calm water that begs to be swum in, and the fish restaurants on the banks of the river make for a delightful evening. Just a 40 minute drive over the mountain brings you to the ancient city of Mugla, the region's capital, which is often overlooked by tourists. The old quarter is a treasure chest of sights, including an still-operational Turkish bath that has been running since 1258, a couple of 14th and 15th century mosques, and an Ottoman Empire-era bazaar.