Africa's islands and coastal areas always look so delightfully appealing. In today's guest post, Victoria Philpott from VickyFlipFlop Travels shares some wonderful experiences to be had on Zanzibar, Tanzania's east coast.
Escape Stone Town and visit the east coast of Zanzibar and you'll be rewarded with miles of beach, fun cocktail bars, friendly villagers and monkey-filled forests. You'll also find a haven for kiteboarders, snorkeling trips aboard a dhow boat and authentic villages too.
1. Laze On Beautiful Beaches (cocktail optional)
The picture perfect coastline in Zanzibar looks just like it does in the brochures. Pull up a sun lounger and just relax under blue skies as the tide comes in. The sand is perfect white and on the east coast you're never far from a beachfront bar either.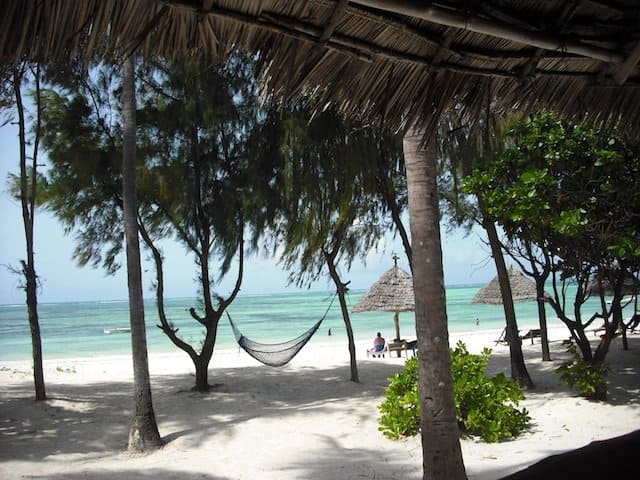 2. Stay At a Cool Place
Flashpackers will love the fun vibe at Crazy Mzungo's while families can enjoy the privacy of a villa like Vanilla Arches. Both are located in Bwejuu right on the beach. Sandwiched in between the charming village of Jambiani and the action-packed Paje it's a great spot for anyone looking to relax and experience the real Zanzibar life.
3. Try Kitesurfing
The village of Paje is kitesurfing crazy. Take three days out of your holiday to learn how to do it and I can guarantee you'll never want to leave. Mastering it is a bit tougher, but you'll have fun trying!
4. Go On the Monkey Hunt
Look up in the Jozani Forest and you'll find yourself surrounded by the red Colobus monkeys. Visiting the park supports the eco system here as the tropical paradise educates locals and tourists alike in preservation and conservation.
5. Meet the Locals
Of course tourism is a big industry in Zanzibar, but to see the 'real' Zanzibar and meet the locals who call the beautiful island home you need to take a walk round the villages. The east coast villages in places like Jambiani, Paje and Bwejuu have managed to retain their authentic charm while opening their arms to tourists too. Check out the local tours to learn about seaweed farming, coconut rope production or even to take a look around the local schools.
6. Go On a Beach Bar Crawl
The best way to watch the sun set on the east coast of Zanzibar is with a fruity cocktail in hand looking out over the ocean. Luckily there are quite a few bars lining the coastline where you can indulge. Pop into Crazy Mzungo's for one of their famous 'Crazy Juices', or try the local Kilimanjaro beer at Jambos, or even a 'swahili medicine' cocktail at Paje by Night.
7. Sail On a Dhow Boat
A dhow boat floating by with the sail out and the fisherman proudly displaying his catch over the side has become the iconic image of Zanzibar life. There are many local companies offering trips out to experience one from the inside – a must do for anyone visiting the beautiful waters on the east coast of Zanzibar.
Bio: Victoria Philpott writes about budget holidays, festivals abroad and fun times at vickyflipfloptravels.com. Her aim in life is to let you know how you can get the most from your annual leave and tight budget – keep up with her on Facebook.