I do love a sultry pairing. When we first received an invitation to dine at the best restaurant in Tallinn, Tchaikovsky, I had no idea the kind of treat that we'd be in for. Russian food is already like no other, but to discover a place where it's created under the influence of one of my favourite cuisines was a palate-changing experience. I couldn't even imagine what was in store for us but I soon learned why this fine dining gem in Tallinn's Old Town has been named Best Gourmet Restaurant in Estonia for 2012 by the Silverspoon gastronomic awards.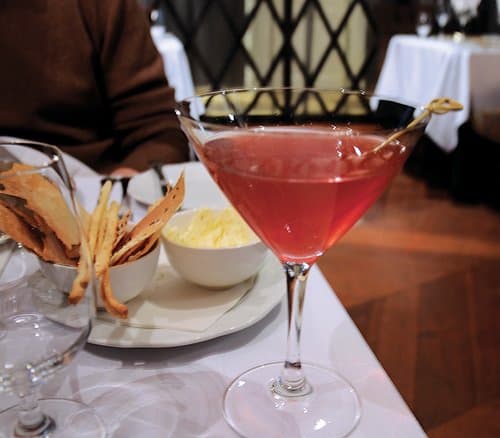 Restaurant Tchaikovsky is situated inside the beautiful Hotel Telegraaf. Under a glass ceiling and the opulent chandelier, diners are serenaded by the sounds of classical music as they enjoy Russian and French fusion from Executive Chef Vladislav Djatšuk. We chose a somewhat private table in the adjoining room, though I did sneak in a few photos of the talented musicians.
We perused the menu over a couple of cocktails. I enjoyed the signature Tchaikovsky cocktail, which I highly recommend. With a blend of vanilla vodka, sour apple, crème de cassis and lemon juice, it was the perfect pre-dinner enticement.
I could tell this would be a meal to dream about forever just by the sight of the first kitchen greeting. Each dish was modern and inventive while still capturing the traditional styles of both Russian and French cooking. My first course was the largest blini I have ever seen, served with white fish roe and classical garnishes. John enjoyed pelmeni of langoustine with a capers and tomato ragout and shells cream sauce. Pelmeni are traditional filled dumplings, similar to Polish pierogi, however pelmeni are made with a much thinner dough and the fillings are usually raw rather than pre-cooked.
I've always had blinis that were quite thin but this thick version was hot and delicious, perfect for tearing apart with my fork and knife to eat with the tasty caviar, cream, egg and onions on the plate. By the time I finished our wine had arrived, a perfect French Bourgogne from their excellent list, which is European dominated but with several new world selections as well. Guests can choose from a wide variety of wines in both price and style, everything from Cristal Champagne to a non-alcoholic Muscat from Spain.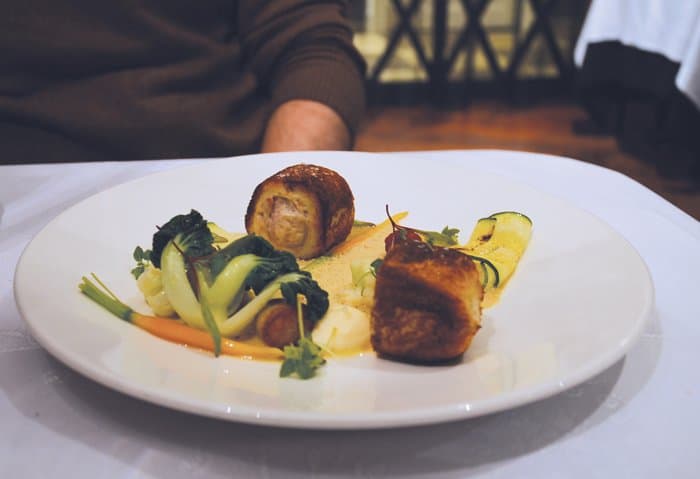 John adores rabbit and was delighted to find his dish on the menu, served en croute with carrot, raspberries and fricassee sauce. The pastry was light and sealed in the juices of the rabbit - delicious! I cannot usually pass up venison dishes and thoroughly enjoyed my roasted deer fillet with parsnip puree, marinated rowan berries and beetroot sauce. As we hoped for with such a French-inspired menu, the sauces were perfectly balanced while letting the flavours of the meat shine through.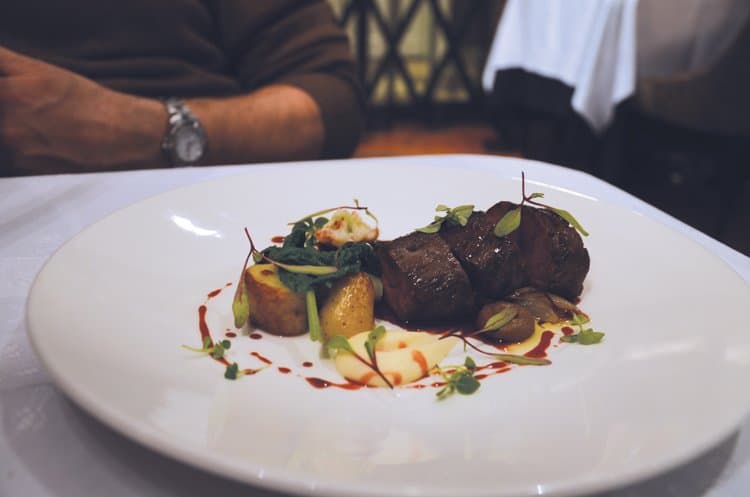 We probably should have skipped dessert but how could we when we saw the menu? John can never resist chocolate and was intrigued by the Valrhona chocolate cake with hazelnuts and blueberries sorbet. I ordered the very special Pavlova à la Tchaikovsky, which arrived at the table with such a dramatic presentation: a topping of the season's first snow resulting in an enchanting cloud over my plate. Both provided a sweet ending to a beautiful meal.
I cannot conclude without mentioning the wonderful service we received and the romantic atmosphere at Tchaikovsky. We will definitely return on our next trip to Tallinn, especially because there was so much we missed from the menu. The guests at the table across the aisle raved about their soups and, of course, there is always the degustation menu for a slightly longer evening. This unique restaurant should not be missed on a visit to Estonia's capital.
Many thanks to the Hotel Telegraaf for hosting us.